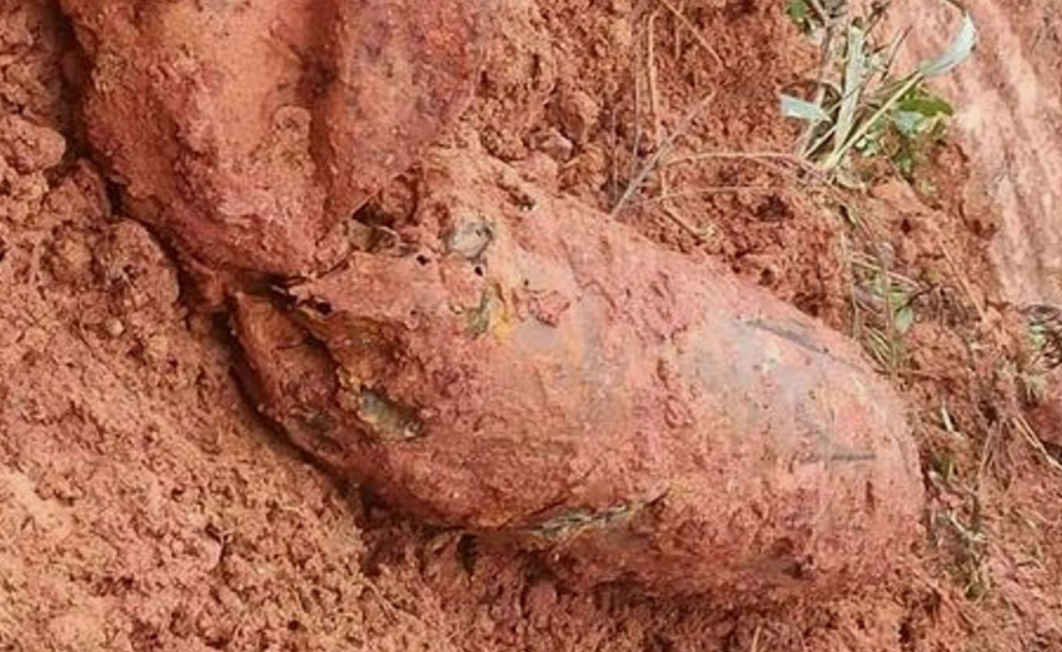 A magnetic bomb is discovered on National Highway 9B in Quang Binh Province, Vietnam, November 4, 2020. (Photo: Tuoi Tre)
Authorities in Quang Binh Province banned all vehicles from Highway 9B for nine days after a war-time bomb weighing 300 kg was unearthed by severe flooding, VN Express cited.
From Thursday until next Friday, the eight-kilometer section in Le Thuy District will be closed for all traffic while experts await the right time to dispose of the bomb. The decision was announced after a magnetic bomb was found at 8:00 am on Wednesday, as workers were dealing with the consequences left behind by flooding and landslides along the road.
On November 4, while local authorities were busy dealing with road erosion caused by heavy rains and severe flooding that hit the central region for the past month, the 1.4-m bomb slid from a hill onto the highway. The bomb uses a magnetic influence fuze, which enables it to function as a mine. The bomb will thus be detonated on the spot instead of moved elsewhere.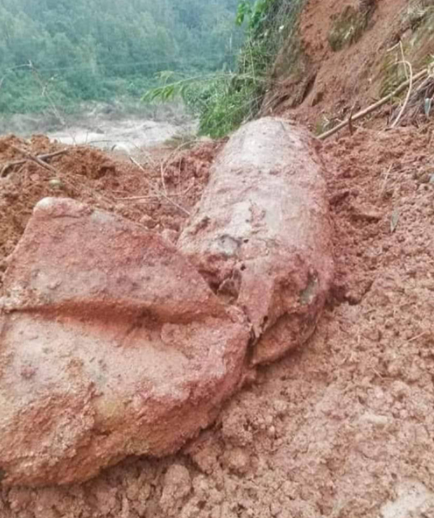 A bomb weighing 300 kg is unearthed after flooding on Highway 9B in Quang Binh Province (Photo: VN Express)
According to the provincial Military Command, the bomb would be destroyed after eight days, when it is assumed safe to do so. Bomb disposal experts warned people not to attempt to approach or move the bomb and not turn on or off any radio or radar transceivers in the vicinity.
According to statistics by the Ministry of National Defense's Technology Center for Bomb and Mine Disposal and the Vietnam Veterans of America Foundation, nearly 225,000 ha of land across Quang Binh was contaminated by unexploded ordnance (UXO). Landmine or UXO accidents have claimed more than 2,930 lives in the province.
Quang Binh, severely bombed during the Vietnam War (1954-1975), was one of many central localities hit by multiple storms and floods that left at least 235 dead or missing.
Valerie Mai