Projectiles safely handled in central Vietnam thanks to local people information
Since September 2020, first Non-Technical Survey (NTS) team of Norwegian People's Aid (NPA), accompanied by Military Liaison Officers, deployed to conduct field visits and interview households in Nam Trach commune, Bo Trach district, Quang Binh province.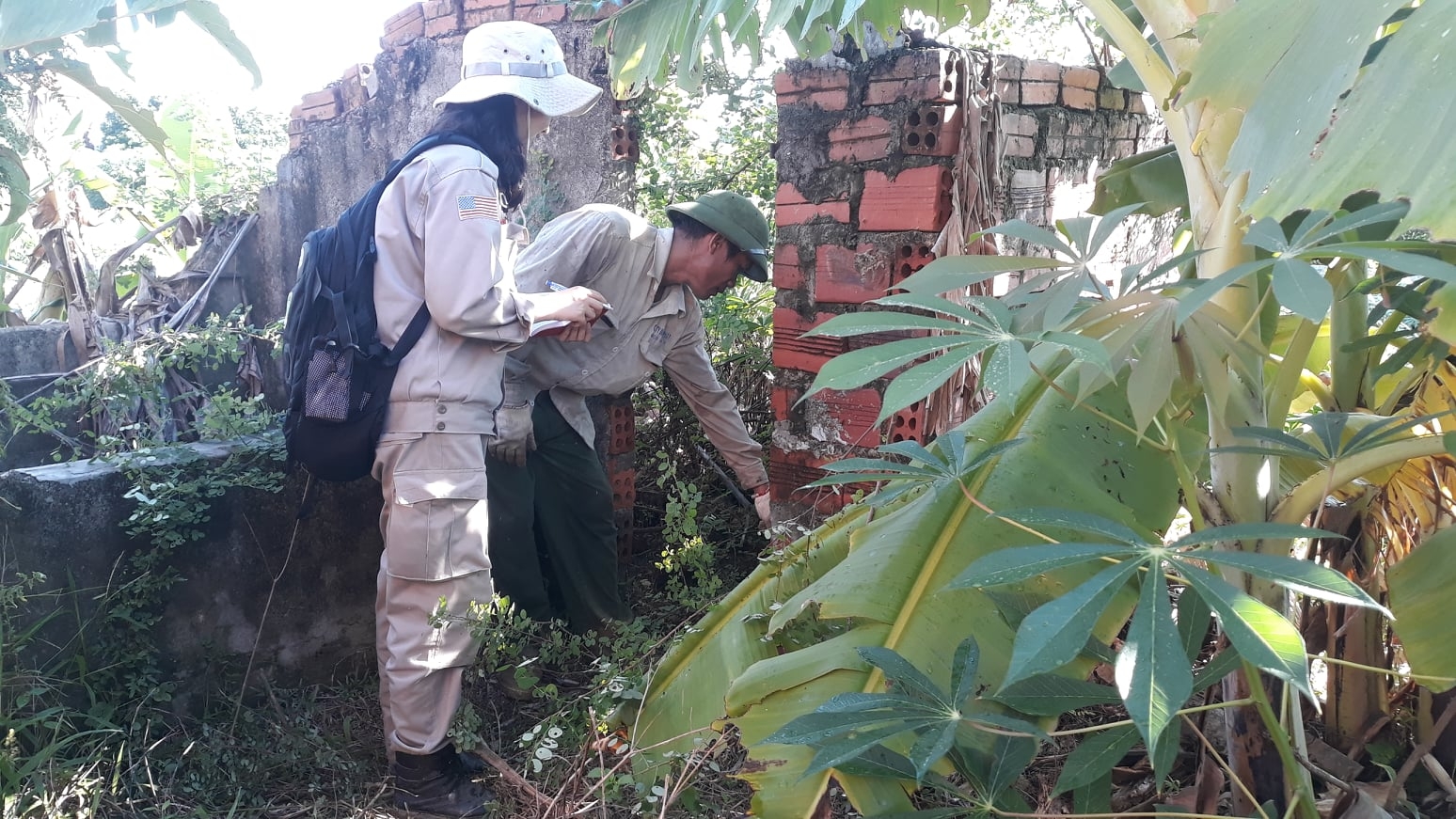 Vo Van Tho - a 50-year-old farmer in Tay Thanh village is showing NPA NTS surveyor the location where he hid the 37-mm projectile found in 2010. Source: Norwegian People's Aid Vietnam
"I feel relieved that finally the deadly item has been safely removed and destroyed," shared Vo Van Tho – a 50-year-old farmer in Tay Thanh village when being interviewed by NPA's NTS surveyor.
In 2010, when ploughing the land for the new cassava season, Tho found a 37-mm projectile in this land. At that time, he didn't know who/where to report the item, so he just simply moved it to the nearby unused house where the item has been left for more than 10 years to hide it from curious children around.
Tho is one of the many key informants that NPA NTS surveyors had a chance to talk to in Nam Trach commune since the team started field visits commune-wide.
September 2020 marked a new milestone for NPA's Cluster Munition Remnants Survey (CMRS) Project in Quang Binh province when the first NTS team, accompanied by Military Liaison Officers (MLOs) seconded from Provincial Military Command, was first deployed to conduct field visits and interview households in Nam Trach commune, Bo Trach district, thanks to the approval and facilitation from the local authorities.
Despite first working days in a totally new environment, with their rich experience and skills, two NTS pairs managed to interview quite many key informants who were mainly old people and farmers with helpful inputs leading to the sighting of unexploded ordnance or suspected areas.
Following ten working days in Tay Thanh and Dong Thanh villages of Nam Trach commune, the team has identified one 37-mm projectile in each village and handed over the items to Mines Advisory Group (MAG) team for being safely destroyed. In addition to these, the team has located two strongly claimed areas and one BLU (Bomb live unit) accident spot, which are treated as important evidence in generating future technical survey tasks.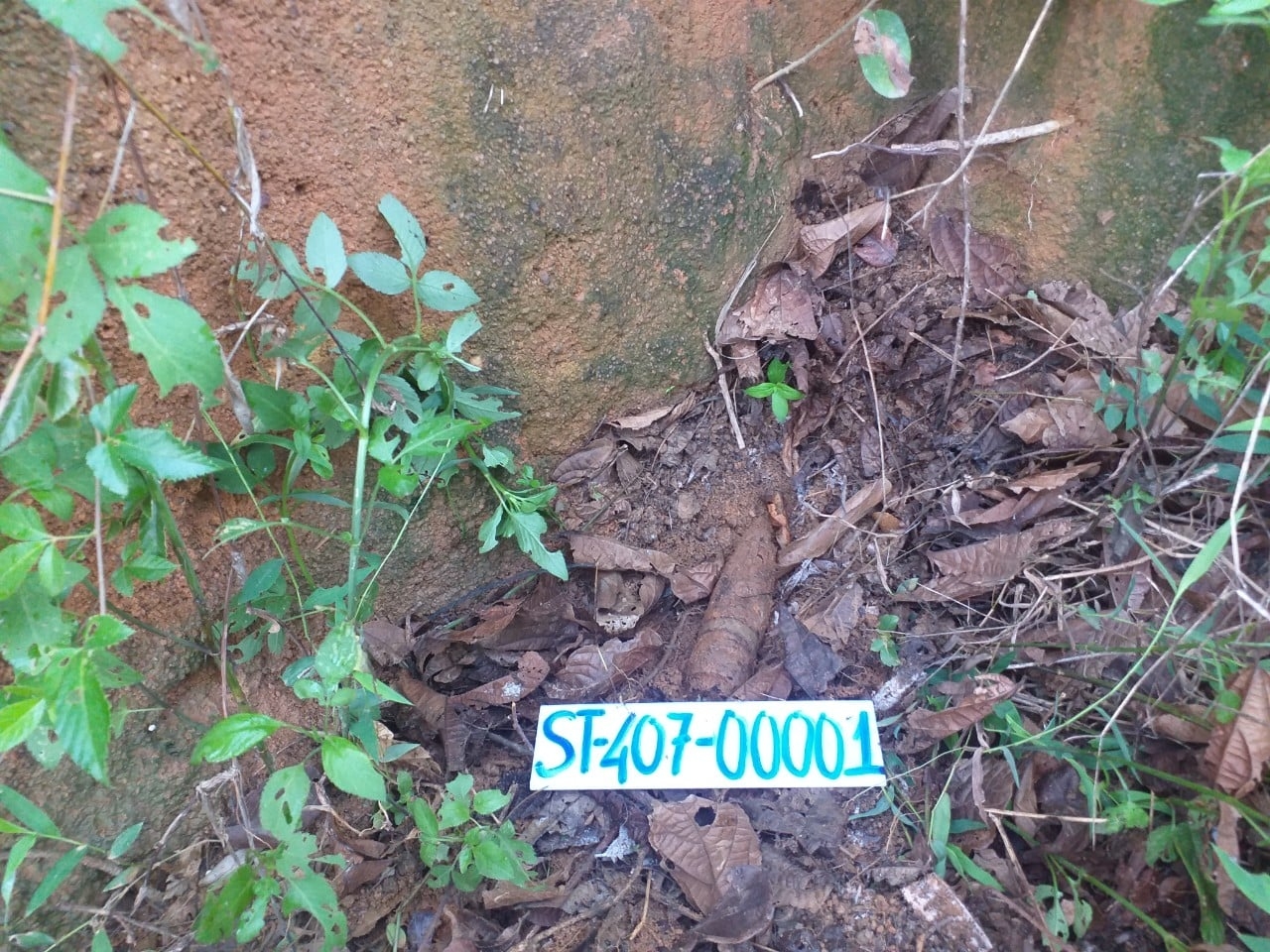 The 37-mm projectile identified by NPA NTS team thanks to guilding of Vo Van Hoi - a 62-year-old local farmer in Dong Thanh village. Source: Norwegian People's Aid Vietnam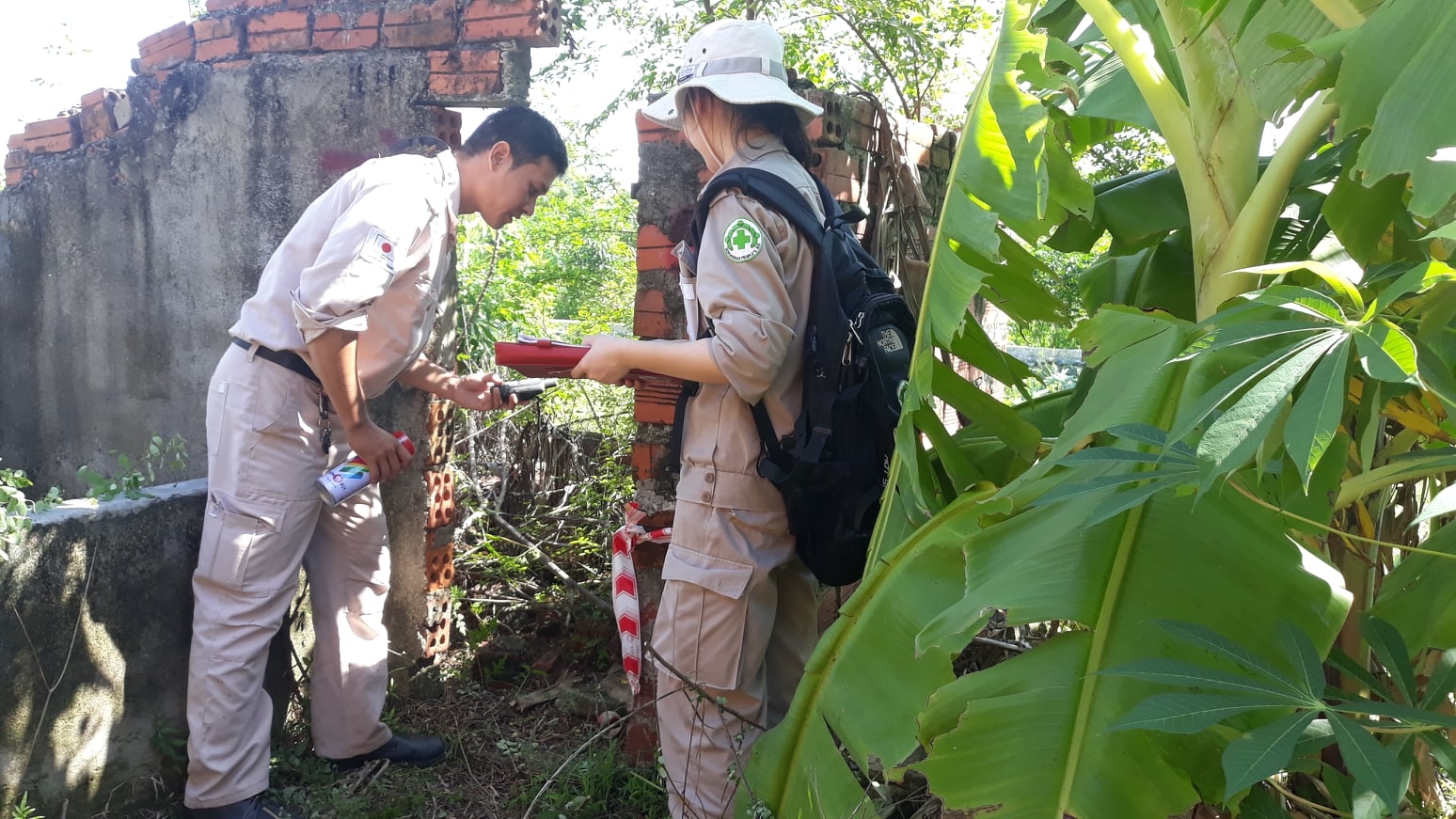 Non technical survey (NTS) is the foundation to the land release process. In photo: NPA NTS Surveyor is handing over the found item to Mines Advisory Group (MAG) Community Liaison (CL) team. Source: Norwegian People's Aid Vietnam
Prior to field visits to villages, as part of NTS procedure, NPA's NTS team and MLOs had arranged meetings with Nam Trach Commune People's Committee, then village heads to present NPA's intentions and plan of operations within the commune/village.
The commune's Chairman – Vo Tuan Trinh, after thoroughly understanding the project's objectives, was very supportive in sharing with the team the background information of the commune and preparing administrative instructions to villages to facilitate the project's NTS work.
"As long as the project is implemented in line with its objectives without having any negative impact or damage on crops orproperties of the local people, they will surely support your operations, because in the end they are the direct beneficiaries", Trinh said.
Since June 2020, NPA has initiated a Cluster Munition Remnant Survey Project to deploy NTS and TS operations in Quang Binh province with the aim to define confirmed hazardous areas from cluster munition remnant contamination based on direct evidence, which will support Quang Binh authorities to better define levels and areas of cluster munition contamination, to facilitate planning and prioritization of future clearance activities to improve community safety and enhance socio-economic development.
Besides CMRS Project, NPA is also assisting Quang Binh authorities in building capacity to manage and implement an effective information management system and enable an efficient coordination of mine action operations throughout the province via the project of "Establishment and Support of Provincial Mine Action Database and Coordination Unit in Quang Binh province".
These two above-mentioned projects are integrated components of the joint project implemented by the Consortium among Mines Advisory Group (MAG), PeaceTrees Vietnam (PTVN) and NPA in Quang Binh thanks to essential funding and support from the US Department of State and facilitation from the US Embassy in Hanoi.
So far, there have been 5,312,500 sqm being non-technical surveyed, 2.440.208 sqm cleared, 35 EOD spot tasks conducted to eradicate the threat of UXO to communities./.