Ceramic Mosaic Mural Honors Vietnam – Russia Comprehensive Strategic Partnership
A ceramic mosaic mural depicting the image of Russia, was just unveiled in Hanoi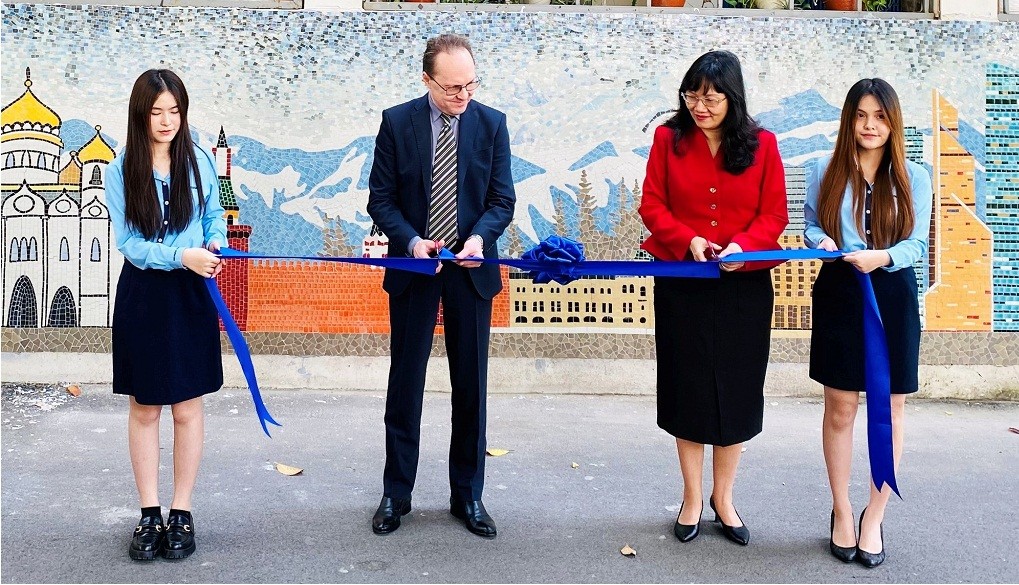 At the unveiling ceremony. Photo: Vu Khanh
A ceramic painting, showing images of iconic landmarks and cultural heritages of Russia, has just been inaugurated on October 14 at the Diplomatic Academy of Vietnam's campus, with the participation of Russian Ambassador to Vietnam Gennady Stepanovich Bezdetko, Acting President of Diplomatic Academy of Vietnam Pham Lan Dung and members of Vietnam-Russia Friendship Association, guests, DAV lecturers and students.
Speaking at the ceremony, Russian Ambassador Gennady Stepanovich Bezdetko said that this art work has profound and practical significance on the occasion of the 10th anniversary of the Vietnam-Russia comprehensive strategic partnership.
Vietnam and Russia established a strategic partnership in 2001 and upgraded it to a comprehensive strategic partnership on July 27, 2012.
The diplomat believes that the good traditional friendship between the two countries will continue to develop in the coming time.
According to DAV Acting Director, Dr. Pham Lan Dung, the mural shows the good relations between Vietnam and the Russian Federation, and hopes that students of DA can better understand the culture, people of Russia and friendship between the two countries through this meaningful gift.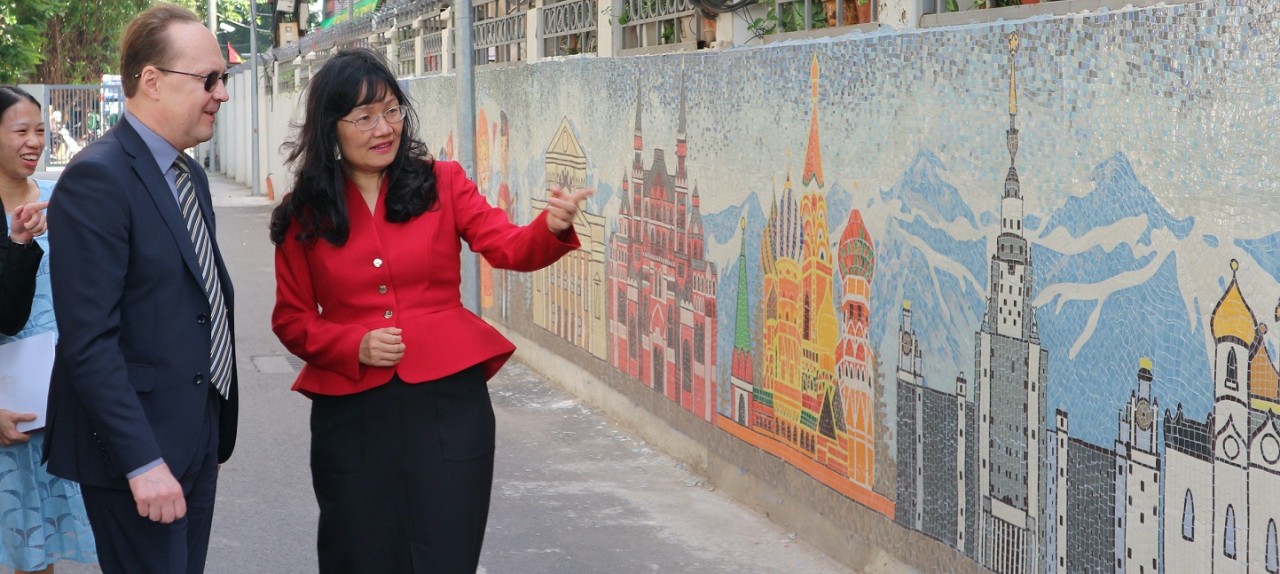 The ceramic mural covering a wall which 1.6m in height and 29m in length. Photo: Vu Khanh
The mosaic mural depicts images of typical cultural heritages of Russia such as Red Square, Opera House, World Trade Center Moscow, Lomonosov Moscow State University, Palace Winter (now the State Hermitage Museum), Saint Isaac's Cathedral, among others.
In additions, the ceramic painting also acquaint young Vietnamese diplomats with images of the two countries' people in traditional costumes and the Hanoi-Moscow multifunctional complex (Incentra) - a little corner Hanoi in the Russian capital.
The work is represented by traditional ceramic material, 29m long, 1.6m high, is mounted on the wall of the DAV campus.
Artist Nguyen Thu Thuy, the prestigious Bui Xuan Phai award in 2008, has been assigned to complete the ceramic mosaic mural.
Besides the artistic meaning, the ceramic painting is mean to be a small bridge connecting two peoples, enhancing understanding as well as strengthening the friendship and cooperation between the two countries.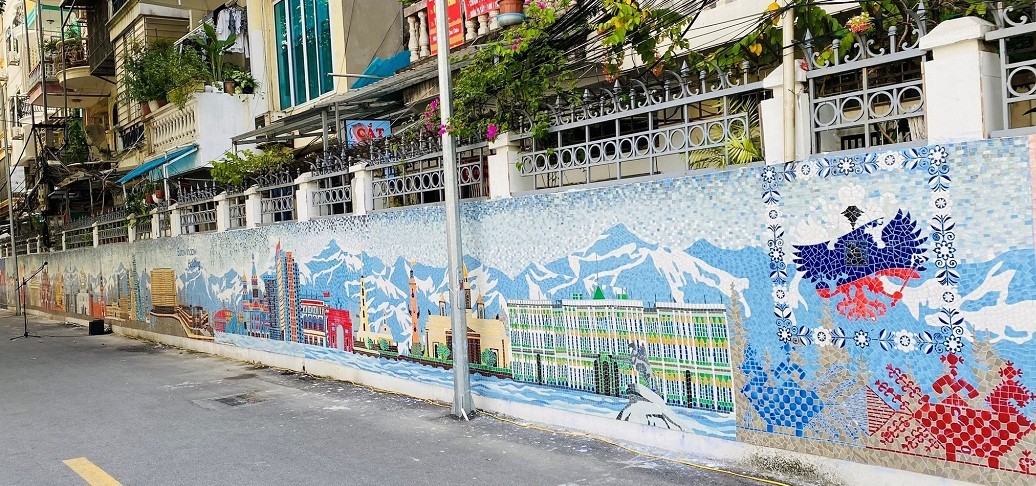 A ceramic painting, showing images of iconic landmarks and popular cultural heritages of Russia. Photo: Dang Phat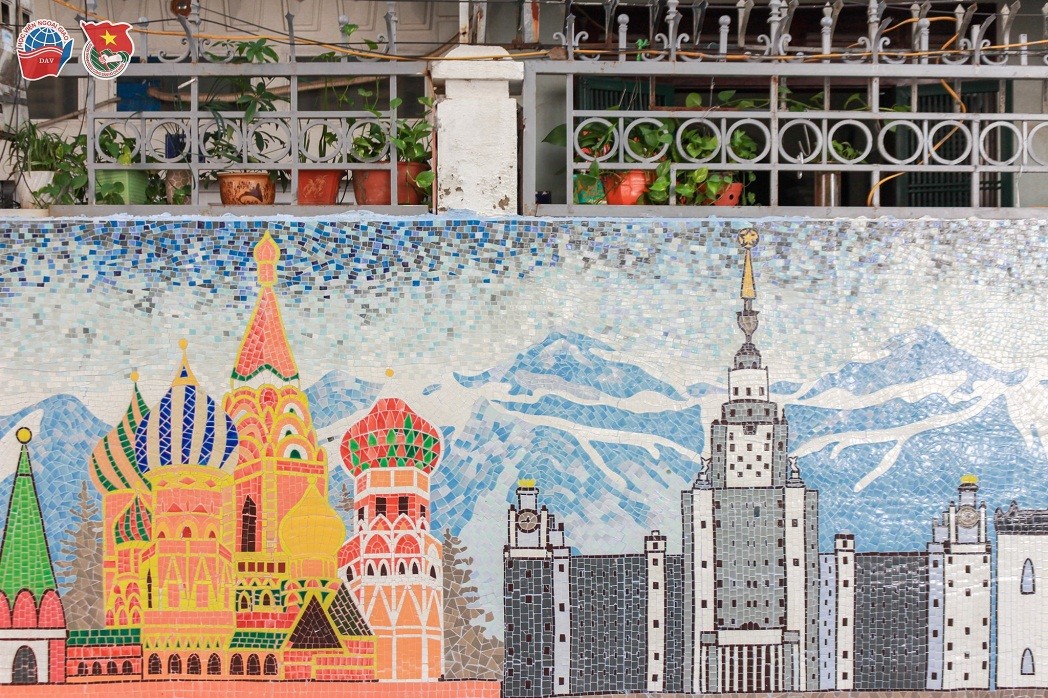 Photo: DAV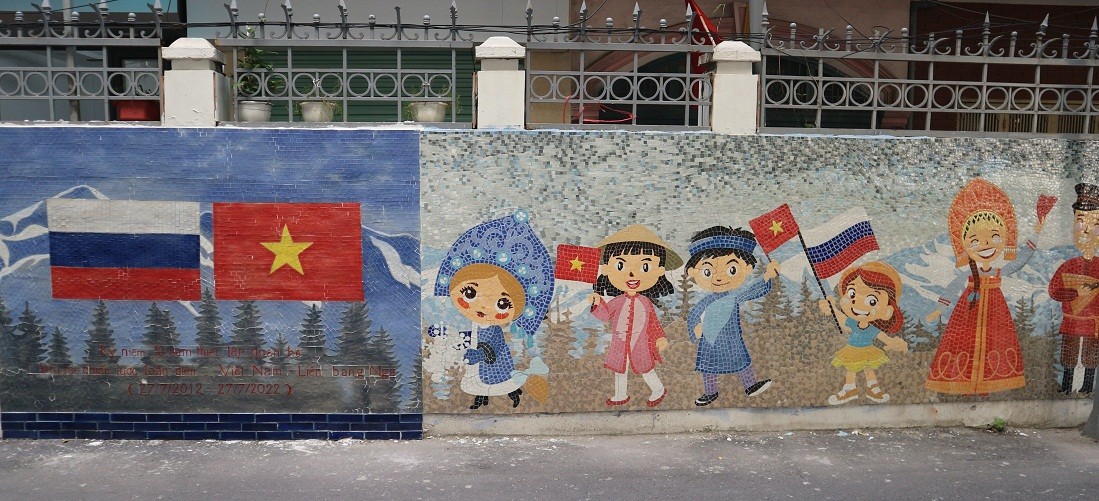 Two countries' people in traditional costumes. Photo: Vu Khanh
It not only affirms the a long history of interactions and profound friendship between the two countries, but also marks a remarkable development in the comprehensive strategic partnership between Vietnam - Russia, promises to open up many prospects for bilateral cooperation in the future.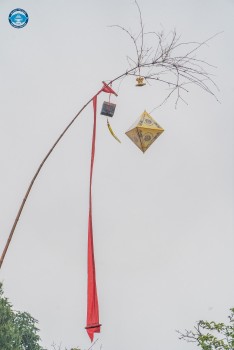 Viet's Home
In the past, the Neu pole (a tall bamboo pole with red garment strips used to ward off evil spirits during the lunar New Year) lowering ceremony at the royal palace of the Nguyen Dynasty was performed to mark the end of the New Year holiday and prepare to enter a new working year.