Cherry Blossoms in Full Bloom, Attracting Visitors to Mang Den
Tens of thousands of cherry blossom trees are blooming in Mang Den town. They have turned this place into an ideal tourist destination during Tet.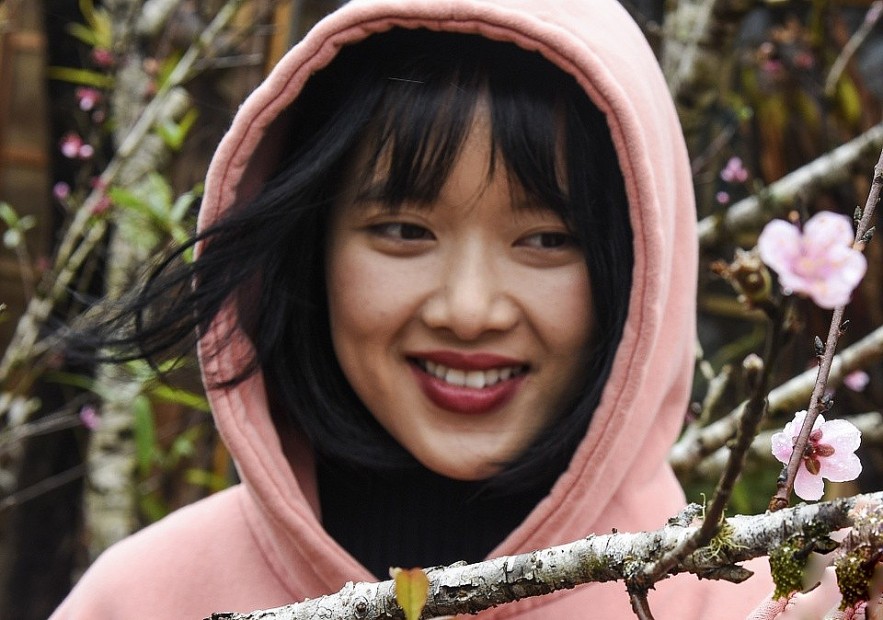 Photo: zingnews.vn
On the days adjacent to the Lunar New Year, locals and tourists in many provinces and cities are flocking to Mang Den town, KonPlong district (Kon Tum) to immerse themselves in the "cherry blossom festival." These flowers are blooming all over the mountains.
Y Trang, the owner of Soc Mang Den Homestay, said that the forest cherry blossom trees here have been around for a long time. In 2008, Nguyen Thi Phuong's family (living in Ho Chi Minh City) brought cherry blossoms from Da Lat to plant them all over her family's hill in the Konplong district.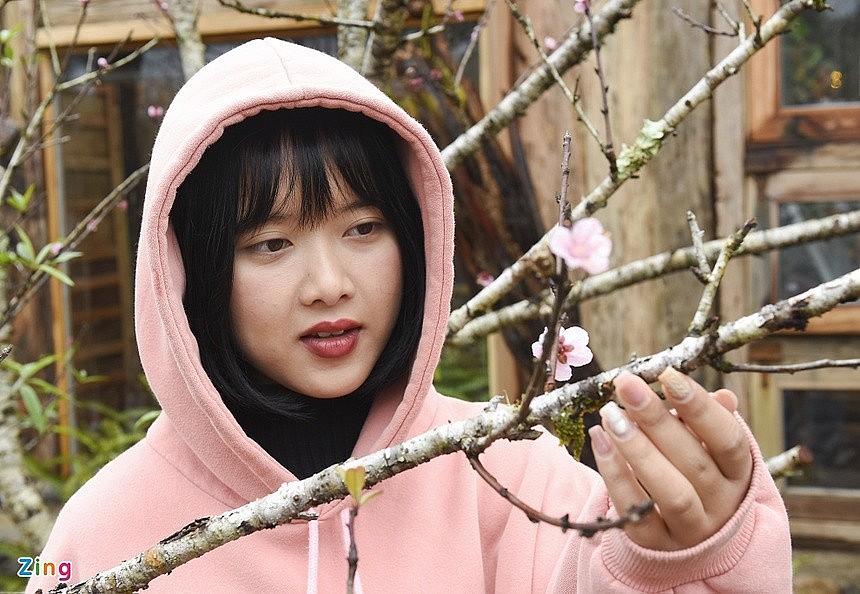 Photo: zingnews.vn
"Over the years, her family has nursed and propagated cherry blossoms and donated them to the local community for trial planting in gardens and along the street. Currently, many families in Mang Den have their own cherry blossom gardens. This attracts tourists to visit and take pictures every New Year's Eve and Spring," shared Trang.
Visitors can see cherry blossoms at Dak Ke lake, Ba Sy waterfall, Khanh Lam pagoda, the way to Ngoc Le mountain, the central park area, along both sides of Highway 24, and throughout Mang Den town.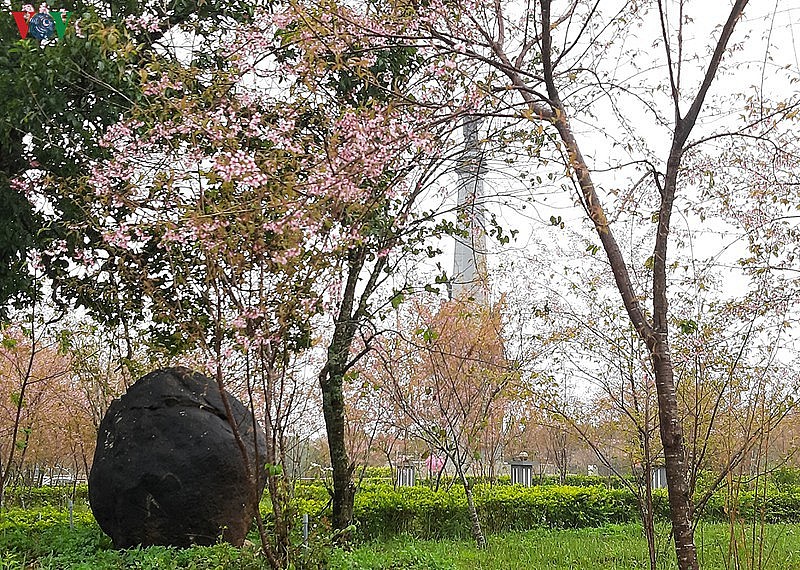 Photo: diaoc.nld.com
The ideal time to see cherry blossoms is early in the morning when the sky is still cloudy and the night dew is still hanging on the branches. This is also an ideal time for visitors to check in and save the radiant moment of spring.
Tran My Hanh, a female tourist from Ho Chi Minh City, said that after a year of hard work, her family took a car to the Konplong district (Kon Tum) to celebrate Tet early in the cherry blossom season.
"My whole family came to Mang Den right at the time when the cherry blossoms were in full bloom in the days leading to Tet. We took many beautiful photos. This New Year, I wish my family and friends always stay healthy, happy, and successful," said Hanh.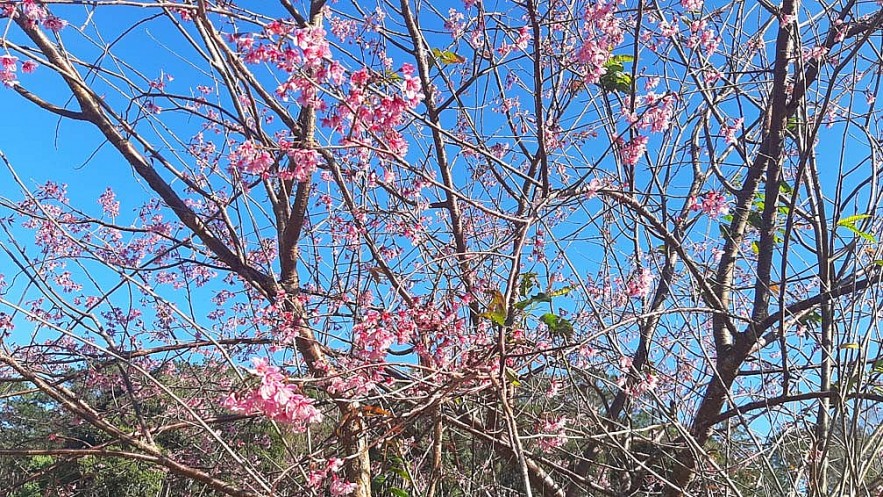 Photo: dulich anhdao
According to local people, the beautiful cherry blossoms bloom for a month near the Lunar New Year. This town is becoming a hot tourist destination for countless visitors.
Pham Van Thang, Vice Chairman of the Konplong District People's Committee, said that, unlike previous years, this year's cherry blossoms in Mang Den bloomed on the occasion of the Lunar New Year. This is a great opportunity for the locality to stimulate demand and attract tourists.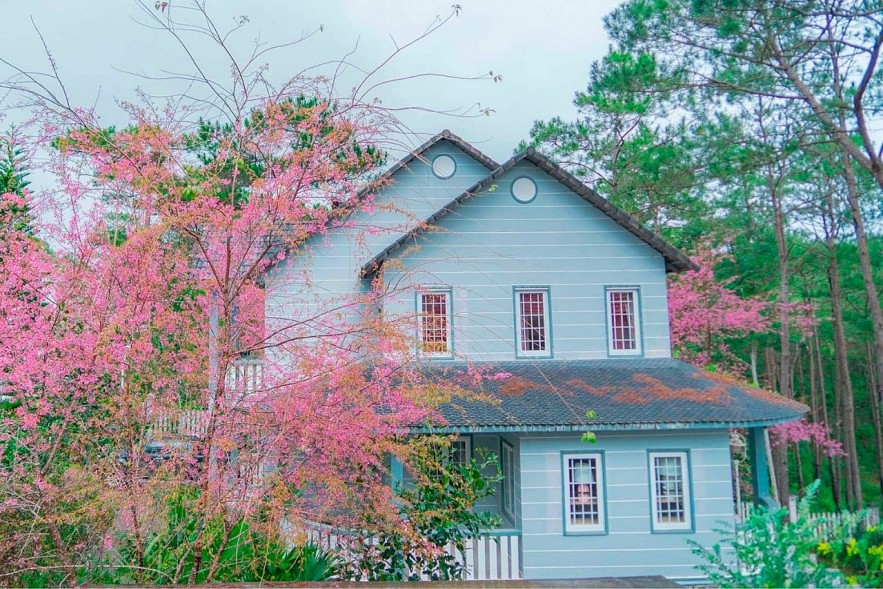 Photo: mia.vn
Currently, this place has more than 115,000 cherry blossom trees, 1-14 years old. In the near future, the Konplong district encourages businesses and people to continue planting cherry blossoms along roads, parks, bare land, bare hills, and in gardens.
"We aim to build a brand around the cherry blossom tree and annually organize a Cherry Blossom Festival to attract tourists to Mang Den," said Thang.
Mang Den national eco-tourism area, KonPlong district (Kon Tum) has long been considered by tourists as a resort paradise, "Da Lat of the North Central Highlands." From the center of Kon Tum city, visitors can take a car or motorbike along Highway 24 to the northeast 54 km.
Mang Den is located at an altitude of more than 1,200 m above sea level. The climate here is temperate, and cool all year round, the average temperature is from 16-20 degrees Celsius. It is surrounded by primeval forest, covering more than 80% of the natural area. Mang Den eco-tourism complex has many lakes, waterfalls, rock streams, and unique natural and cultural landscapes.
Mang Den eco-tourism area has many rare and precious fauna and flora; Many waterfalls such as Dak Ke, Ba Sy, Lo Ba, Toong Dam, Toong Zori, and Toong Po are suitable for developing eco-tourism and resorts associated with scientific research.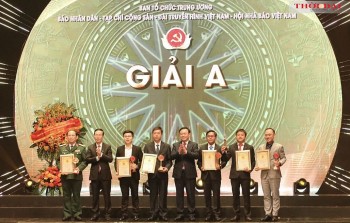 Viet's Home
The 7th National Press Prize on Party Building (named Golden Hammer and Sickle) - 2022 has been bountiful with thousands of entries on a variety of topics, rich in genres, closely following hot topics, outstanding events, key tasks of the political system and the country. Content relating to party building process was clarified and further exploited compared to previous years.