China building sprawling network of missile silos, satellite imagery shows
Researchers have warned China may be expanding its nuclear capabilities after satellite images indicated more than 100 missile silos were being built in the the desert of Gansu province.
The purported locations of new Chinese ballistic missile silos are represented by dots in this annotated version of an image from commercial satellite company Planet Labs Inc.
China is building more than 100 missile silos in the desert of Gansu province, according to an analysis of satellite photos, which researchers say signals a possible expansion of the country's nuclear capabilities.
Analysts warned the expansion signified an "alarming development" but also urged caution against "worst-case thinking", noting tension between major nuclear powers over disarmament, according to The Guardian.
The research identified the construction of at least 119 silos, likely to hold intercontinental ballistic missiles, have been identified in the desert.
The researchers, from the James Martin Center for Nonproliferation Studies at the Middlebury Institute of International Studies, made the discovery through an analysis of satellite photos provided by commercial company, Planet.
Spread across more than 700 sq miles, the site near Yumen includes the construction of underground bunkers, which may function as launch centres, cable trenches, roads and a small military base, one of the researchers, the US nuclear expert Jeffrey Lewis, said.
Features of the layout mirrored existing nuclear ballistic missile launch sites in Inner Mongolia, suggesting China has built or is building at least 145 in total.
The Washington Post said the acquisition of more than 100 new missile silos, if completed, would represent a historic shift for China, a country that is believed to possess a relatively modest stockpile of 250 to 350 nuclear weapons.
During the Cold War, the United States developed a plan to move its ICBMs across a matrix of silos in a kind of nuclear shell game, to ensure that Soviet war planners could never know exactly where the missiles were at any given time.
"Incredible" building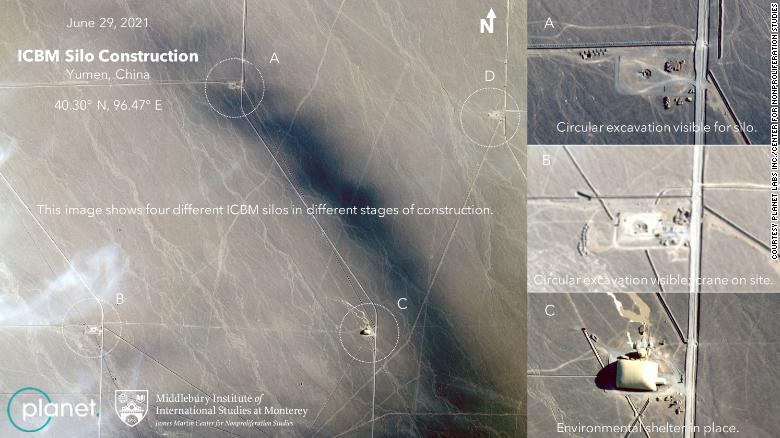 Satellite images appear to show four Chinese missile silos at various stages of construction. (Planet/Center for Nonproliferation Studies)
The construction boom suggests a major effort to bolster the credibility of China's nuclear deterrent, said Lewis, an expert on China's nuclear arsenal and part of a team that analyzed the suspicious sites, first spotted by colleague Decker Eveleth as he scoured photos taken by commercial satellites over northwestern China. Lewis described the scale of the building spree as "incredible."
"We believe China is expanding its nuclear forces in part to maintain a deterrent that can survive a U.S. first strike in sufficient numbers to defeat U.S. missile defenses," Lewis, director of the East Asia Nonproliferation Program at the Center for Nonproliferation Studies, part of the Middlebury Institute of International Studies, said in a summary of his findings provided to The Washington Post.
The discovery follows recent warnings by Pentagon officials about rapid advances in China's nuclear capability. Adm. Charles Richard, who commands U.S. nuclear forces, said at a congressional hearing in April that a "breathtaking expansion" was underway in China, including an expanding arsenal of ICBMs and new mobile missile launchers that can be easily hidden from satellites. In addition, the Chinese navy has introduced new nuclear-weapons-capable submarines to its growing fleet.
The reported silo construction project could provide China with yet another means of concealing its most powerful weapons. The construction sites spotted on satellite photos are arrayed in two huge swaths, covering parts of a desert basin stretching to the west and southwest of Yumen, a city of 170,000 people along China's ancient Silk Road.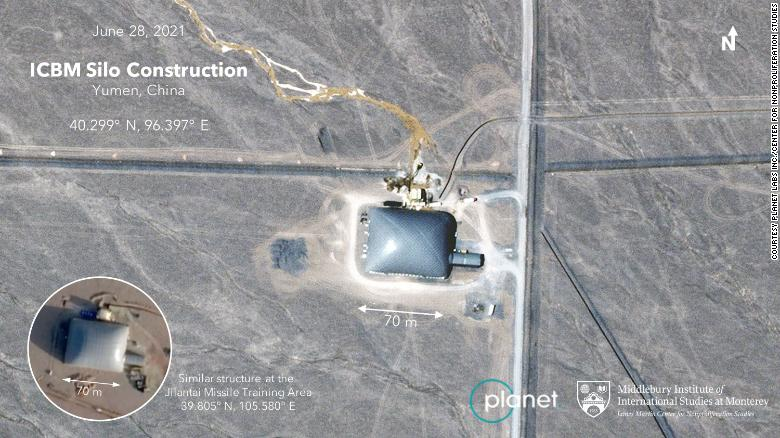 A likely single Chinese missile silo with a construction dome over the top. (Planet/Center for Nonproliferation Studies)
Each site is separated from its neighbors by about two miles, and many of the sites are concealed by a large, dome-like covering, following a practice observed at known construction sites for missile silos in other parts of China. At sites where the dome is not in place, construction crews can be seen excavating a characteristic circular-shaped pit in the desert floor. Another construction site appears to be a partially built control center.
Lewis said the silos are probably intended for a Chinese ICBM known as the DF-41, which can carry multiple warheads and reach targets as far away as 9,300 miles, potentially putting the U.S. mainland within its reach. Major excavation work on the sites began early this year, although preparations were probably underway for months, Lewis said.
Reports of the likely new missile field came just a day before Chinese leader Xi Jinping said in a nationalistic speech on the Communist Party's 100th anniversary that China's rise is a "historical inevitability" and it will no longer be "bullied, oppressed or subjugated" by foreign countries.
"Anyone who dares to try, will find their heads bashed bloody against a great wall of steel forged by over 1.4 billion Chinese people," Xi added, in comments that later appeared to be softened in the government's own English language translation.
"Beijing is serious about increasing its nuclear deterrence"
Timothy Heath, senior international defense researcher at the RAND Corporation, a US-based nonprofit think tank, said the development shows Beijing is serious about increasing its nuclear deterrence -- the idea that it could withstand a nuclear first strike from an adversary and still have nuclear weapons left that could inflict unacceptable losses on the opponent.
"Prior to this development, the US military could possibly consider using nuclear weapons in a war near China to destroy large numbers of PLA troops and equipment," said Heath. "The construction of 120 or more silos makes such a preemptive strike much harder as the US would have to target all of the silos as well as mobile launchers now."
"In short, China is trying to raise the risk of nuclear weapons use in a contingency near China to an intolerably high level," he was cited by CNN as saying.
US officials say report indicative of China's rising power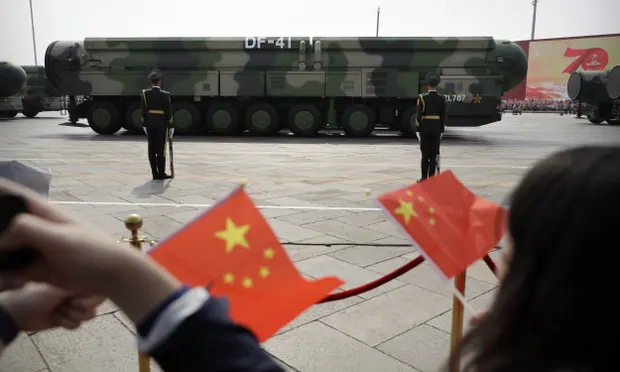 Chinese military vehicles carrying DF-41 ballistic missiles drive past flag-waving spectators during a parade in Beijing. Photograph: AP
US officials said the satellite images reaffirm evaluations made last year in the Defense Department's China Military Power Report and repeated often since.
"Numerous Defense Department leaders have testified and publicly spoken about China's growing nuclear capabilities, which we expect to double or more over the next decade," Pentagon spokesman John Supple said.
US State Department spokesperson Ned Price described the apparent buildup as concerning, noting that it raised questions over China's intentions. "For us it reinforces the importance of pursuing practical measures to reduce nuclear risks, despite what appears to be PRC obfuscation," said Price, referring to China by its formal acronym, the People's Republic of China.
"This rapid buildup has become more difficult to hide, and it highlights how the PRC appears again to be deviating from decades of nuclear strategy based around minimum deterrence," he said during a State Department briefing on July 1.
Analysts note that China is only believed to have a total of about 350 nuclear weapons, a fraction of the 5,550 warheads in the US nuclear arsenal. China's nuclear weapons are spaced out among mobile land launchers, a small fleet of ballistic missile submarines and its nuclear-capable bombers.
So it's unlikely all of the 120 purported new silos would get an ICBM tipped with a nuclear warhead.
Rather, China could play a "shell game" with the missiles, the analysts said, moving active missiles among the silos randomly./.