China facilitates entry for foreigners who inoculated with Chinese-made COVID-19 vaccine
China is making it easier for foreigners who have been inoculated with Chinese-made coronavirus vaccines to enter the country, after shutting its borders for international travel more than a year ago due to Covid-19.
Multiple Chinese embassies around the world — including those in the United States, United Kingdom, India, Israel, and the Philippines — issued notices on Monday outlining how foreigners can go about applying for visas to enter China.
But the instructions only apply to those who have been fully vaccinated using Covid-19 vaccines made in China and have the vaccination certificate to prove it.
To be clear, people with valid residence permits can enter China without new visas. Those without Chinese vaccines can also apply for visas, but they will need stronger reasons or specific documents in order to meet the requirements, CNBC reported.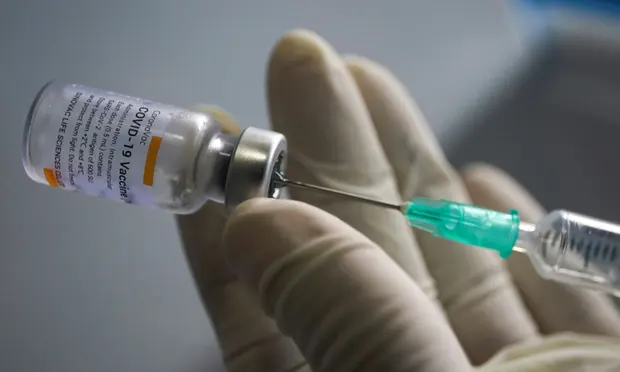 A vial of the Chinese-made Sinovac coronavirus vaccine. Chinese vaccines have been approved for use in Hong Kong, the Philippines, Thailand, and Iraq. Photo: Athit Perawongmetha/Reuters
Each embassy's notice differed in wording, but generally, foreigners from certain countries who have been fully vaccinated with Chinese vaccines require fewer documents to apply for visas. They are also allowed into the country for more reasons — though tourism is not one of them.
For example, the Chinese embassy in the United Kingdom said those applying to enter for business purposes will no longer need to produce an invitation letter from provincial governments or departments of commerce. Those without a Chinese vaccine will still need to produce an invitation letter in order to apply, based on visa requirements announced in November.
China also expanded the scope of those eligible to apply for a visa for humanitarian purposes. Those from the U.K. seeking to enter the country to reunite with family can now submit an application if they have taken the Chinese shots.
Without the Chinese vaccine, foreigners from the U.K. can only apply to enter if a family member is in critical condition and in need of care, or if they needed to arrange for funeral matters in China.
The country's quarantine measures of up to 21 days still apply where relevant and negative Covid tests will need to be presented. Applicants should wait 14 days after receiving a Chinese-made vaccine before seeking a visa to enter China.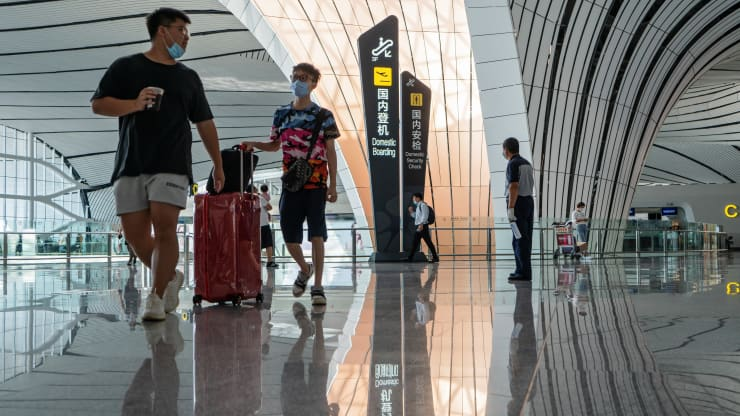 Travelers walk through Beijing Daxing International Airport in Beijing, China, on Tuesday, Aug. 25, 2020. Photo: Yan Cong/ Bloomberg/Getty Images.
Chong Ja Ian, an associate professor of political science at the National University of Singapore, weighed in on possible reasons for China's move.
"Vaccine nationalism is a possibility that cannot be ruled out given the absence of further explanation," he told CNBC in an email.
Chong also said some observers suggest this is a way for China to get more usage and recognition of its vaccines or get countries to approve their vaccines more quickly.
In a press briefing on Tuesday, Zhao Lijian, the ministry of foreign affairs spokesperson, denied the rule was designed to push other countries to recognize China's vaccines, the Guardian reported.
"Our proposal … is made after thoroughly considering the safety and efficacy of Chinese vaccines," Zhao said. "This is an arrangement made by the Chinese side unilaterally. It is a different thing from vaccine recognition."
Robert Booy, an infectious disease and vaccine expert from the University of Sydney, said Beijing's announcement was "a good sign" for people returning to China for work, and it made sense to want those returnees to be vaccinated.
"I think all countries, China or not, are proud of a safe and effective vaccine and would be keen to see a quality vaccine widely used, so I'd take the politics out of this and say I understand wanting to see a safe and effective vaccine used."
But the fact that Chinese-made vaccines were not available in many countries made things difficult. "I would hope the Chinese authorities would accept any reputable Covid vaccine," Booy said.
China has developed five vaccines, and 34 countries have approved at least one Chinese vaccine, according to CNBC's calculations based on a Covid-19 vaccine tracking site.
After early criticism and suspicion over China's lack of published trial data, there is a much wider acceptance of Chinese vaccines now, although reported efficacy rates vary wildly. For vaccines across the board there a lot is still unknown about how well they block transmission, both in individuals and at a population level when more than one type is used.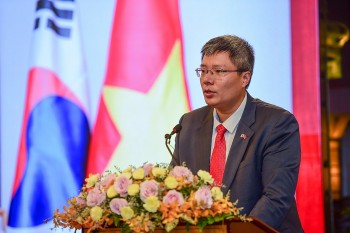 Viet's Home
Tran Hai Linh, member of the Central Committee of the Vietnamese Fatherland Front, chairman of the Vietnam-Korea Business & Investment Association (VKBIA) shared with the Vietnam Times about strengthening the capacity to promote Vietnamese culture to the world.