China: Fears of second COVID-19 wave as over 1,000 asymptomatic cases confirmed
There are concerns in China that the end of lockdowns will see thousands of infectious people move back into daily life without knowing they carry the virus, because they have no symptoms and so have not been tested.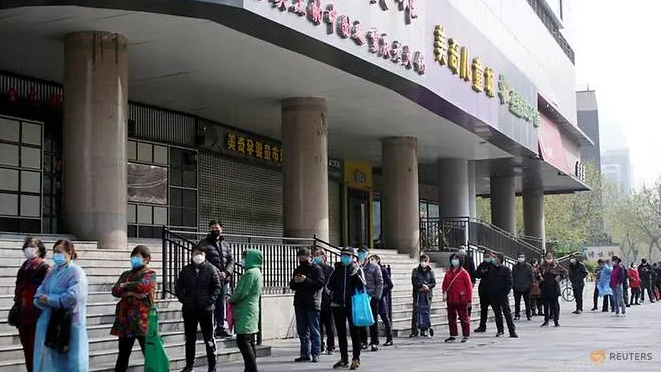 People wearing face masks line up to enter a supermarket in Wuhan, Hubei province, the epicentre of China's coronavirus disease (COVID-19) outbreak, April 1, 2020. REUTERS/Aly Song
China on Wednesday (Apr 1) said it has 1,541 asymptomatic coronavirus cases, the first time it has released such data following public concern over people who have tested positive but are not showing symptoms.
Asymptomatic coronavirus cases are those who carry the virus but do not show any symptoms and can cause sporadic clusters of infections.
Chinese health authorities began reporting on asymptomatic cases of the coronavirus as part of an effort to allay public fears that people could be spreading the virus without knowing they are infected with it.
Historical data on those infected without showing symptoms has not been published.
China, where the coronavirus emerged late last year, has had more than 81,000 cases of the coronavirus and 3,305 deaths. However, the country has managed to bring its outbreak under control and is easing lockdowns in virus hot spots.
While the domestic coronavirus epidemic has abated due to aggressive travel restrictions, public appeals for releasing more information on asymptomatic people and tightening control over them have been running high, China Daily reported.
The number of known asymptomatic cases has previously been classified, and it is not included in the official data, though the South China Morning Post newspaper, citing unpublished official documents, recently said it was more than 40,000.
The announcement about asymptomatic cases came as the other countries including South Korea and Japan are counting asymptomatic cases in their number of confirmed cases for their potential to infect others.
In an effort to dispel public fears about hidden cases of the virus, this week the Chinese government has ordered health authorities to turn their attention to finding asymptomatic cases and releasing their data on them.
Health authorities in Liaoning province were the fist to do so on Wednesday, saying the province had 52 cases of people with the coronavirus who showed no symptoms as of Mar 31, they said in a statement on a provincial government website.
Hunan province said it had four such cases, all of them imported from abroad, it said in a statement on its website.
The National Health Commission is due to start reporting aggregate, national data on asymptomatic cases later on Wednesday.
There is debate among experts about how infectious asymptomatic cases are but experts agree that asymptomatic patients are likely to be infectious, but it remains unknown how responsible they are for spreading the deadly virus.
Chinese respiratory expert Zhong Nanshan said in a state media interview last week that asymptomatic carriers could potentially infect "3 to 3.5 people each".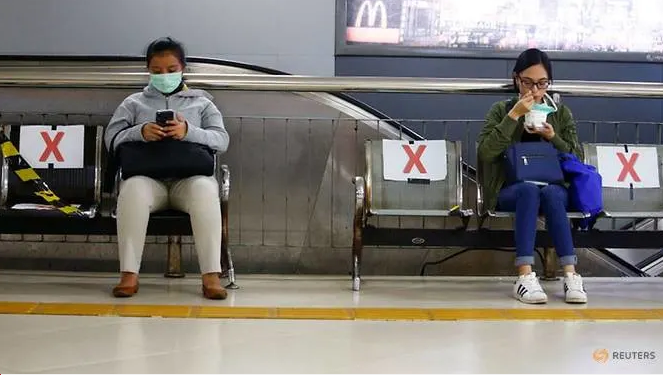 Passengers sit on a social distancing chairs at a station to prevent the spread of coronavirus disease (COVID-19) in Jakarta, Indonesia, March 30, 2020. REUTERS/Ajeng Dinar Ulfiana
Loss of taste, smell
Losing your sense of smell and taste may be the best way to tell if you have COVID-19, according to a study of data collected via a symptom tracker app developed by British scientists to help monitor the pandemic caused by the new coronavirus.
Almost 60 per cent of patients who were subsequently confirmed as positive for COVID-19 had reported losing their sense of smell and taste, the data analysed by the researchers showed.
That compared with 18 per cent of those who tested negative.
Though not peer-reviewed, these results were much stronger in predicting a positive COVID-19 diagnosis than self-reported fever, the researchers at King's College London said.
Using all the data collected, the research team developed a mathematical model to identify which combination of symptoms - ranging from loss of smell and taste, to fever, persistent cough, fatigue, diarrhoea, abdominal pain and loss of appetite -was most accurate in predicting COVID-19 infection.
"When combined with other symptoms, people with loss of smell and taste appear to be three times more likely to have contracted COVID-19 according to our data, and should therefore self-isolate for seven days to reduce the spread of the disease," said Tim Spector, a King's professor who led the study.
Spector's team applied their findings to the more than 400,000 people reporting symptoms via the app who had not yet had a COVID-19 test, and found that almost 13 per cent of them are likely to be infected./.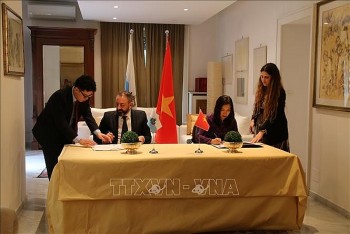 Friendship
The two countries will continue promoting cooperation to enhance growing ties between the two countries based on the good friendship since they established diplomatic relations in 2007.