Teaching online? 5 ways to make it great
As COVID-19 takes hold, universities are closing worldwide. Instructors therefore have to move to teach virtual classes. Here 4 experts share their great tips for instructors to embrace the new digital classroom. 
1. Start simple
Professor Courtney Harrington of University of North Carolina advises instructors not to get too concerned with all of the exciting and fancy things you can do online - there will be time to explore that once this emergency situation has passed.
"The goal right now is [for professors] to get their point across to students, meet our learning objectives and get the students where they need to be in a different medium." Trying new things you're not well-versed in can be overwhelming for you and your students in a time when they're learning how to log in for the first time and process new tools in new learning management systems.
2. Rethink your presentation approach.
Professor Harrington said, "Opening up your video camera Tuesdays and Thursdays from 10-10:50 because that's when your class was likely isn't going to be engaging for students." Find different ways to present your materials like creating short, pre-recorded videos, typing up lecture notes students can download, and uploading photos of figures you would normally draw on a chalkboard.
Underscore the main point you want your students to get from the materials you share with them. Also, consider pointing to materials that already exist, which can also provide a novelty factor for engagement as well as save you some time.
"You really have to get a bit detached from the way you're used to teaching and get used to presenting things to students in multiple different ways [to create that reinforcement.]"
3. Don't convert your entire lecture to video.
"Students don't want to watch slides without a teacher's face or voice," says Kyungmee Lee, a lecturer in technology-enhanced learning at Lancaster University, UK. If you normally teach a 3-hour class, summarize its essence in a video no longer than 30 minutes, says Lee. Justin Reich, a digital-learning researcher at Massachusetts Institute of Technology in Cambridge, agrees that it is best to be succinct. "Strategically reduce your goals," he says. Instructors need to identify a few specific things that they want their students to learn, and focus on those.
4. Invite student engagement and feedback.
The best online instructors, Reich and Lee agree, set up their courses so that students can pursue self-paced enquiry — exploring the topic under their own initiative. For example, you can give students a range of links for further reading. Ideally, they will be able to choose content on the basis of their own interests, but you need to ensure that your expectations are clear, says Lee. It's also important to find out what students most care about, adds Reich. "The most common misstep is not listening to your students," he says. Asking students what they hope to get out of the online course, and how you can best serve them, offers instructors ideas for teaching and gives students ownership of the process, he says.
5. Be flexible with your students, and yourself.
According to Professor Harrington, students are experiencing unusual circumstances after many have been asked to leave their residency halls and move back home.
Some may not have the tools they had at school, like a strong internet connection, or access to the same devices. Expecting a video response from every student who entered the semester going to a face-to-face class may not be reasonable right now.
With some caring for children or elderly parents, it's important to relax your late work policies and due date windows for the time being as well.
"The thing we have to remember is that as much as we are overwhelmed, students are also overwhelmed." Likewise, if you're new to teaching online, there is going to be some inevitable trial and error. Just remember: you're new to this. "It's okay to give yourself some grace. We're all navigating new waters; it's okay to not be perfect."
Nature/Verizon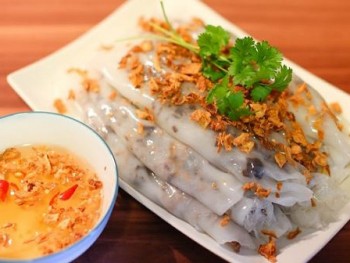 Travel
Banh Cuon is the next representative to bring Vietnam into the world culinary field.