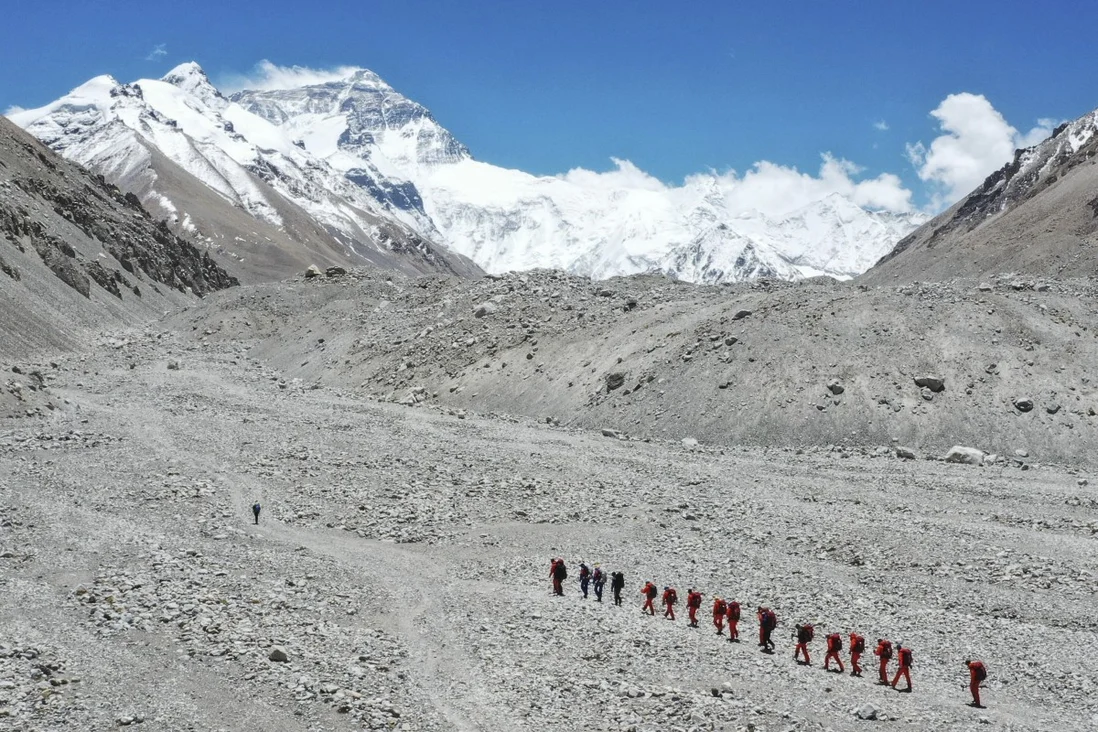 Guides aim to prevent climbers ascending Mount Everest from the Chinese side from mingling at the summit with those on the Nepalese side. Photo: Xinhua
China will set up a "separation line" on the world's highest peak to prevent transmission between climbers after a cluster of Covid-19 cases was reported at a base camp in neighbouring Nepal.
The mountaineering management bureau of the Tibet autonomous region and local authorities said strict measures would be in place for the 2021 Everest climbing season to prevent Covid-19 infections, according to state news agency Xinhua.
"Because the northern and southern routes of ascent are different, there's no infection risks there. The most important focus for preventing transmissions will be at the summit," Nimaciren, head of the Tibetan autonomous region's sports bureau, was quoted as saying.
The official said that before commercial climbers began the last push to the summit, a small team of Tibetan guides would go ahead to set up the line and prevent contact with climbers from the Nepal side. Contact with items left by those from the other side such as the traditional ceremonial scarf khata, will also be banned, according to Nimaciren.
"Our guides and climbers will be wearing one-piece climbing suits, mountaineering goggles and oxygen masks. This gear can act as protection [against the virus]," the official was quoted as saying.
"Line of separation" not practical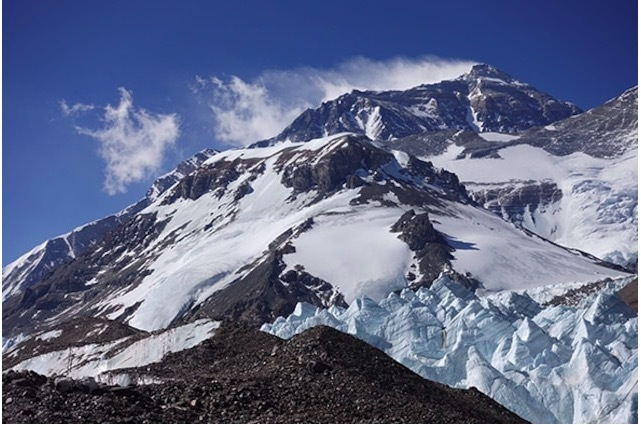 Photo: NatGeo
Fergus White, an Irish mountaineer and the author of a book about climbing Everest, said the summit was less than 15 square metres (161 square feet) and climbers typically stayed for less than 20 minutes due to the low oxygen and freezing conditions, according to South China Morning Post.
White said that under normal circumstances, climbers from the northern and southern routes interacted very little because at that altitude every step was draining and everyone wore masks that muffled their speech.
"A line of separation will not be required, and is not practicable in the death zone," White said.
It did not make sense for someone to stand still at the summit for an extended period – risking exposure damage or running out of oxygen – to do crowd control, according to White.
"It's much easier to remind 20 climbers to maintain social distance discipline than to try to prevent more than 100 climbers from walking a few paces to the right at the summit, even though they have no reason to walk to the right," he said, adding that a firm reminder by the Chinese side to maintain social distancing was useful.
Xia Boyu, China's first double amputee mountaineer to summit Everest, known as Qomolangma in China, said the risk of infection would be very low.
"Everyone up there will be wearing an oxygen mask and in a one-piece climbing suit with very little surface exposed," Xia said. "This is mostly precautionary."
"I don't think it is feasible to really set up a physical partition up there," he said. "More likely the guides will separate the mountaineers from the two sides and make sure that they don't mingle."
China has only approved 38 people to climb Mount Everest this year, with a team of 21 climbers already en route to the summit from the northern side, Xinhua reported.
China and Nepal have jointly announced that the mountain was 8848.86 metres or 29031.69 feet tall. Reuters
Though imported cases are reported daily, China has curbed the domestic transmission of Covid-19 infection. Nepal, however, has seen a surge in the outbreak with record new infections and deaths in recent days, HidustanTimes said.
Most major cities and towns in the Himalayan country between India and China are under lockdown and all domestic and international flights are grounded.
In December, China and Nepal jointly announced that the mountain was 8848.86 metres or 29031.69 feet tall.
Chinese President Xi Jinping and his Nepalese counterpart Bidya Devi Bhandari jointly announced the new height of the tallest mountain in the world through an exchange of letters.
Until then, Nepal had recognised the height of the mountain as 8,848 metres as measured by the Survey of India in 1954.
The announcement marked the end of a debate between Beijing and Kathmandu over a "three-metre" height difference the two neighbours had on the mountain's height./.
Rosy Huong