Hanoi residents ignore crowd gathering ban to exercise in public spaces
Although local authorities in Hanoi have ordered the closure of parks and gardens and told people not to exercises in public, many are ignoring the ban and heading outside for sports activities, without wearing face masks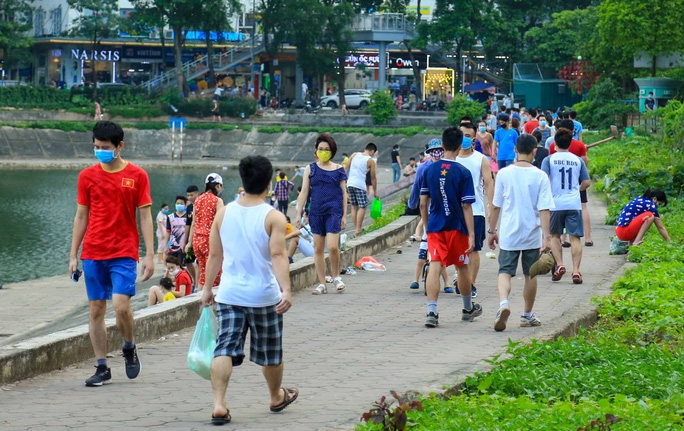 People walk along the lake in Bac Linh Dam park on Sunday. Photo Nguoi Lao Dong
Nguoi Lao Dong (The Workers) newspaper has reported that hundreds of people poured into Bac Linh Dam park in Hoang Mai District for sessions of walking, running, playing football, and shuttlecock at the weekend. Due the the hot weather, many took off their face masks.
As there was no security guard on duty at the park, both adults and children could enter the park and do exercises along the lake.
When asked whether they knew about the ban on crowd gathering, many said they felt stuffy staying indoors all day long so went to the park to enjoy the fresh cool air in the afternoon and evening.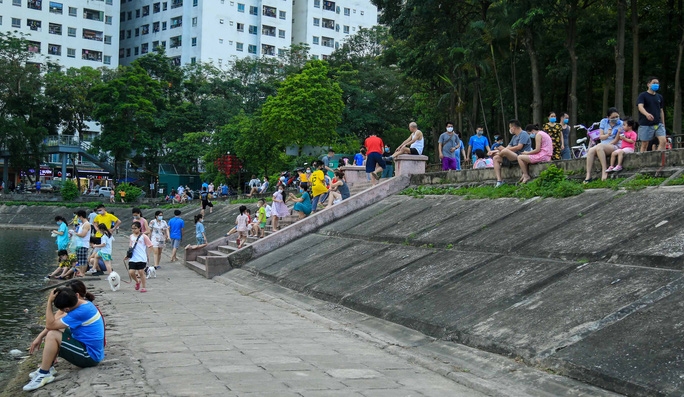 People sit to enjoy fresh air next to the lake but many failed to socially distance. Photo Nguoi Lao Dong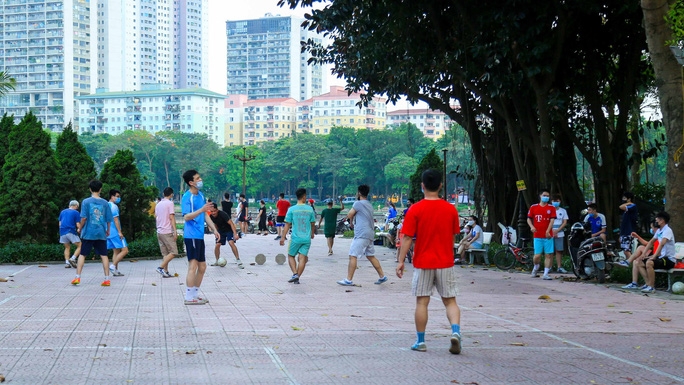 Footbal matches went on as normal. Photo Nguoi Lao Dong
A person resident of HH Linh Dam apartment building said: "Amid the complex situation of Covid-19 with more cases detected every day, people should raise awareness. Instead of gathering in big crowds in public areas, they can exercises on their own at home. That still helps them keep fit and avoid virus transmission."
Nguyen Xuan Chinh, chairman of Hoang Liet Ward People's Committee, said upon receiving reports from the newspaper, local police and Covid-19 prevention and control teams of the ward inspected the area and imposed fines on violators.
Nguyen Thi Quynh Trang, an officer on the committee, said since that late April, 14 people had been fined for not wearing face masks, gathering in large crowds in public and not keeping one meter distance from each other. Each was fined 1 million VND (44 U.S. dollars).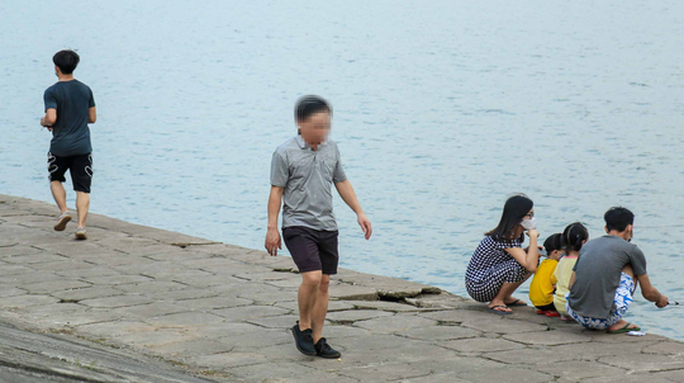 A man walking in the park wihout a face mask. Photo Nguoi Lao Dong
People found not wearing face masks in public spaces in Hanoi could be fined up to 3 million VND.
As many as 110 people, including foreigners, were fined a total of 300 million VND, for not wearing masks in Hanoi's Hoan Kiem District during the four-day holiday from April 29 to May 2.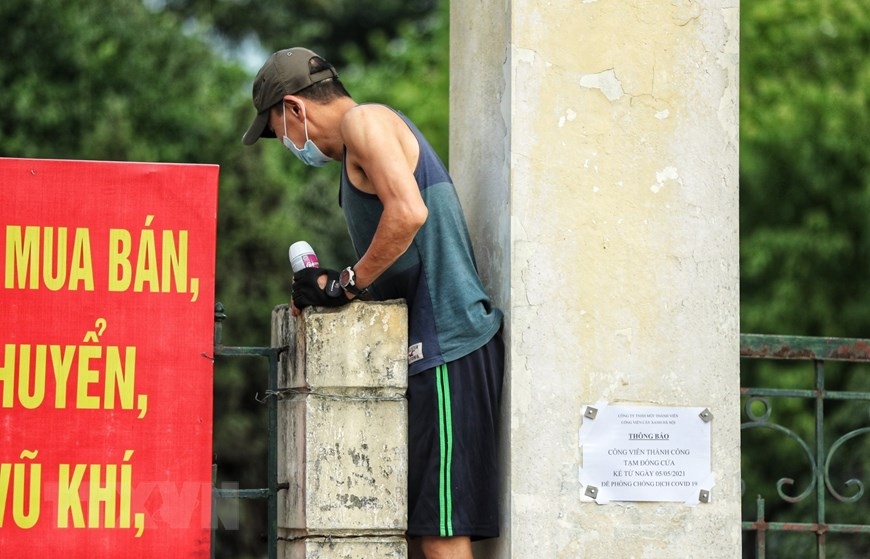 A man crosses a barrier to enter Thanh Cong park. Photo VNA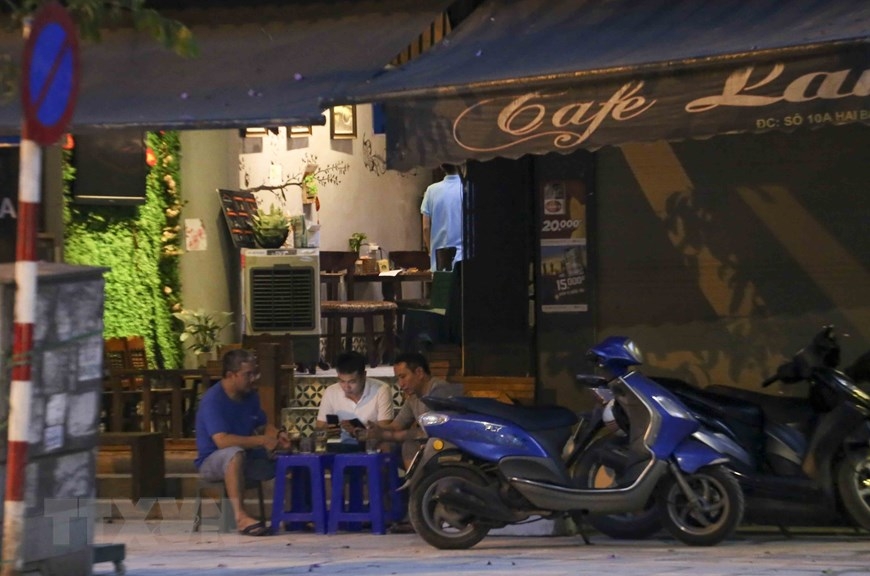 A group of coffee drinkers on Hai Ba Trung street fail to wear face masks Saturday. Photo VNA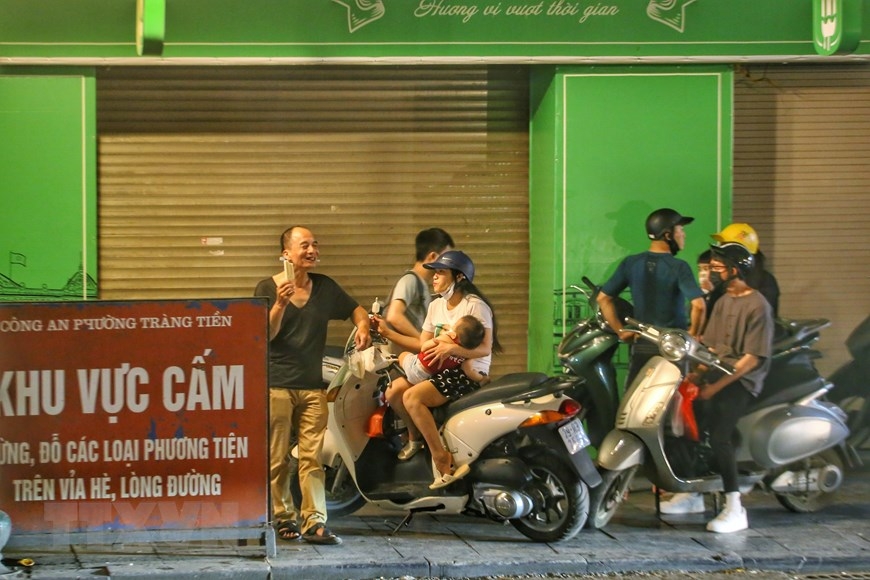 People park their bikes by Trang Tien street to enjoy ice-cream. Photo VNA
As of Monday noon, among 442 community cases of Covid-19 reported since the resurgence of the outbreak on April 27, Hanoi has ogged 141 cases with the biggest clusters in the National Hospital for Tropical Diseases in Dong Anh District and the National Cencer Hospital in Ha Dong District.
The city has ordered the closure of non-essential services like bars, karaoke parlours and suspended the activities of gyms and cinemas.
Students at all school levels must remain at home and switch to online learning this week.