China: Terrible flood came, miracle baby boy is born on top of floating tyre
A woman in a town in Southwest China's Yunnan province recently gave birth while atop of a tyre floating in floodwater, after the ambulance was blocked by a flash flood.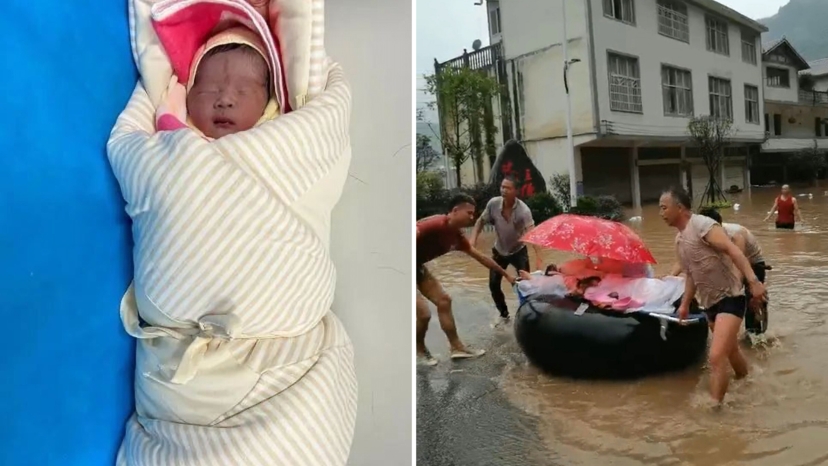 Baby boy born on floating rubber tyre tube amid flooding in China. Credit: AsiaWire/australscope
The woman, surnamed Chang, who had high-risk symptoms including uterus scarring and premature rupture of fetal membranes and had to be sent to hospital immediately for emergency treatment, was trapped at home when local traffic was cut off by three meters of floodwater, reported CCTV.
Hospital staffers and volunteers then came up with an idea to place Chang on a 1.5-meter-wide tyre so that she could be transferred on the water to the nearest ambulance.
Six adult volunteers with strong swimming skills slowly pushed forward the tyre, while a doctor sat beside Chang on the tyre to take care of her.
They were forced to wade through muddy floodwaters, while the mother was under a sheet of plastic and shielded by an umbrella as she was pushed along the town's main road.
However, Chang suddenly went into labor about 30 minutes after she had been lying on the tyre. Thanks to the doctor in attendance, she eventually gave birth to a baby boy, and was later transferred to an ambulance before being sent to hospital.
The baby was named Shuisheng, "born in water."
Chang is currently recovering well in hospital and her vital signs are stable, CCTV reported.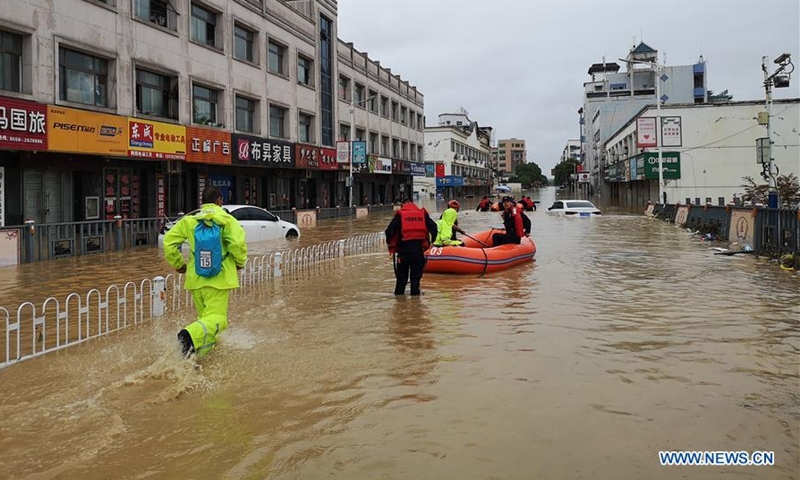 Rescuers work in Shexian County battered by flood in east China's Anhui Province, on July 7, 2020. Photo by Shi Yalei/Xinhua
Emergency response level raised
China's State Flood Control and Drought Relief Headquarters upgraded the emergency response for flood control from level IV to level III on July, as incessant downpours continued to wreak havoc across vast stretches of the country, reports China's Xinhua news agency.
Due to severe flooding, the headquarters and the Ministry of Emergency Management on July 6 dispatched nine more work teams to various regions, including Sichuan, Chongqing, Hunan and Jiangxi. Previously, teams had been sent to assist in flood relief in Hubei and Anhui.
Anhui and neighboring Hubei province, the epicenter of the pandemic in China, appeared to be the hardest hit by the rain, Associated Press said.
Severe flooding and heavy rains have killed at least two people and disrupted the Chinese language exam in She county in southern Anhui province after only 500 of the 2,000 students had reached the exam site on July 7, the Huangshan city government said.
Nearly 30,000 people were evacuated in Hubei's Huanggang city after water started seeping from a reservoir, the China News Service reported. The reservoir has been reinforced and a channel dug to release flood water.
Two people died in Hubei and nearly 1 million have been affected in the province by the flooding, the state-owned news service said.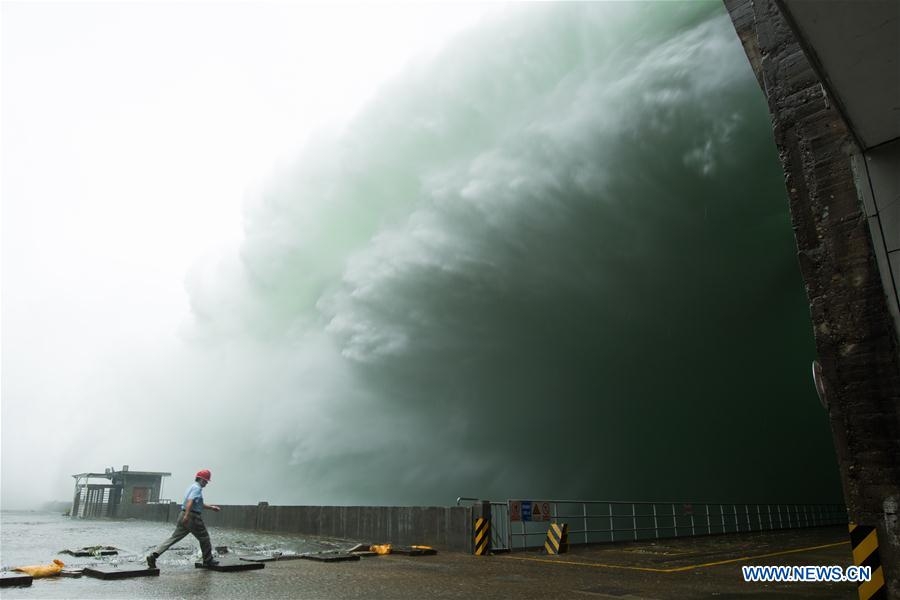 A staff member walks by spillways at Xin'an River Reservoir in east China's Zhejiang Province, July 7, 2020. Photo by Xinhua/Weng Xinyang
The Xin'an River Reservoir, an important flood control project in the upper reaches of the Qiantang River, opened spillways for the first time in nine years on July 7 to lower the crest of the floods.
This is also the seventh time spillways of the reservoir were opened to release floodwaters since it was built in the 1950s.
"Due to heavy downpours and floods in the upstream Anhui province, the water level of the lake rose rapidly and had exceeded the flood limited water level," said Zheng Chaohong, deputy director of the local water conservancy bureau.
"Weather forecasts showed that heavy rain will persist in areas around the reservoir in the next three days, and there's a risk of flooding even when the hydropower station runs at full capacity, so we decided to open the spillways," said Zheng.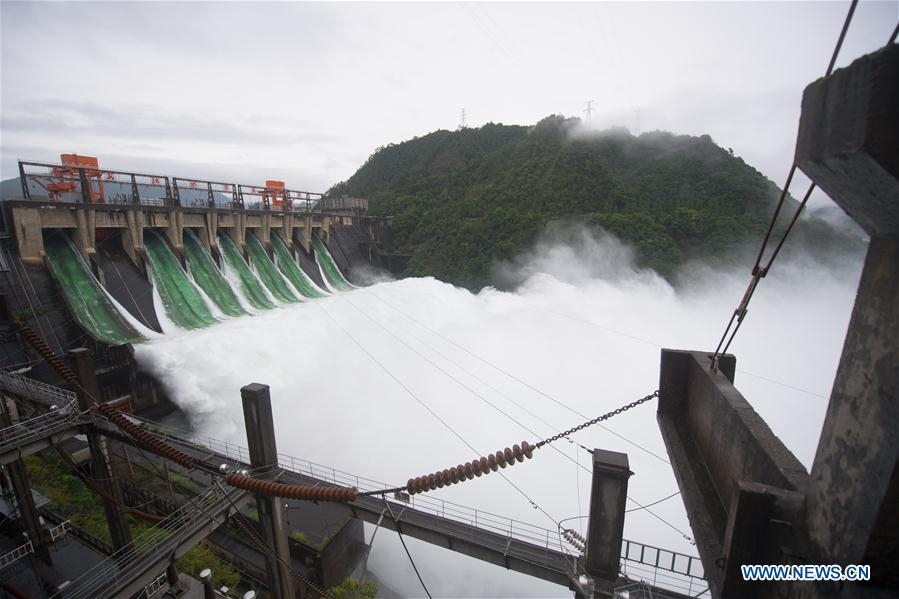 Water gushes out from spillways at Xin'an River Reservoir in east China's Zhejiang Province, July 7, 2020. Photo by Xinhua/Weng Xinyang
Since June, continuous downpours have lashed large parts of southern China, and the waters of many rivers in the affected regions have exceeded warning levels.
China has a four-tier flood control emergency response system, with level I representing the most severe.
Meanwhile, the country's national observatory on July 7 afternoon issued an orange alert, the second highest in its four-tier, color-coded alert system, for rainstorms from July 7 night to July 8 night.
By late June, more than 12 million people across 13 provinces had been affected, Bloomberg reports, citing China's Ministry of Emergency Management.
As of last Friday, there were 119 people dead or missing nationwide as a result of the rainstorms, while the emergency ministry estimated economic losses to be in excess of 40 billion yuan (USD 5.7 billion).
State media also reported that 21 people died and another 15 were injured after a bus crashed into a reservoir in southwest Guizhou province./.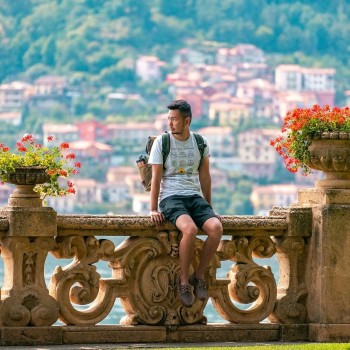 Travel
If you have the opportunity to visit Hoi An at the end of the year, these are some of the best recommendations for fun activities you can do from Peter R – a Thai travel blogger.