China urges Philippines not to focus on maritime dispute on South China Sea
Chinese Foreign Minister Wang Yi urged the Philippines not to be distracted by their maritime disputes on the South China Sea but focus on cooperative oil and gas exploration projects in the area.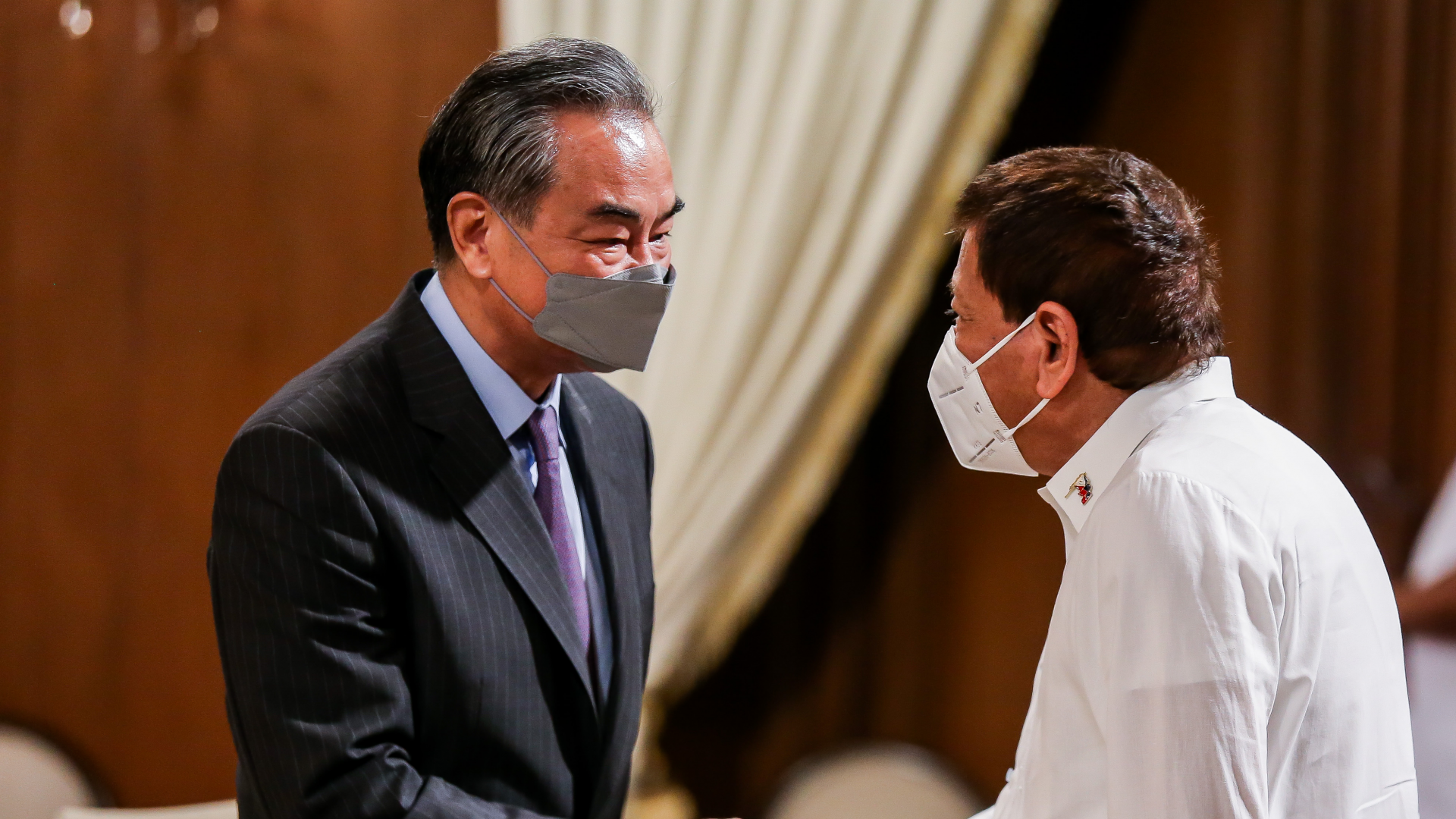 Chinese Foreign Minister Wang Yi met with Philippine President Rodrigo Duterte on January 16 in Manila (Image: CGTN)
In a recent interview with a Chinese outlet last weekend, Foreign Minister Wang Yi said that South China Sea issue 'only partial to the entirety of Sino-Philippines relations' and he urged Manila to instead focus on advancing cooperation on oil and gas exploration in the region after wrapping up his week-long tour of Southeast Asia, according to SCMP.
"Both sides believe that the South China Sea issue is only partial to the entirety of Sino-Philippines relations," Wang said, discussing the outcomes of his Manila visit. "We should not let such 1 per cent difference derail the 99 per cent of our relations."
Wang said the two countries would continue to "properly manage their disputes" and push for oil and gas exploration in the South China Sea.
The Philippine government in October lifted a ban on offshore oil and gas exploration, reopening the door to joint energy development with China.
Two years ago, the two governments signed a memorandum of understanding to jointly explore undersea oil and gas, a way of defusing their corner of a broader regional dispute.
As the Duterte administration nears its end, Beijing has sought to reaffirm support for its neighbour, promising half a million doses of Covid-19 vaccines, US$1.34 billion in loan pledges for infrastructure projects and US$77 million in grants.
Wang said the supply of vaccines to the Philippines showed Beijing's willingness to help the Philippines overcome its Covid-19 pandemic challenges.
Last year, Philippine lifted a ban on oil and gas exploration in or near disputed areas of the South China Sea that was imposed years ago.
That, along with foreign investment in the exploration, will help boost an economy that has been battered by the coronavirus pandemic, an official said.
The Philippines largely won that arbitration case in 2016 with a U.N.-backed tribunal declaring China's historic claims to virtually the entire South China Sea were invalid under the U.N. Convention on the Law of the Sea. The tribunal upheld the Philippines' exclusive right to exploit marine and fuel resources in its exclusive economic zone, but China refused to participate in the arbitration and dismissed its outcome as a "sham."
The Trump administration has repeatedly raised alarm over China's increasingly aggressive actions in the disputed waters. Beijing has responded by warning Washington to stay out of what it says is a purely Asian dispute.
National
Vietnam News Today (Jan. 20): Vietnam confirms 15,936 new local Covid cases; First Omicron infections in community reported in HCM City; Vietnam to facilitate procedures for foreign entrants; Hanoi capital cancels fireworks display on lunar New Year's Eve.