What Japan says about UK's plan to send aircraft carrier group to Asia seas
Defense Minister of Japan Nobuo Kishi on January 14 has hailed the UK's plan to dispatch an aircraft carrier strike group to waters in the western Pacific.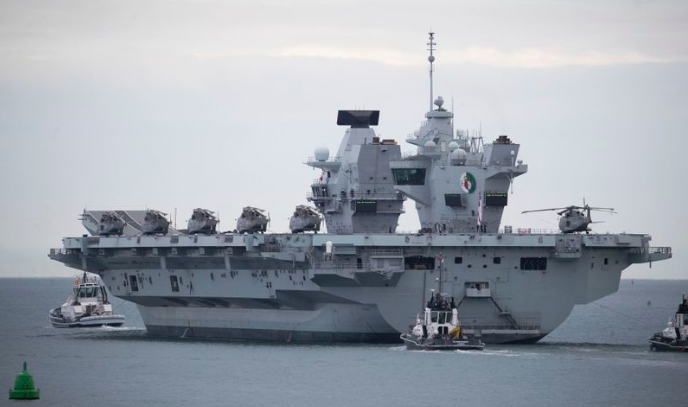 The British Royal Navy aircraft carrier HMS Queen Elizabeth.
During a video conference with his British counterpart Ben Wallace, Kishi said Japan will work closely with the country for the dispatch of the strike group, centered on the aircraft carrier Queen Elizabeth, Japan Times quoted the Defense Ministry.
The carrier, commissioned in 2017, is Britain's largest warship, the HMS Queen Elizabeth, weighing 65,000 tons and measuring 280 meters in length. It is expected to carry out joint exercises with the Self-Defense Forces and the US military during its stay in areas including off the Nansei Islands chain in southwestern Japan.
Kishi and Wallace agreed that the two countries will "strongly oppose" any unilateral attempt to change the status quo in the East and South China seas through force, according to the Japanese ministry.
China has illegally and aggressively pressed its territorial claims in those bodies of water, raising tensions with Tokyo and a number of other Asian countries.
Kishi and Wallace agreed to strengthen a free and open Indo-Pacific and defense cooperation, and work toward holding "two-plus-two" talks involving their countries' foreign ministers at an early date, the ministry said.
They also reaffirmed they will work toward the goal of North Korea ridding itself of weapons of mass destruction and ballistic missiles in a "complete, verifiable and irreversible manner," it said.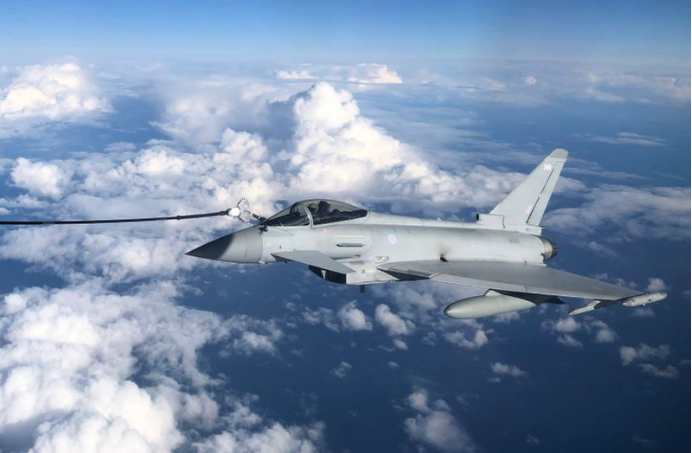 An F-35B from the newly-formed Carrier Strike Group on HMS Queen Elizabeth. (Leon Neal/Getty Images)
According to CNN, in 2018, the Royal Navy amphibious assault ship HMS Albion steamed closed to the Chinese-claimed Paracel Islands in the South China Sea (called Bien Dong Sea in Vietnam) in what Beijing called a "provocative action."
And in 2019, UK and US warships conducted six days of coordinated drills in the South China Sea.
Since 2017, UK defence officials have been saying the carrier's first deployment would include Asia and the Pacific on a route from Britain that would likely take it through the South China Sea.
"The UK is a global power with truly global interest - we must be prepared to compete for our interests and our values far, far from home," then-UK Defence Minister Gavin Williamson said in 2019.
The carrier would take its contingent of state-of-the-art F-35 stealth fighter jets into a region where "China is developing its modern military capability and its commercial power," Williamson said in an address to the Royal United Services Institute think tank in London.
Beijing illegally claims almost all of the 3.3 million square kilometre South China Sea as its territory.
Even ahead of Royal Navy readiness announcement, Chinese military officials were warning London against interfering in the region.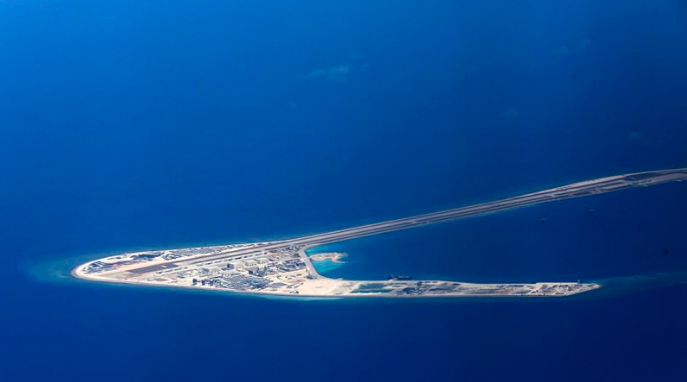 Chinese structures and an airstrip on the man-made Subi Reef at the Spratlys (Truong Sa) group of islands are seen from a Philippine Air Force C-130 transport plane off the South China Sea in western Philippines. (AP)
"We believe the South China Sea should not become a battleground for big power competition, or a sea full of roaming warships," Senior Colonel Tan Kefei, a spokesman for China's Defence Ministry, said at a December 31, 2020 news briefing reported by the state-run Xinhua media agency in a posting on the Chinese military's official English website.
Foreign powers sending their warships to the South China Sea, where China has built military bases on man-made islands, were behind the "militarisation" of the waterway, Col Tan said.
"The Chinese military will take necessary measures to protect national sovereignty, security, and its developmental interests, as well as safeguard peace and stability in the region," he said.
Vietnam has repeatedly asserted its sovereignty over the Hoang Sa (Paracel) and the Truong Sa (Spratly) Islands in the Bien Dong Sea (translated as East Sea).
Beside Vietnam, the Philippines and Malaysia have also engaged in a pushback against Chinese claims and actions in the area, while progress in talks between ASEAN and China over the South China Sea appear to be at a standstill./.