China's defense drawbacks: Hacking design while not touching core technology
As the internet evolves around the world, stealing information becomes a common threat. With a high level of expertise, Chinese hackers can break into nearly any country's computer networks, creating a risk of technology and information leak worldwide.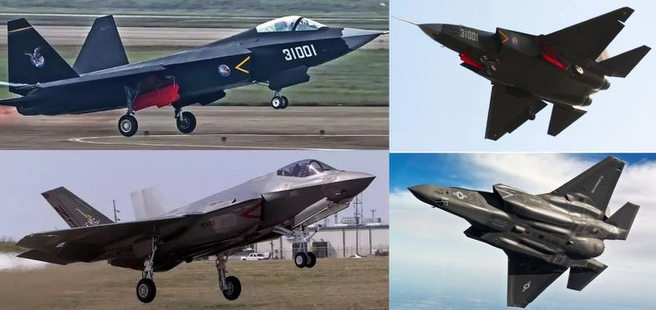 China's Shenyang J-31 (above) is designed based on the US F-35 Lightning II (below). (Photo: Quora)
Chinese hackers' trick to steal information
It is widely known among Chinese hackers that breaking into computers of the US or Russia Department of Defense is a challenging mission because of their high security levels. Furthermore, computers that contain confidential information usually do not have an internet connection to avoid being hacked.
Therefore, the easiest way for Chinese hackers to get in is to hack into defense contractors' computers. With tens of thousands of computers owned by thousands of main and subcontractors (the F-35 stealth program has 1,900 subcontractors), not every place has a sense of security and set up security systems that can equally meet with the same level of security protection. Using this method, Chinese hackers broke into and obtained most of the design records of aircraft F-22 and F-35 as well as other information about the new weapons that the US is studying, Thanh Nien cited.
According to the Washington Post, in January and February 2018, the US Navy had a large amount of classified information stolen by Chinese hackers, using the mentioned method. The stolen information includes the ones that relate to the top secret project Sea Dragon to produce a mine that can reach supersonic speeds when launched from a diving submarine, scheduled to begin in 2020 and other information about encoding systems for communications and data on underwater electronic warfare.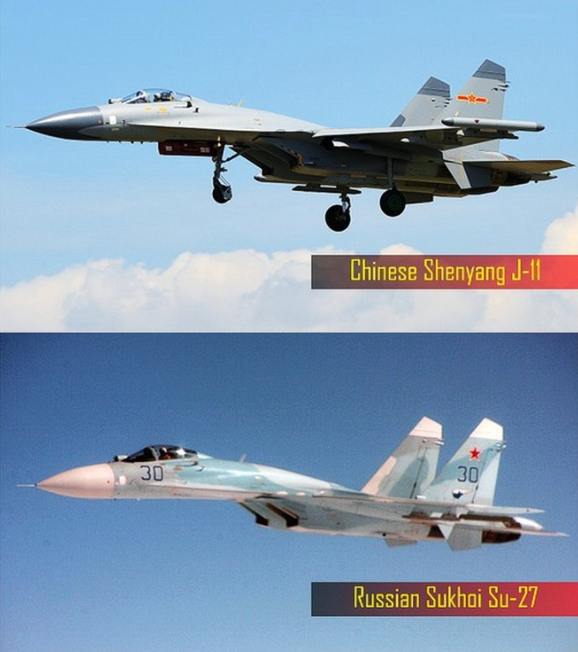 Shenyang J-11 (above) and Sukhoi Su-27 (below). (Photo: Finance Twitter)
China's sophisticated methods to obtain other countries' defense technology
Owning a huge budget, China is willing to pay generously to buy weapons and military equipment designs from countries other than the United States. For example, China acquired the blueprints for the US F-16 Falcon fighter. This design was secretly sold to China by Israel because General Dynamics (USA) had previously transferred the F-16 design to Israel so that they could produce their own domestic fighter line named Lavi.
Although China has built what is believed to be the 5th generation J-20, it still craves Russia's most modern fighter line - the Su-57. According to the Economic Times and Bulgarian Military, China has expressed its intention to buy the Su-57, but Russia is hesitant due to fears of technology stealing threat. However, China somehow "acquired" the design of Russian Mikoyan's 5th generation MiG-1.44 aircraft, which Russia only produced one sample model terminated the project at the end of 2000.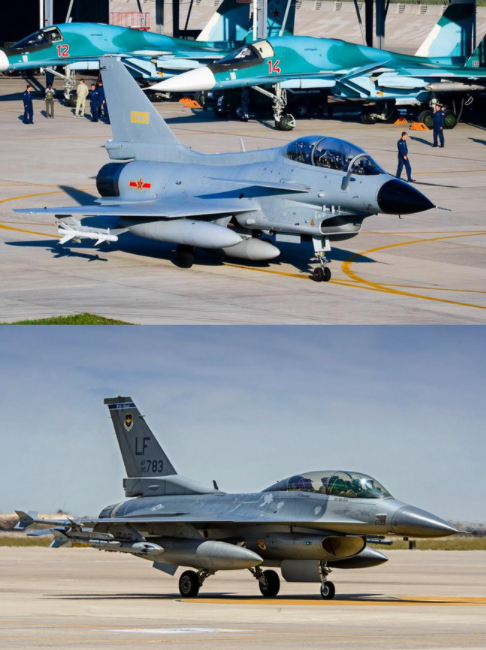 China's Chengdu J-10 (above) and US F-16 Falcon (below). (Photo: Thanh Nien)
China also uses other sophisticated tactics to steal defense technology from other countries. In the name of research cooperation, Chinese industrial corporations have invested in European firms operating in the field of machinery and equipment for civil aircraft. As a result, China has earned a number of advanced technologies relating to helicopter rotor design, engine manufacturing, and helicopter drive. China has also bought stakes in Volvo car brand (Sweden) because this company also produces jet engines.
Using multiple methods and approaches, China has obtained high-end Western military technologies, especially those with "dual-purpose" for both civil and defense uses.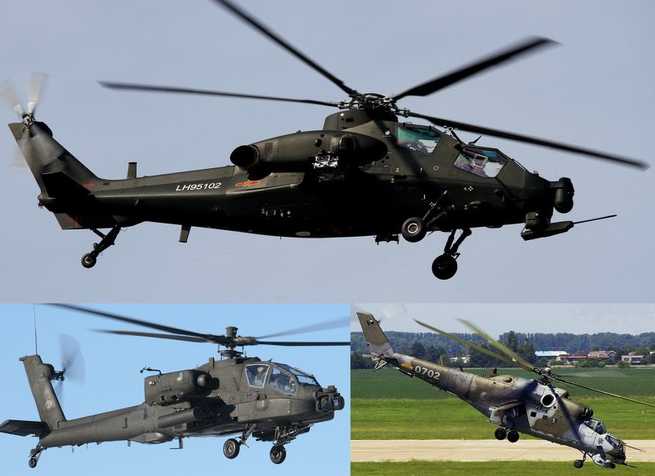 Changhe WZ-10 combat helicopter (above) is designed based on US Boeing AH-64 Apache (left) and Russian Mil Mi-24 (right). (Photo: Thanh Nien)
Chinese defense technology's most noticeable drawbacks
The biggest disadvantage of Chinese aviation technology is that they still have not mastered in jet engine design and manufacture, as it is easier to steal the design of chassis than engine. That reason explains why there are only a few companies in the UK, Germany, France, and Russia that can produce high-quality jet engines for both civil and military aircraft.
Therefore, even though the Chinese government has invested 100 billion yuan (nearly 15 billion USD) in state-owned aerospace corporations for research and manufacture of jet engines since 2012, no significant progress has been achieved so far.
Defense magazine Asian Defense said that the Chinese aviation industry still has to use imported engines for at least 10-15 years to come. According to Western military experts, China is at least a decade behind the US and Russia in terms of jet engines. Stealing the design, not being able to copy the "soul" of aircraft is the core reason that holds back the aviation producing industry of this power.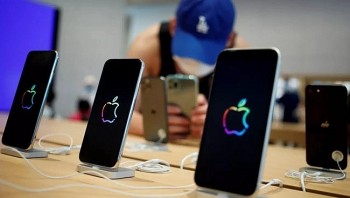 World
India exported iPhones worth $1 billion from May to September 2022, according to a Bloomberg report, but a closer look at the data shows the country is a long way from rivalling China's iPhone manufacturing chops