China's weapons on Bien Dong Sea and other hotspots
China is believed to have deployed a variety of weapons to or near the hotspots of Bien Dong Sea, the Senkaku/Diaoyu Islands, the Taiwan Strait, and the India-China border area.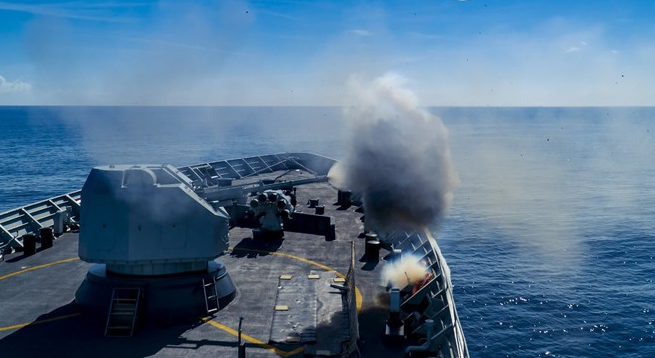 Chinese corvettes during exercises in the Bien Dong Sea in June 2020. (Photo: Thanh Nien)
Bien Dong Sea
South China Morning Post, on October 22, cited a military source close to the People's Liberation Army (PLA) which revealed the country's missile launch drills in the Bien Dong Sea as the reason why an aircraft Taiwan was denied entry into Hong Kong airspace while flying to the Dongsha Islands on October 15.
Earlier, late at night on August 26, the news agency quoted some sources close to the PLA to say that it had launched two DF-21D and DF-26B ballistic missiles to the Bien Dong Sea.
International media have reported that Beijing blatantly deployed the HQ-9 air defense missile system and the YJ-62 anti-ship cruise missile to Phu Lam Island in the Paracel Islands. In May 2018, as said by CNBC, the US intelligence reported that China had deployed the YJ-12B anti-ship cruise missile and the HQ-9B missile system to the Spratly Islands under Vietnamese sovereignty.
Besides, China also blatantly sent J-10 and J-11 fighters to Phu Lam island. In August 2020, images on social media showed at least one Chinese H-6J bomber that landed on Phu Lam Island, according to The Drive. China has also dispatched KJ-500 early warning aircraft, KQ-200 submarine-hunting aircraft, and Z-8 multirole combat helicopters to the area, according to Thanh Nien.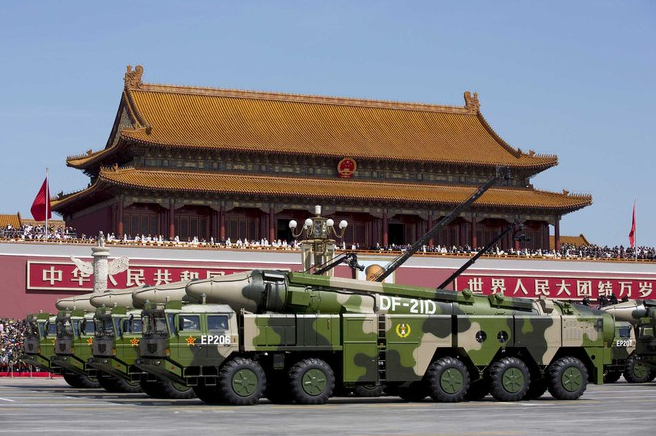 DF-21D missiles. (Photo: Reuters)
Senkaku/Diaoyu Islands and Taiwan strait
China also holds a lot of military activity around the Senkaku/Diaoyu archipelago. In January 2018, Japan's Ministry of Defense announced the discovery of a Chinese submarine with a guard ship entering the contiguous area of nSenkaku/Diaoyu, AFP reported.
Therefore, if any conflict arises in the region of Senkaku/Diaoyu, the PLA can mobilize its J-20 stealth fighter, the S-400 air defense missile system and the DF-21A medium-range ballistic missile, according to The National Interest.
Compared to Senkaku/Diaoyu, the Taiwan Strait situation seems even more intense. SCMP on October 18 cited some sources and experts who revealed that China had increased its military strength on the southeastern coast near the island of Taiwan, including the deployment of the DF-17 hypersonic missile. Previously, the Taiwan Defense Agency (MND) confirmed that PLA Su-30 and J-10 fighters flew into the air defense detection area of ​​this territory on 9-10 September, according to Reuters. China had also repeatedly dispatched H-6 bombers to patrol near Taiwan.
In addition, SCMP provided satellite images showing that Type-05 amphibious armored vehicles, PHL-16, and PCL-191 missile systems had been dispatched to the Eastern War Zone, which is in charge of the Taiwan and East China Sea.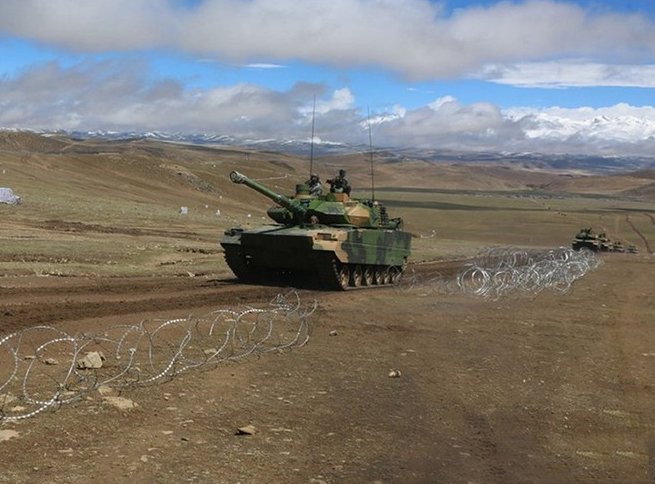 Type 15 tanks in Tabet. (Photo: Chinese Army)
India-China border
In addition to the above hot spots, China has deployed many advanced weapons to the Indian border area. Recently, Forbes magazine reported that China had dispatched HQ-9 to an area only about 50 km from the conflict area in June. Beijing also deployed short-range HQ-2 and DF-21 air defense missiles to the Indian border, according to the Kashmir Times.
SCMP reported that the PLA sent at least three H-6 bombers and Y-20 transport aircraft to an area near its border with India. The PLA also sent J-11 and J-16 fighters to the area.
Previously, Global Times reported that since the confrontation between the two countries in the Doklam plateau area in 2017, the PLA had deployed Type 15 tanks, GJ-2 unmanned attack aircraft, PCL-181 grenades, and guns to the Tibetan plateau, which locates near the two countries' border.
National
Vietnam News Today (Jan. 20): Vietnam confirms 15,936 new local Covid cases; First Omicron infections in community reported in HCM City; Vietnam to facilitate procedures for foreign entrants; Hanoi capital cancels fireworks display on lunar New Year's Eve.