Chinese fishing vessels pose possible threats to seafood resources in Bien Dong Sea
According to a US marine biology expert, China's illegal construction of artificial islands and overfishing possibly damage ecosystems as well as deplete seafood resources in the South China Sea (Bien Dong Sea).
Speaking at an online meeting held by the US Consulate General in Ho Chi Minh City on September 16, expert John McManus at the University of Miami (USA) cited the report showing that there is an estimate of 3.7 million people participating in fishing activities in the South China Sea (Bien Dong Sea), in which China accounted for 649,000 people, Thanh Nien reported.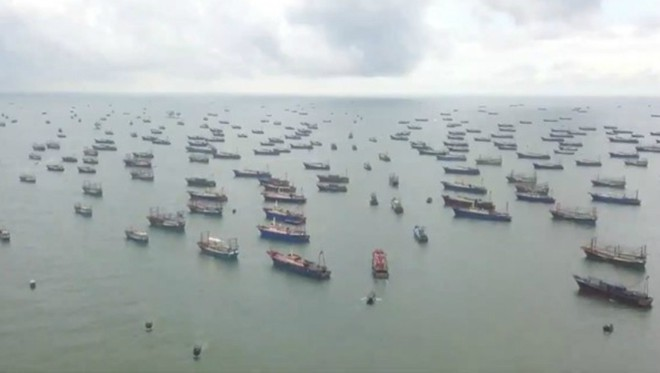 More than 16,000 Chinese fishing vessels simultaneously set sail in the South China Sea (Bien Dong Sea) on August 16 Photo: CCTV
In addition, China has huge fishing fleets with more than 4 million crew members. China Central Television CCTV published a video on Twitter on August 16 saying that more than 16,000 fishing vessels from Hainan Island simultaneously set sail after the fishing ban unilaterally imposed by Beijing in the South China Sea (Bien Dong Sea) ended. Global Fishing Watch used satellite and detected there were exactly 16.966 Chinese fishing vessels.
China has exempted tax and funded for purchasing fuels with a total of about 16.6 billion USD/ year, according to recent researches.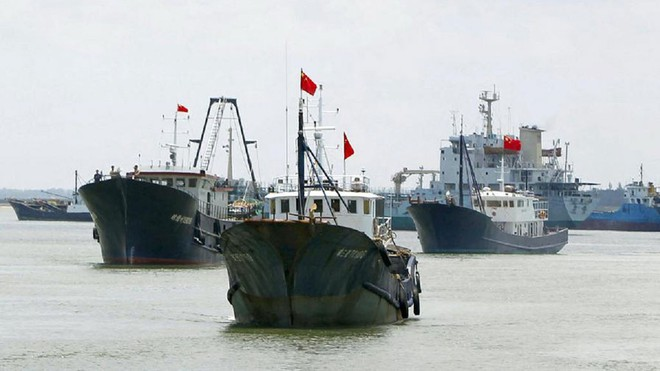 Photo: AFP
According to the Food and Agriculture Organization of the United Nations China occupied about 15% of the fish-catching output of the whole world in 2018.
Expert McManus said that Beijing has not provided transparent data; therefore, it is hard to exactly determine the number of seafood caught by Chinese fishing vessels. Besides, McManus also admitted that scientists find it difficult to anticipate when the seafood resources in the South China Sea (Bien Dong Sea) will become exhausted due to insufficient data.
On the other hand, since 2013, the Chinese vessels have dredged and destroyed most of the coral reefs to illegally build artificial islands on Vietnam's Paracel (Hoang Sa) and Spratly (Truong Sa) archipelagoes.
Previously, on August 26, U.S penalized 24 Chinese companies involving in helping the Chinese military construct artificial islands in the South China Sea (Bien Dong Sea).
US Secretary of State Mike Pompeo stated "Since 2013, China has used its state-owned enterprises to dredge and reclaim more than 3,000 acres on disputed features in the South China Sea, destabilizing the region, trampling on the sovereign rights of its neighbors, and causing untold environmental devastation".