Cho Ray hospital sends medical experts to Southwest for Covid-19 support
13 medical experts from Cho Ray hospital are heading to Kien Giang province to help local personnel set up field hospitals and treat Covid-19 patients.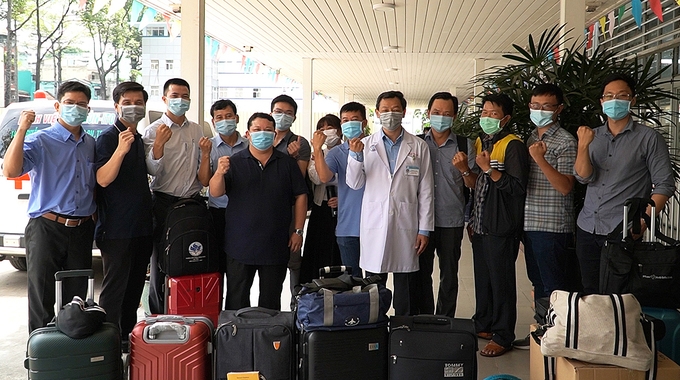 13 medical experts from Cho Ray hospital are dispatched to Kien Giang for Covid-19 support (Photo: VNE)
The medical team consists of specialists in resuscitation, artificial kidneys, infection control, according to Dr. Nguyen Tri Thuc, director of Cho Ray hospital.
Once arrived at Kien Giang, the crew will set up one Intensive Care Unit (ICU) for Ha Tien General hospital – the frontline medical facility of Kien Giang in the Covid-19 battle. The ICU will be equipped with ECMO machine (Extracorporeal Membrane Oxygenation) and hemodialysis machine.
The experts also plan to coordinate with local authorities to survey and develop an urgent plan to set up two field hospitals in Ha Tien city and Rach Gia city, each has a capacity of 500 patient beds. The plan will then be submitted to the Ministry of Health for approval.
Earlier on the trip to Kien Giang last Sunday, the Health Ministry affirmed that Cho Ray hospital and Pasteur Institute in Ho Chi Minh City would be the two main units to dispatch medical support to southwestern border localities, especially Kien Giang.
Health Minister Nguyen Thanh Long stressed that Kien Giang is a Covid-19 hotspot and very vulnerable to imported infections, given its long border with Cambodia (over 56km). He added the Health Ministry was always ready to offer expertise and technical support.
In addition, the Ministry tasked Ho Chi Minh City Pasteur Institute to work with localities to establish qualified testing laboratories in Ha Tien and provincial general hospital, in a bid to improve productivity and on-site testing capacity.
"We must strengthen Covid-19 prevention efforts at border areas to prevent illegal entry, get ready for unexpected situations", Long said while checking Covid-19 prevention implementation Ha Tien border gate and Kien Giang quarantine center, on April 18.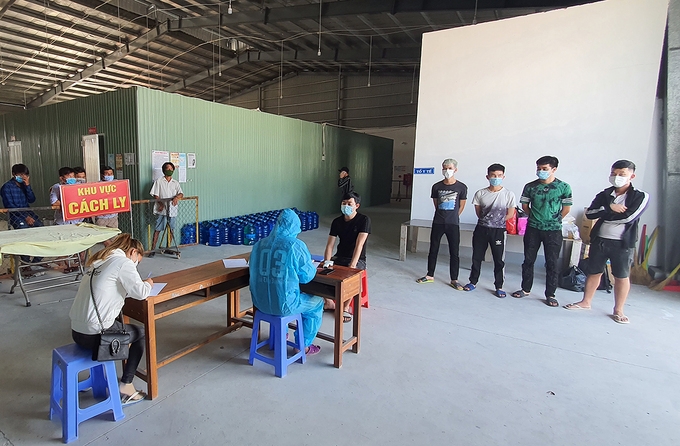 One quarantine center in Ha Tien city admitting returnees from Cambodia (Photo: VNE)
According to the spokesperson from Kien Giang anti-epidemic committee, Kien Giang province has over 14km of land border and around 26km sea border. Ha Tien International Border Station has established 44 fixed posts, 4 guard posts, 4 mobile teams, 4 high-speed canoes to perform duties and prevent people from entering and leaving illegally.
The border post has so far received 3,373 overseas Vietnamese returnees, and 25 individuals violating regulations on residence and entry from Cambodia authorities. Two illegal trespassing were seized.
Medical officials knock on every door to inform households of local Covid-19 situation. They also call for people to immediately report suspected or illegal entrants to authorities for prompt response.
In the face of complicated pandemic development of other ASEAN countries, especially border provinces, Long tasked all localities to develop effective quarantine, blockade plan for timely response once imported cases or community infection detected.
The Health Ministry on April 17 have established 5 missions led by ministers and vice-ministers to inspect anti-pandemic implementation in 13 provinces, namely Kien Giang city, Can Tho, Vinh Long, Dong Thap, Long An, An Giang, Tien Giang. , Ben Tre, Tra Vinh, Hau Giang, Bac Lieu, Ca Mau, Soc Trang. Inspection time is from April 18 – 30.
The missions were made after Minister Long warned of the high risk of Covid-19 recurrence in Vietnam given the strong outbreak in neighboring countries like Cambodia and Thailand.
Cambodia is in the midst of a strong Covid-19 outbreak. The country records only 400 cases in 2020, yet the tally has been rising exponentially since the end of February to nearly 6,000, and 43 deaths reported. Phnom Penh capital and its neighboring town of Takhmao are under lockdown.