Establishing field hospital in Ha Tien is a possible scenario
The Minister of Health Nguyen Thanh Long assessed that Ha Tien's border area was a hot spot where entry, both legal and illegal, complicated took place. Therefore, there is a need to prepare for worse scenarios.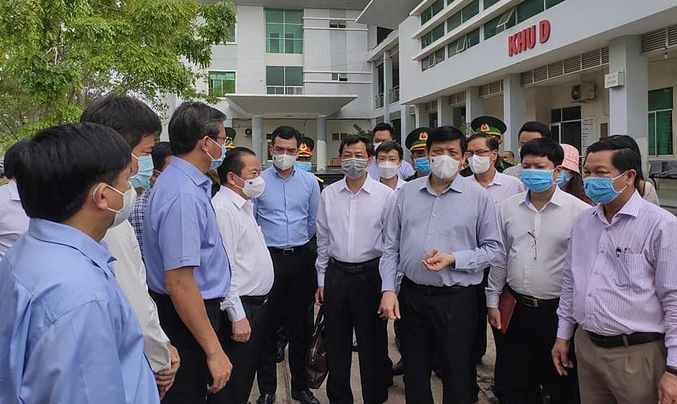 The Minister of Health Nguyen Thanh Long assessed that Ha Tien's border area was a hot spot where entry, both legal and illegal, complicated took place. (Photo: VN Express)
"The Ministry of Health directs Ha Tien to establish a field hospital that has a high-level emergency department in case of widespread pandemic leading to severe cases that need immediate treatment," Long said while monitoring pandemic prevention work in Kien Giang on April 18.
Cho Ray Hospital will coordinate with the locality to develop plans to establish treatment areas that can accommodate serious to very severely serious patients. Local health workers are also trained to treat and care for patients. In addition to setting up a field hospital, Long asked leaders of Kien Giang to build a wide and fast testing system to ensure pandemic prevention. HCMC's Pasteur Institute will support the establishment of qualified laboratories in Ha Tien and Kien Giang Province General Hospital.
Kien Giang is a province bordering Cambodia - a booming pandemic zone. Therefore, Kien Giang, especially Ha Tien's border areas face a high risk of pandemic transmission. Currently, all entries recorded through this border gate are isolated cases immediately.
Long directed the health sector to prepare scenarios for a worse situation, including a plan to set up a field hospital. He urged people to enter the country in a legal procedure. When detecting anyone entering illegally, they need to immediately report to the local authorities. "People are the eyes and ears of the authorities," said Long.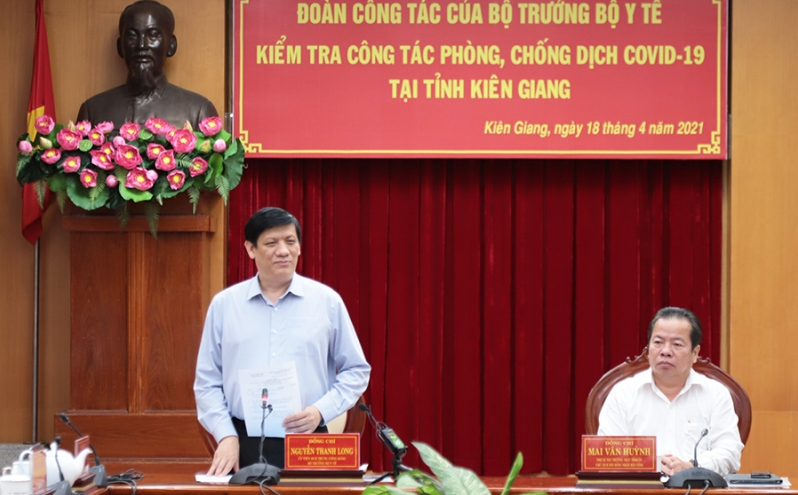 Minister of Health Nguyen Thanh Long at the meeting. (Photo: Nhan Dan)
At the end of March, a group of people illegally crossed the sea border by fishing boat to Phu Quoc. 5 among them came to Ho Chi Minh City, one was tested positive. 2 others came to Hai Phong, both were positive. One came to Hanoi and the last came to Gia Lai, both negative.
According to the Ministry of Health, from February 20, among 1,300 people who entered through Ha Tien border gate, 31 crossed illegally. The number of people in concentrated quarantine sites in the province is 303, while the sites' capacity is about 2,530. Since the beginning of the pandemic, the province has tested over 14,000 samples, detected 38 positive cases, of which 36 cases entered through the Ha Tien border gate and were immediately quarantined. Currently, 17 people have been cured, 3 cases eligible for discharge and are concentratedly isolated, 18 are being treated at Ha Tien Medical Center.
Currently, Kien Giang has 3 COVID-19 testing machines. The province's testing capacity is at 600 samples a day, not enough to serve large-scale testing at the request of the Ministry of Health, which is 1,000-1,500 samples per day.
The province proposed to the Ministry of Health to equip 2 additional nCoV testers to help improve the capacity of active resuscitation, as well as additional extracorporeal membrane oxygenation. The province planned to take the entire Ha Tien Medical Center as a place to treat Covid-19 patients. Kien Giang also proposed to be prioritized to receive Covid-19 vaccines, to expand the vaccination for volunteers and people on Phu Quoc island to stimulate tourism.