Citizens in pandemic-hit Chi Linh city given shopping cards during the distancing time
During the social distancing, each household in Chi Linh (Hai Duong province) is given 5 cards per 15 days, which helps to keep track of their going shopping for essential stuff.
Photo: Tien Phong
On December 16, the People's Committee of Chi Linh City (Hai Duong) issued an official letter, requesting the People's Committees of communes and wards, the Management Board of Sao Do market, and other relating departments to urgently implement some COVID prevention measures in the markets. Sao Do Market then requires traders and citizens when entering and leaving the market to strictly comply with the regulations on pandemic prevention. The Market only allows businesses to trade in essential goods, temporarily suspends all non-essential goods selling.
At the same time, the market coordinates with the People's Committees of wards and communes, as well as relevant departments to strictly prohibit all business activities under the roadway, sidewalk on the route from NH37 to Viet Tien Son residential area and around the market.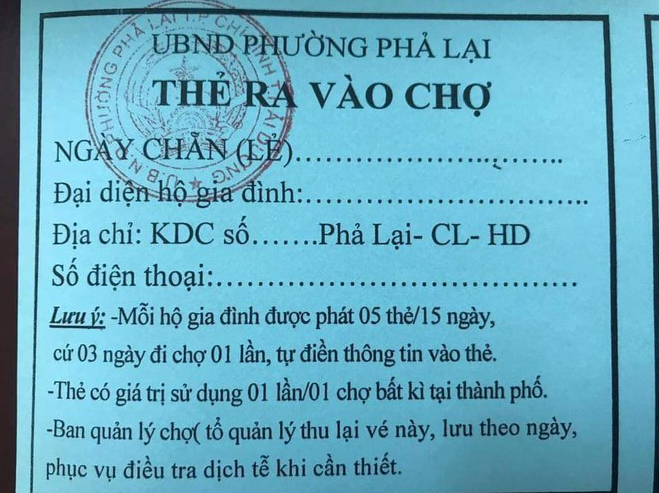 Photo: Tien Phong
The People's Committees of communes and wards issue access cards to the markets for permanent and semi-permanent businesses. Semi-permanent business households are granted access to the market with a specific period (based on the actual situation in markets, possible 2-3 days alternately per week). Citizens' cards are used to write the names of the communes and wards and are divided into "even days" and "odd days". Each household is given 5 cards per 15 days, every 3 days to go to the market. Citizens have to fill in the information on the card such as household representative, address, and phone number. The card is valid for one-time use only at any market in Chi Linh City.
The market management board will collect this card, keep it on a daily basis, and serve epidemiological investigation when necessary. The authorities will arrange the business locations in the market to ensure the distance according to the pandemic prevention regulation.
Chi Linh City implemented a social distancing from January 28. From 0:00 on February 16, Hai Duong province implements lockdown within 15 days, Chi Linh City will continue to adhere to the general time frame of Hai Duong province.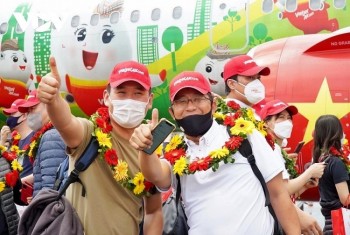 National
Vietnam News Today (Jan. 26): Vietnam reports 15,699 more domestic Covid-19 cases; Vietnam told to reopen to international tourism ahead of SEA Games 31; Germany donates four million more vaccine doses to Vietnam; Vietnam has opportunity to become global leader in renewable energy.