Climate-resilient houses for poor locals in Vietnam's coastal province
East Meets West Foundation (EMWF) will construct 20 climate resilient houses for people in areas suffering from regular natural disasters, to provide them with stable and safe accommodation in Duy Xuyen, Hiep Duc communes, Quang Nam province.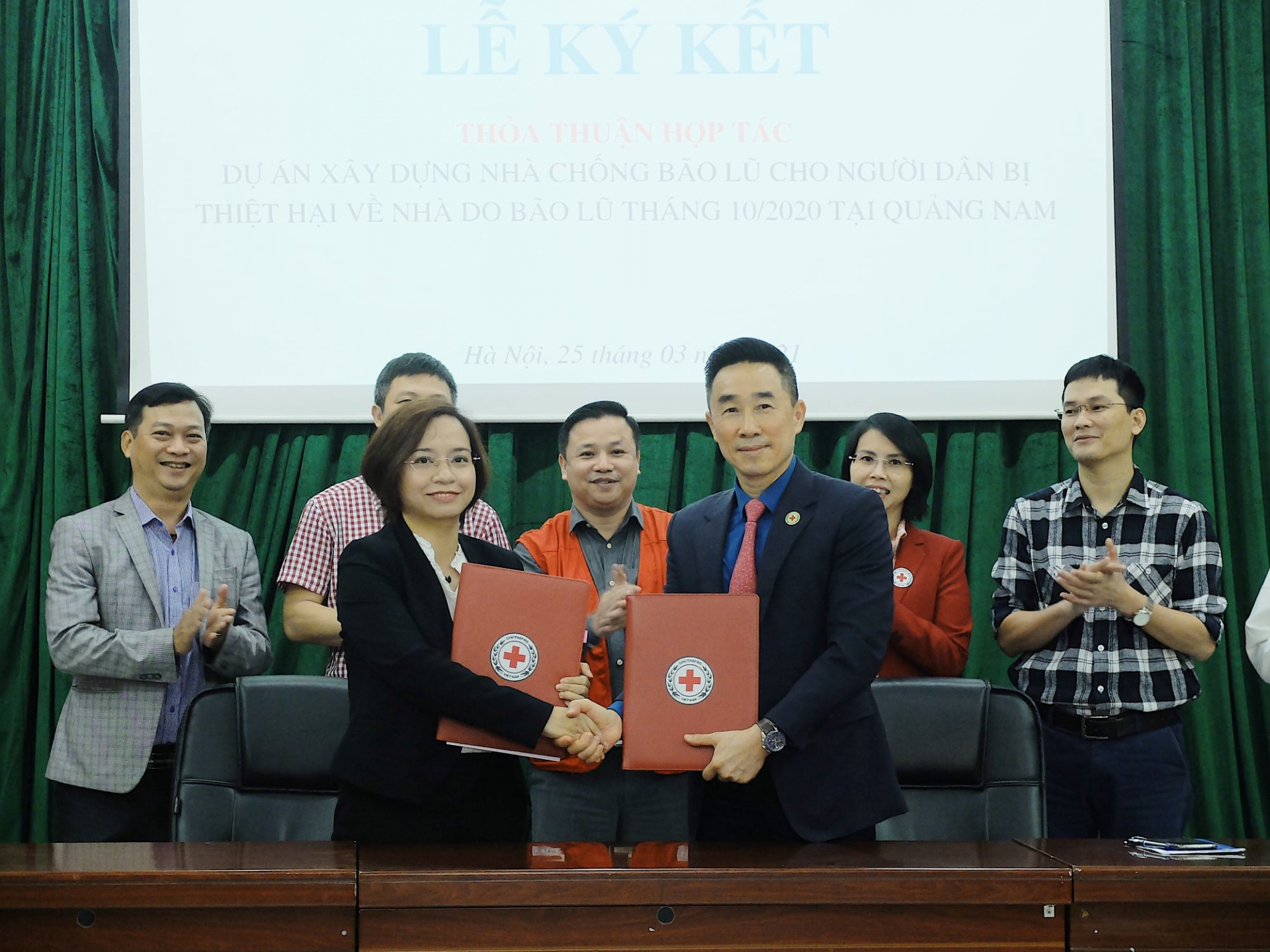 Nguyen Hai Anh, Vice President and Secretary General of Vietnam Red Cross Society and Hanh Nguyen, Country Director of East Meets West signed the MOU at the ceremony in Hanoi. Source: EMWF
East Meets West on March 25 has signed an agreement with the Vietnam Red Cross Society in Building Climate Resilient homes project to support poor households lost homes due to the flood and storms in Duy Xuyen, Hiep Duc communes, Quang Nam province.
Thanks to the donation of VND 1.4 billion (USD 60,700) co-financed with the Vietnam Red Cross Society, EMWF will construct 20 climate resilient houses to protect people's lives and livelihood assets.
These new houses not only keep them safe and healthy but also be a stable foundation for developing the economy, improving livelihoods and resilience.
Vietnam's 300 coastal cities are low-lying and frequently affected by natural disasters such as storms, floods, droughts and saltwater intrusion. The costs of climate-induced disasters are climbing rapidly, taking an increasing toll on human life, assets, and livelihoods as well as on valuable ecological systems.
Quang Nam province was among the hardest hit by natural disaster in September - November last year. Twenty-eight people were killed, hundreds of others were injured, and 19 were left unaccounted for. A large area of agricultural land was also damaged, causing heavy economic losses for local people.
Nguyen Hong Hanh, EMWF Country Director said: "The project is one of our efforts to help vulnerable communities cope with the ongoing and complicated climate change. The new houses not only ensure safety for daily life, but also serve as a solid support for people to focus on economic development and improvement of the quality of life."
From 2010 until now, EMWF has completed more than 600 flood-proof houses in more than 10 provinces of Vietnam with the ability to withstand extreme climatic conditions and natural disasters. In each locality, more than 2,924 people have the opportunity to live in new houses. With storms and floods in the central provinces becoming increasingly unpredictable, it is extremely urgent to prepare people for safe shelters in order to minimize damage to people and property./.