CNN Features Made-in-Vietnam Products, Highlights their Sustainability
From the EXPO platform, "zero waste" products such as sports shoes made from Vietnamese coffee grounds will quickly become popular and become an indispensable part of modern life.
From Dec. 4 to Dec. 6, CNN broadcasted a program called Innovate about groundbreaking innovations being introduced at the World Expo 2020 Dubai.
Notably, information about the Vietnam Exhibitor with products aimed at the circular economy in coffee production occupies a considerable amount of time in the reportage on the Internet.
Vietnam Exhibition House highlighted at the EXPO 2020 Dubai
The introduction to Vietnam opens with impressive images of the Vietnam Exhibitor at EXPO 2020 Dubai, along with that, female reporter Eleni Giokos of CNN expressed surprise when entering the Vietnamese cultural space.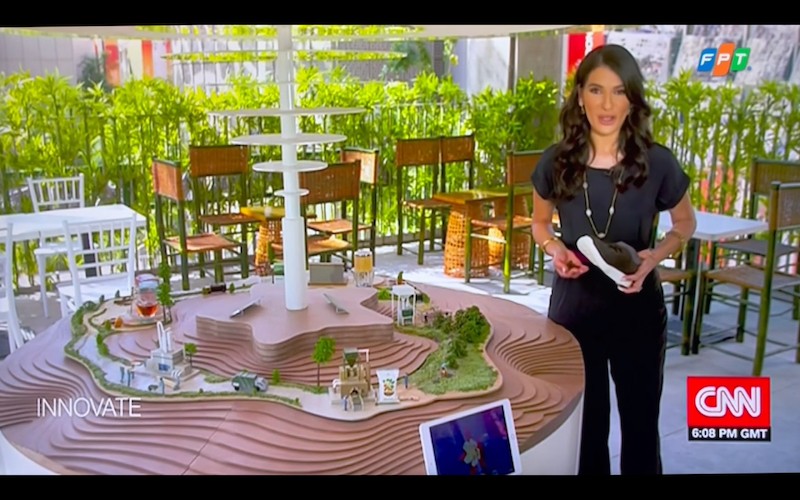 ICD Mocst YouTube Channel
"Between the sounds of traditional music and local artworks, I did not think I could find cutting-edge technology. But as it turns out, there are inspiring scientific creations here that are all geared towards sustainability," commented Giokos.
The innovative product introduced in the report is the famous product of Rens – a start-up founded by two Vietnamese alumni now living and working in Finland.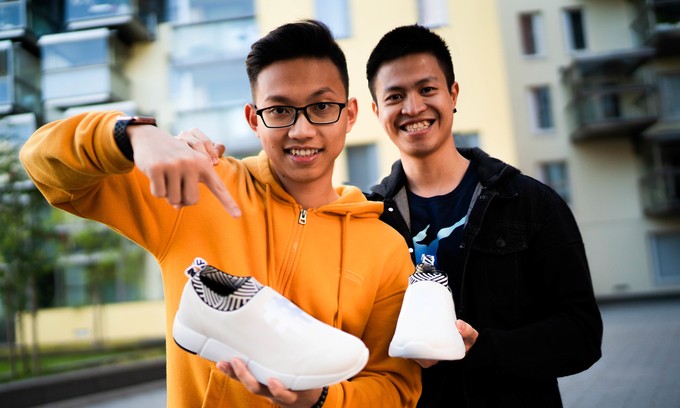 Rens, a startup by a Vietnamese duo in Finland making the world's first shoes from coffee grounds. Photo: VnExpress
Pursuing the concept of a circular economy, where waste becomes the raw material for new products, Rens has created shoes made from coffee grounds and recycled plastic that are completely water-resistant, while, still breathable and lighter than regular shoes.
Rens, a startup by a Vietnamese duo in Finland making the world's first shoes from coffee grounds, wants to shift to Vietnam soon
Coffee shoes and the circular economy model in coffee production are two of the many outstanding achievements in the fields of economics, science, and technology that the Vietnam Exhibition House wants to introduce to international friends. at EXPO 2020, besides continuing to promote and honor the traditional cultural quintessence of the nation.
Vietnam's sustainable contributions for future generations.
With the theme KYConnecting wisdom, creating the future, EXPO 2020 Dubai calls for environmentally friendly and highly sustainable contributions for future generations.
US Representative General Robert Clark at EXPO 2020 at a popular "check-in" corner in the Vietnam Exhibition House. Photo: VNT
This is also a new point that the Ministry of Culture, Sports and Tourism, the host of the Vietnam Exhibition Hall, has implemented compared to previous exhibitions, with the desire to bring a more comprehensive image of Vietnam to the world.
During its 170-year history, the World EXPO 2020 Dubai exhibition used to be the place to launch many great inventions and achievements of mankind such as the Eiffel Tower, mobile phones, live broadcast televisions, zippers and other iconic inventions.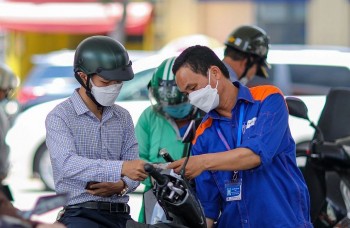 Economy
Vietnam Business & Weather Briefing (Oct 2): Binh Duong lures foreign investors with special care, the North and Central regions continue to have heavy rains, leading to the risk of flooding, flash floods, and landslides.