CNN listed Vietnamese noodles soup among top Asia's dishes
CNN praised the collection of the most superb Asian noodles-based dishes that tourists never want to skip a try when stepping on the region, of which consists Pho, Bun Rieu, and Cao Lau of Vietnam.
The first Vietnamese noodles dish named in the list is Pho. Just like Pad Thai in Thailand, Pho is considered as the national food, exported with pride all over the world.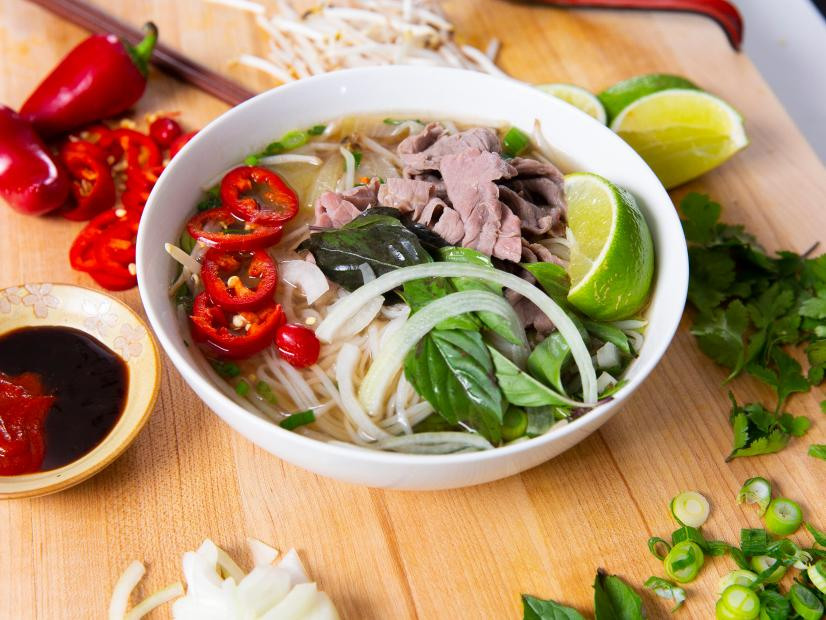 Pho- One of Vietnam's most delicious and distinctive dishes Photo: Food Network
Pho includes flat rice noodles and meat-based broth. Flat rice noodles are described by CNN to be like "luxurious silk bedding -slippery and comforting. To make flat rice noodles, rice and water are ground into a mixture that's rolled into a thin rice sheet then steamed and cut into different sizes. Vietnamese pho is mostly made with a thinner version of flat rice noodles (the width of a fettuccine noodle)".
The broth of Pho is simmered from beef or chicken bones, an important part making distinctive taste for each bowl of Pho. Scallion bulbs and leaves along with coriander are sliced short and sprinkled on top. Black pepper, chilies, pepper paste, or lime juice are added before the dish is served, possibly with some fried breadsticks, reported Tourism Hanoi. The balanced tastes of sweet, salty, spicy, and citrus are perfectly wonderful. Pho has become an instant favorite for anyone traveling to Vietnam.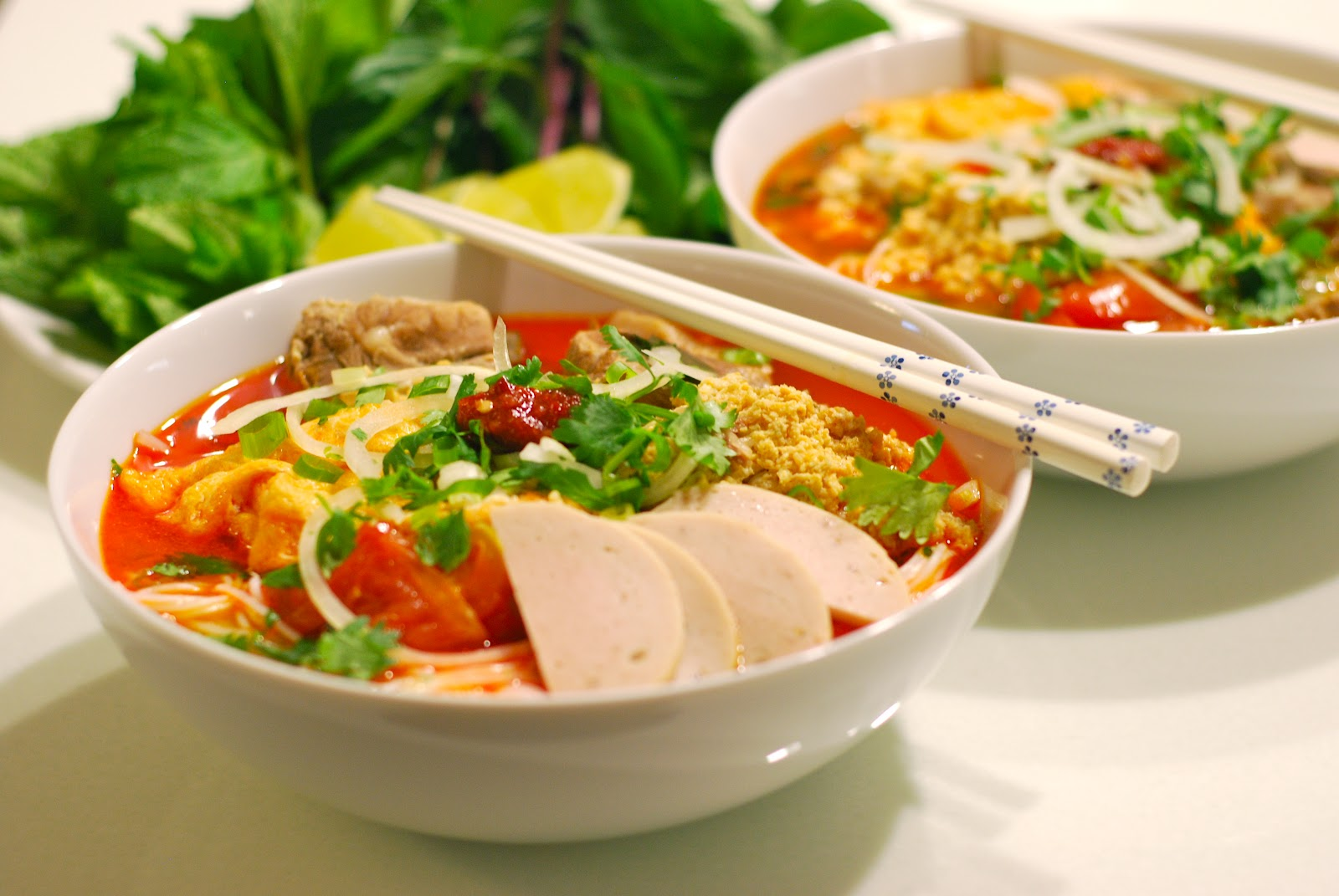 Bun Rieu (a crab-based vermicelli soup) Photo: ItourVN
Besides Pho, CNN mentioned that "there's more to Vietnam's diverse noodle scene than Pho. You'll be seeing red when you tuck into a bowl of Bun Rieu (a crab-based vermicelli soup). Vietnamese Bun Rieu embraces rice stick noodles that are worshiped for their slippery texture and mild fragrance.
The soup calls for crab paste made from paddy crabs, which give the broth its main flavor, along with stewed tomatoes, contributing a slightly tart and natural sweetness for the dish.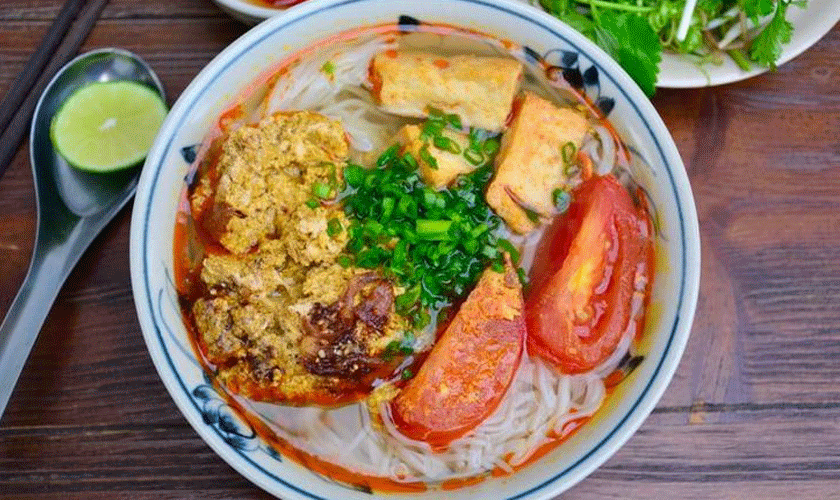 Bun Rieu is served with shrimp paste, chilies, and limes, and herbs Photo: ItourVN
The perfect mixture of ingredients and flavors in the broth, rice vermicelli noodles, pieces of meat and crab paste, a selection of spices such as shrimp paste, chilies, and limes, and herbs is what makes the dish so tasty. When it comes to Vietnamese noodles soups, there is a wide range to go for; yet, Bun Rieu is an absolute gem.
The last but special Vietnamese noodles soup included in top Asia's noodles dishes is Cao Lau rice noodles. "Ubiquitous in Vietnam's ancient town of Hoi An, Cao Lau consists of the Chinese influenced sliced barbecue pork, French-influenced fried croutons and a special variety of rice noodles". According to Trinh Diem Vy, a celebrity chef, food author and owner of nine Cao Lau restaurants in Hoi An revealed that making Cao Lau looks simple, but there is a lot in timing and processing.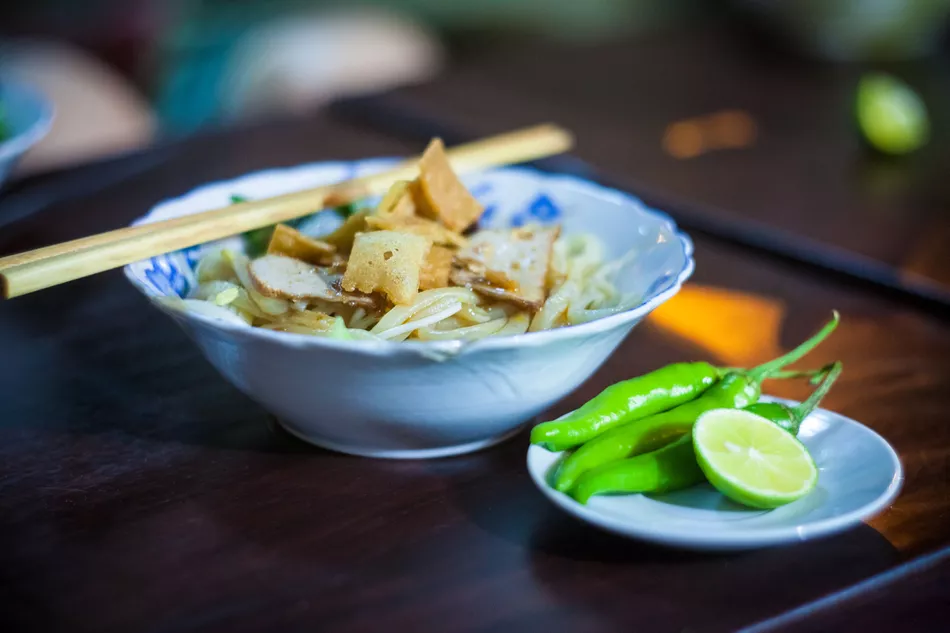 Cao Lau is ubiquitous in Vietnam's ancient town of Hoi An Photo: Trip Savvy
What makes Cao Lau exceptional from other Vietnamese noodle soups is that the water used in the dish must be taken from an ancient well in Hoi An, called Ba Le well which was dug by the Cham people. "The minerals from Ba Le's water provide the right elements for noodle texture", added Vy.
Unlike Pho, Cao Lau noodles are served with little broth. The broth is mainly seasoned with cilantro, basil, and mint, sometimes chili peppers, and lime are provided on the side, according to the Trip Savvy.