Amazing food from "rescuing" farm products in Vietnam
Fruits are derived from the humanistic purpose of rescuing Vietnamese agricultural products in the outbreak of the COVID-19 such as dragonfruit bread, watermelon noodles are very attractive to customers because of their delicious taste and originality.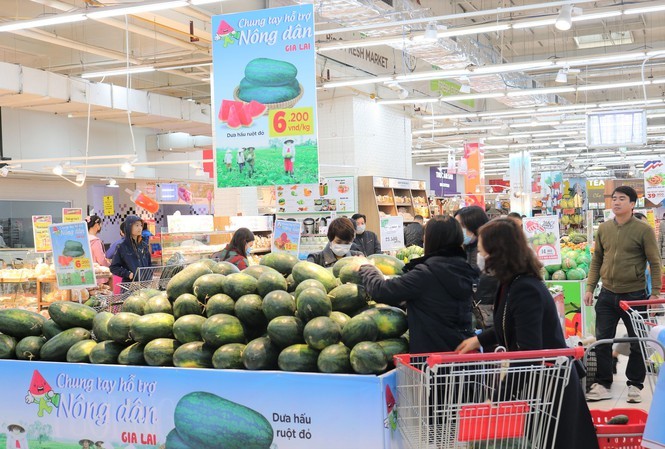 Watermelons are being displayed in the supermarket in Vietnam. (Photo: tienphong)
Accordingly, the types of agricultural products that need to be "rescued" such as dragon fruits, watermelons have become the raw materials to create different types of vermicelli, cakes. The use of dragon fruits and watermelons to produce cakes has become into a trend that is responded by businesses and individuals recently in Vietnam.
1. Dragon fruit bread
The COVID-19 broke out earlier this year, causing significant damage to Vietnam's agricultural sector. Many types of agricultural products were left in large quantities and could not be sold because export was delayed. The selling price of these agricultural products also dropped dramatically.
The bread is using raw materials like dragon fruit. Attracting customers by its quality, the breads are popular with many people for their delicious and unique flavor.
Kate Taylor, correspondent of Business Insider, expressed really interested and shared true feelings in her article: "The outstanding pink bread made me surprise. Although it was created to save the COVID-19, it is also very suitable for posting on Instagram.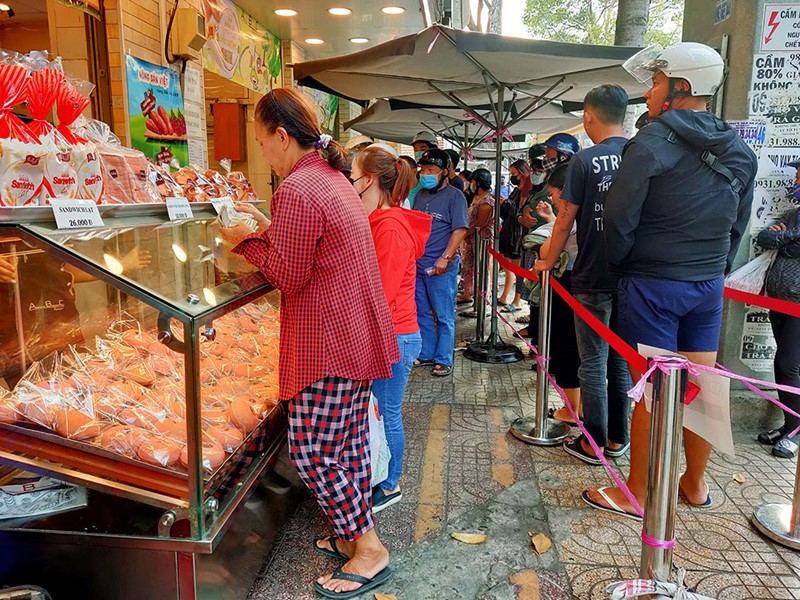 People queue to buy dragon fruit bread (Photo: thanhnien)
This bread is not only for reputation on social media, but it is really delicious with a crispy crust and full of fruit flavors. Adding dragon fruit to bread can be a very amazing idea."
According to Kao Sieu Luc, General Director of ABC Bakery, the recipe for dragon fruit bread is quite simple: Reduce 80% of the water in the batch of bread flour, instead of 60% of pureed dragon fruit. The product is darker than regular bread, has the natural sweetness of the fruit and the aroma of dragon fruit.
According to the Ministry of Agriculture and Rural Development, the country's dragon fruit area is 68.000 ha, with an output of about 1.6 million tons per year. The estimated output in February was about 150.000 tons and in March was about 200.000 tons.
2. Pizza watermelon
Facing the effects of the COVID-19 epidemic on the consumption of watermelon, the Ministry has urged people and businesses to calmly collect and remove difficulties for this fruit.
There are some products such as pizza, rice vermicelli are being implemented by many businesses to contribute to the consumption of agricultural products affected by COVID-19.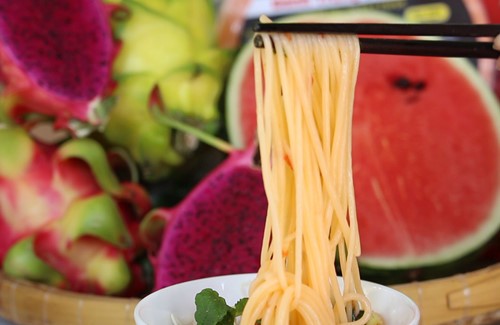 Tasty rice vermicelli is made from watermelon. (Photo: thanhnien)
The free products are easy for using, with the natural flavor. However, for making a pizza, the maker need to concern about the amount of water to make it tasty.
The COVID-19 has been causing a lot of affects to people's lives. In addition to solutions such as rescuing Vietnamese agricultural products, preventing the spread of epidemics at play centers, restaurants, and each person should equip themselves with knowledge to prevent diseases for themselves and everyone./.