Coconut Massage Brings Fortune for Khmer Entrepreneur
Khmer entrepreneur Thach Thi Chal Thi's success has inspired women and ethnic minorities who dream of their own business.
Sokfarm led by a Khmer ethnic girl - Thach Thi Chal Thi, has been recognized by consumers as a specialty of Tra Vinh. Products are available in more than 30 provinces and cities in the country and have been exported to Japan and the Netherlands. Chal Thi's success has inspired women and ethnic minorities who want to start a business.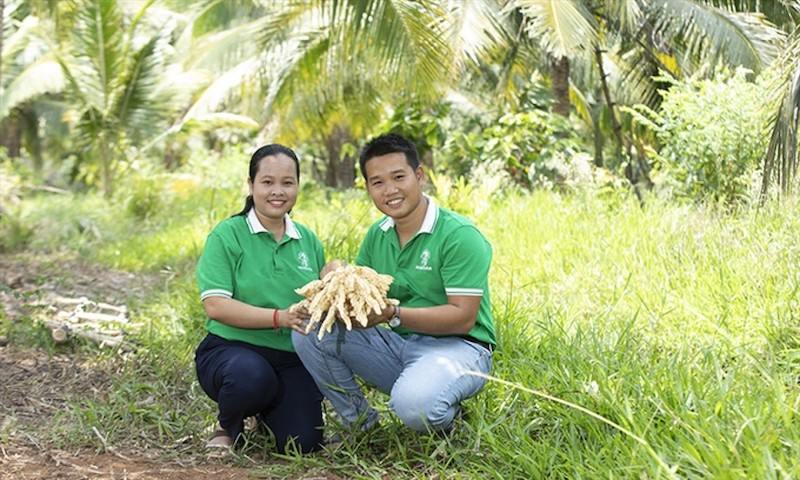 Thach Thi Chal Thi (right) is the co-founder of Sokfarm - coconut nectar product of Tra Vinh. Photo: Bao Dan Toc
Thach Thi Chal Thi was born in 1989 in Tieu Can district (Tra Vinh). In 2018, after graduating with a master's degree in Food Technology from Ho Chi Minh City University of Technology, the young woman and her husband returned to their hometown with a dream to revive the sacred traditional craft of collecting honey from coconut flowers of the Khmer people.
In the early days of research, the couple struggled with many challenges. Together, the couple explores, learns from domestic and foreign experiences, applies all their knowledge in food technology training... After countless failures, Chal Thi and her husband finally figure out how to collect honey and process products from coconut nectar in a most efficient way. Their secret is giving the tree a massage! While strange, you can't argue with the results.
"We went to many places to watch honey and nectar collecting techniques like Cambodia, Thailand, and the Philippines. People assume whoever grows coconuts cuts flowers to get coconut water. When I came back to cut coconut flowers for honey, everyone said that I studied too much, so I was crazy. We then realized that in order to have honey, you must first choose the coconut flowers that are old enough, bend them downwards and then open them up so they don't burst. After that, we must "massage the coconut flower" and then use a hard object to knock with a moderate force, evenly around the flower to secrete nectar. Collecting coconut nectar requires workers study diligently to perfect massage techniques at the same time following the food hygiene and safety. Each coconut flower every 12 hours gives more than 0.5 liters of honey and at the end of its life cycle, a total of about 25 liters of honey is obtained," said Ngai - Chal Thi's business partner and spouse.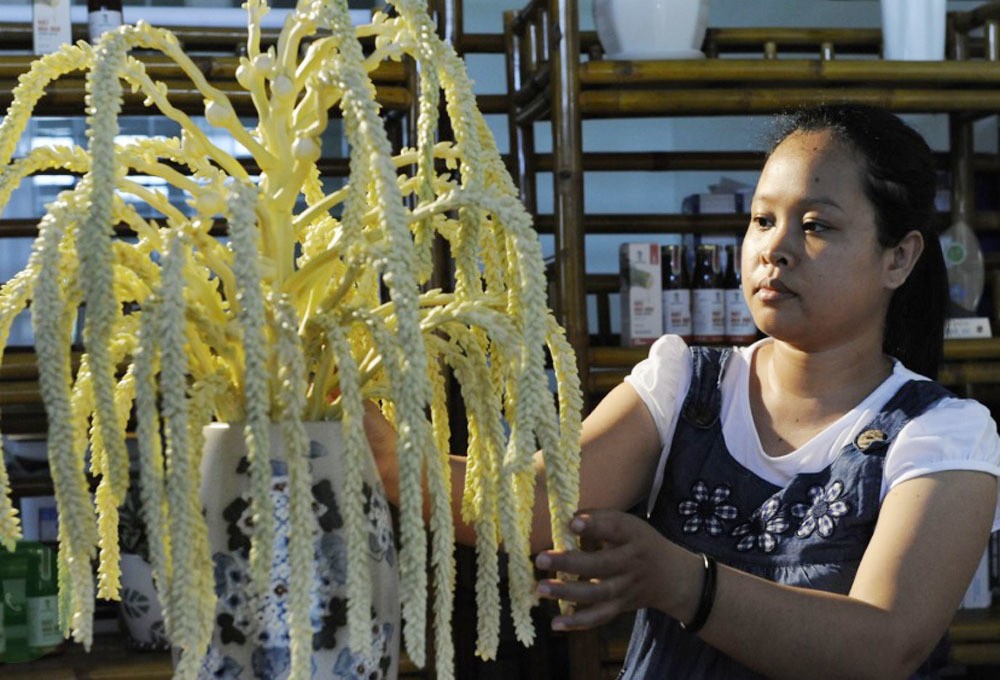 Photo: vietnamnet
In 2019, Chal Thi founded Tra Vinh FARM Co., Ltd (Sokfarm), marking the starting point for her journey to bring coconut nectar products to consumers.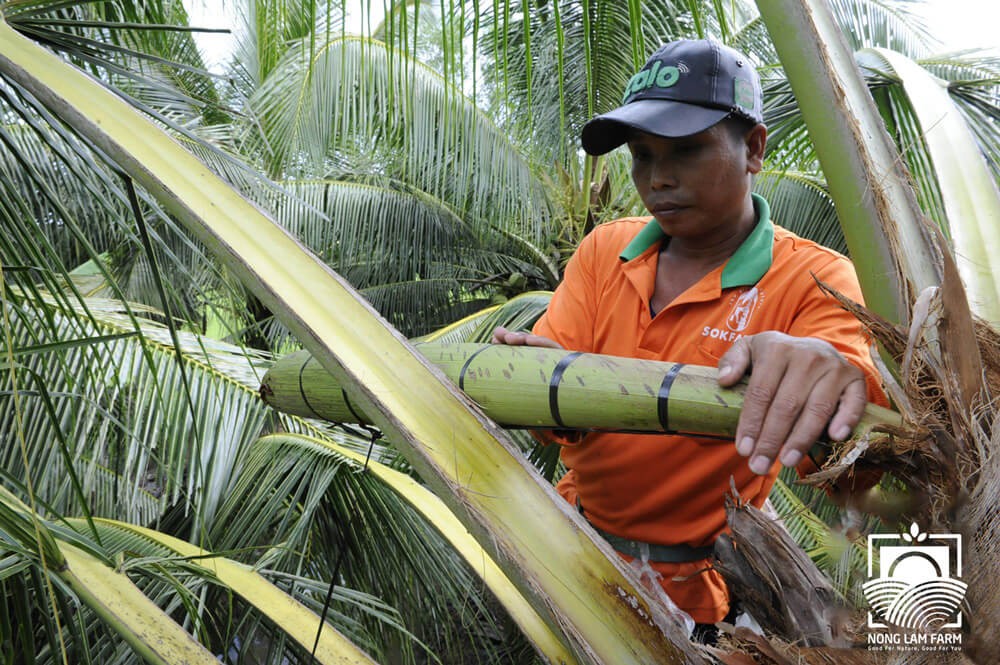 Sokfarm employees massages coconut flower. Photo: Nong Lam Farm
Sokfarm is the first enterprise in Vietnam specializing in the production of products made from coconut nectar with a chain of safe products to protect consumers' health.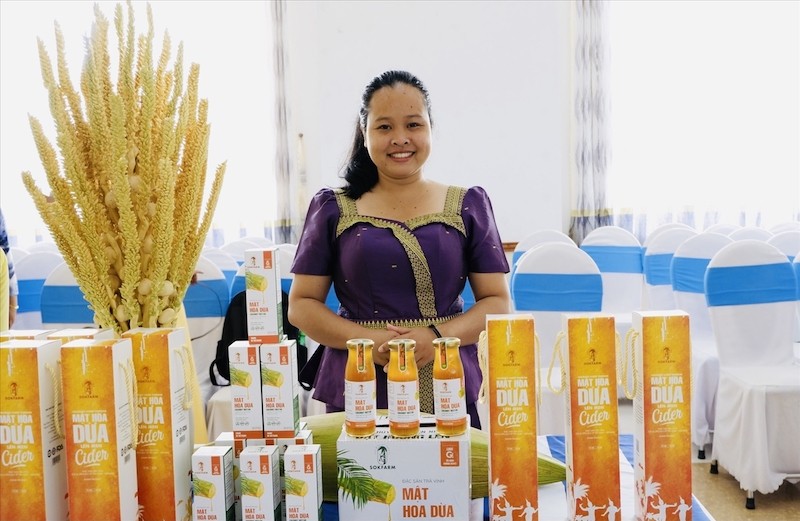 Photo: Bao Dan Toc
Starting small, the company encountered many difficulties due to insufficient resources to invest in advanced machinery and equipment.
Chal Thi then applied the Support Program from the Small and Medium Enterprise Development Project (Tra Vinh SME Project) funded by the Government of Canada.
In the two years 2019 and 2021, Chal Thi is supported with a total amount of VND 800 million (US $34,995) to purchase modern machinery and equipment. The project also implemented many activities to support Sokfarm to improve production and business capacity.
Sokfarm started to achieve more and more. Tra Vinh Provincial People's Committee certified the product of coconut flower nectar to achieve 4-star OCOP.
In 2021, the Association of Vietnamese High-Quality Products Enterprises certifies that Sokfarm's products are high-quality Vietnamese food products - integration standards. Coconut nectar is also one of four honorable rural industrial products at the national level in 2021 of Tra Vinh province.
A noble businesswomen of the local community
With her contributions to the community, Thach Thi Chal Thi is honored to win the 16th Luong Dinh Cua Award in 2021, a noble award of the Central Committee of the Ho Chi Minh Communist Youth Union for Outstanding Outstanding Young Farmer in 2021. Minister, Chairman of the Ethnic Minority Committee awarded certificates of merit for outstanding achievements in the fields of production, business, transfer of technical advances, agricultural technology, environmental protection and new rural construction in 2022.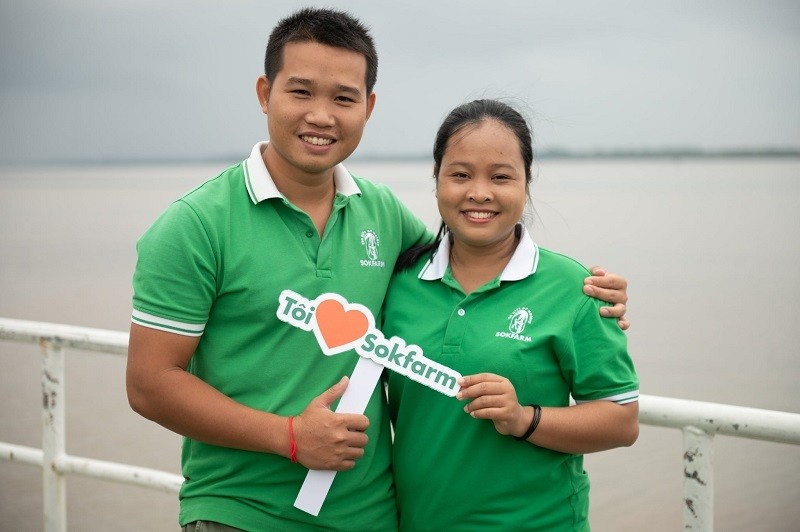 Together, the entrepreneur couple provides a great example for Khmer business community. Photo: vietnamnet
In 2021, Thach Thi Chal Thi received the Certificate of Merit from the Prime Minister for her outstanding achievements in studying and following Ho Chi Minh's ideology in 2016-2021.
Deputy Director of the Department of Planning and Investment of Tra Vinh province Lam Huu Phuc, Director of SME Project Tra Vinh praised how Thach Thi Chal Thi is setting a path for Khmer women in Tra Vinh province, becoming an inspiration for women and ethnic minorities.
At the end of 2018, from funding from the Government of Canada, Tra Vinh SME Project implemented the Business Support Program. After 3 years, 12 businesses and business households signed support contracts with a total grant of 6.5 billion VND to develop business ideas.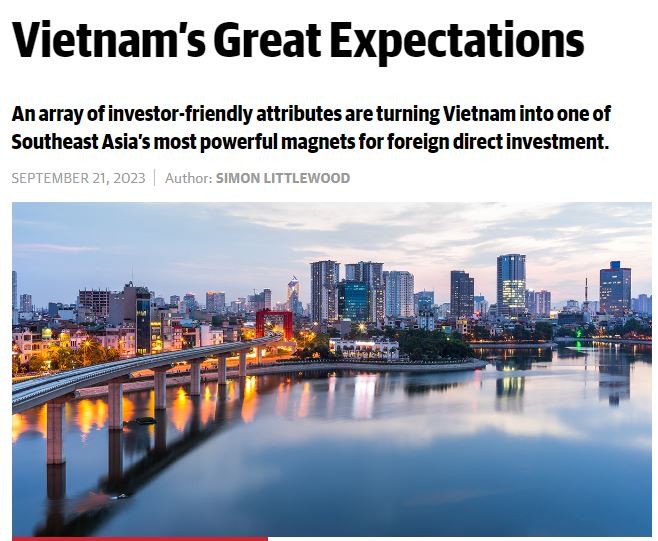 Economy
"An array of investor-friendly attributes are turning Vietnam into one of Southeast Asia's most powerful magnets for foreign direct investment," said Global Finance Magazine in a recent article.
September 23, 2023 | 16:38
Economy
Vietnam has a fast-increasing semiconductor ecosystem and possibilities to improve its position in the global supply chain. In the joint announcement of the US-Vietnam Comprehensive Strategic Partnership, the two countries acknowledged Vietnam's significant potential to become a key nation in the semiconductor industry, adding they "are supportive of the rapid growth of the semiconductor ecosystem in Vietnam."
September 22, 2023 | 09:22