Cooperation Promoted Between Quang Nam and ROK Localities
Ambassador Extraordinary and Plenipotentiary of the Republic of Korea to Vietnam Choi Youngsam affirmed the desire the promote cooperation between ROK localties and Quang Nam province.
On November 14, Secretary of the Quang Nam Party Committee Phan Viet Cuong hosted a courtesy reception with Ambassador Extraordinary and Plenipotentiary of the Republic of Korea to Vietnam Choi Youngsam.
Party Secretary Phan Viet Cuong proposed that the RoK Embassy, ​​Korean agencies, and organizations continue to pay attention to cooperation in sending laborers to RoK, diversifying cooperation in fields such as vocational training for workers, and building new rural areas. Thereby promoting many cooperative projects on preserving and promoting heritage values, as well as coordinating to organize cultural exchange activities between Vietnam and RoK this December.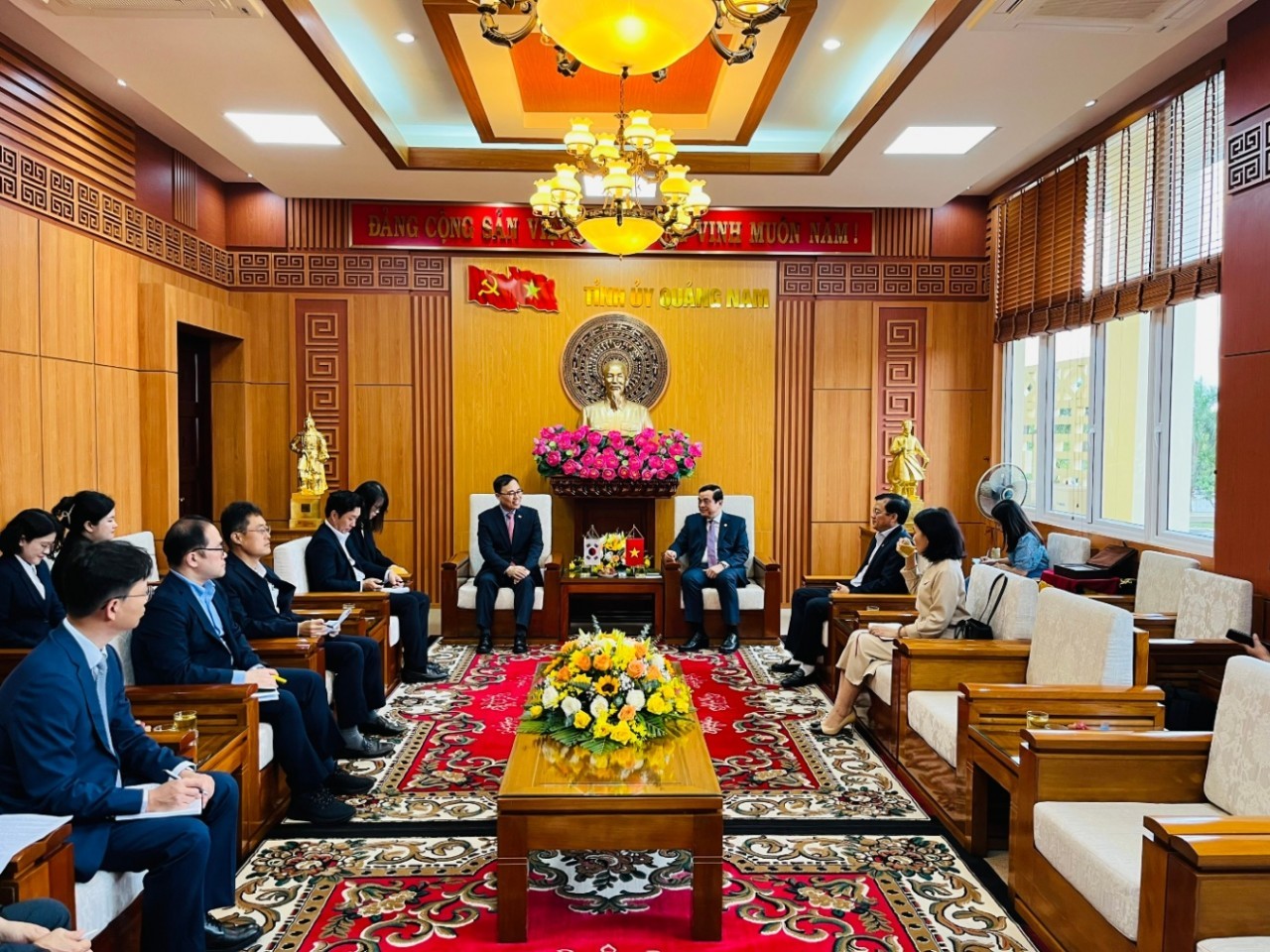 Secretary of the Quang Nam Provincial Party Committee Phan Viet Cuong and Mr. Choi Youngsam – RoK Ambassador Extraordinary and Plenipotentiary to Vietnam discussed areas of cooperation.
At the reception, RoK Ambassador Choi Youngsam expressed that in recent times, provincial authorities at all levels have always created favorable conditions and promptly resolved the recommendations of businesses, including Korean investors. At the same time, he affirmed his efforts in promoting cooperation and connection between Quang Nam and the localities of RoK in the coming time.
Both sides also discussed cooperation between Quang Nam and RoK in promoting Korean language training, accompanying Korean businesses in investing in Quang Nam, and promoting cooperation between localities of RoK and Quang Nam to strengthen and promote good friendship between the two countries.
Currently, Quang Nam has established friendly cooperative relations with 3 localities and 1 partner in RoK including Osan city and Yongin city (Gyeonggi province); Gwangyang city, Jeonnam province, and Dongduk Women's University. In addition, other provinces of Vietnam have also established relationships with Korean localities.
Up to now, there are a total of 59 projects of RoK investors, worth USD 870 million.