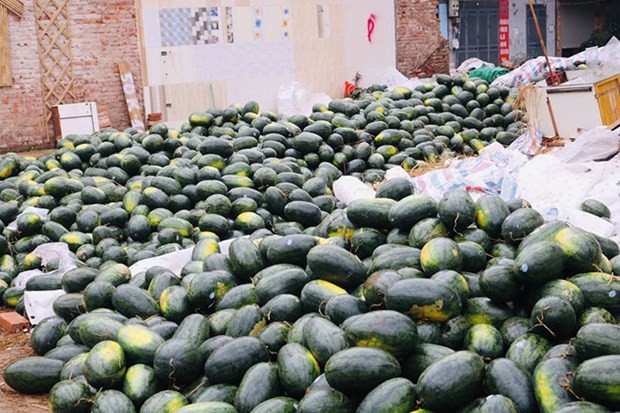 The support came as the Vietnam's agricultural exports are facing difficulties due to the acute respiratory disease caused by the novel coronavirus. (Illustrative photo: thanhnien.vn)
China, the world's most populous nation, has a high demand for various goods from raw materials, fuels to foods. However, the combination of an extended Lunar New Year holiday and the rapid nCoV spread, which restricted the movements of people in Chinese provinces and cities, has jammed logistics channels into and across China.
Moreover, Vietnam and China share a long border with many border gates via which a large volume of imports and exports are traded. China is also the largest market for Vietnam's agricultural and aquatic products, making up 27 percent of total export revenue. Because of strict measures being taken to contain the epidemic, the transport of goods to and from Chinese localities is proving difficult.
According to Deputy Minister of Industry and Trade Do Thang Hai, Vietnam's agricultural and aquatic exports still depend much on China, so any fluctuations in this market, regardless of objective or subjective reasons, will greatly influence Vietnam's export activities.
Therefore, the Embassy's watermelon rescue campaign helped ease farmers' financial problems and call on consumers to purchase watermelon and other farm products to boost domestic consumption as well as minimize the damage to the warehouses, traders and gardeners.
The watermelon will be distributed free of charge at the Embassy (43 Tran Hung Dao Str., Hoan Kiem Dist.) starting at 9am on February 11. Each person will receive up to two fruits, said the embassy.
People are advised to prepare their own bags to reduce excess waste and protect the environment./.
VNF