The girl in the article is Nguyen Doi Chung Anh, currently living with her family in Hanoi. Being stuck at home with school suspended due to coronavirus, Chung Anh spent most of her time drawing pictures that represent the tragedy, resilience, and chaos in the world's fight against the coronavirus.
Chung Anh's artworks depict how the disease globally spreads out and world's symbolic attrations in severely affected countriesby COVID-19 such as the Eiffel Tower (France), the Statue of Liberty (USA), Big Ben (UK), and Leaning Tower of Pisa (Italy).
Chung Anh stands by her painting at her house in Hanoi (Photo: Reuters)
Her pictures also aim to highlight Vietnam's success in controlling the virus after the wave of imported infections. One painting demonstrates the passenger plane hit by the virus in the arms of two soldiers and another describes the scene of medical staff are disinfecting the aircraft.
Chung Anh also draws herself in a picture of her safety to express her gratitude to front-liners who appear in most of 11 her pictures combating with COVID-19 by shields or blasting it with disinfectant. According to Reuters, Vietnam has reported 332 COVID-19 cases and no deaths.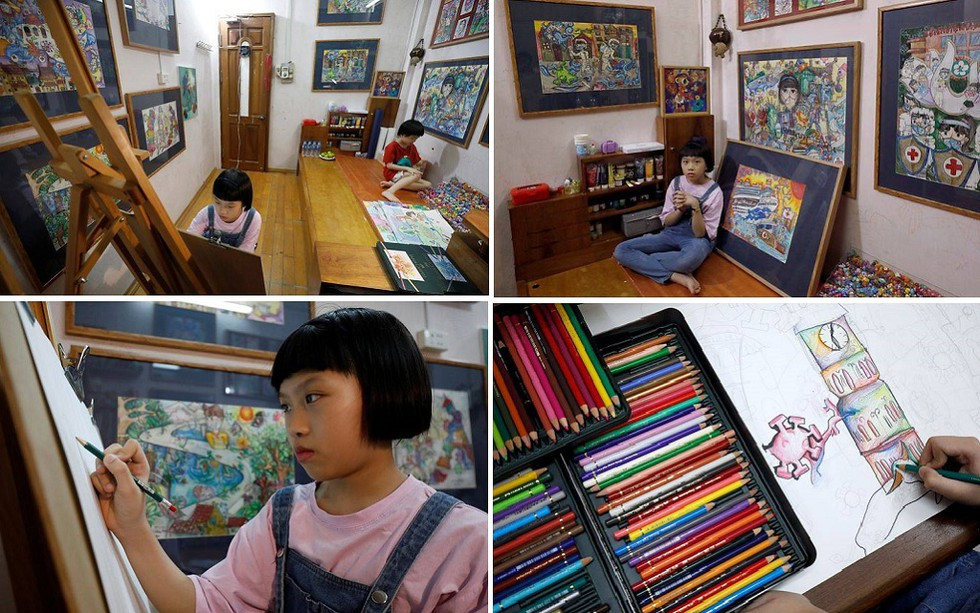 Chung Anh spent most of her time on drawing pictures about COVID-19 when staying at home (Photo: Reuters)
"I draw these paintings with the hope that people can raise their awareness in preventing the virus. This girl is me and these are my imagination", Chung Anh shared with the Reuters.
Some other pictures feature the Diamond Princess, a cruise ship where there are hundreds of infected passengers isolated off the coast of Yokohama (Japan) and Li Wenliang doctor, one of the first people trying to warn about COVID-19 pandemic, but also died of this virus.
"I am extremely touched when seeing my daughter knows to sympathize and appreciate the enormous sacrifices of the doctors who have risked and even exchanged their lives to cure COVID-19 patients", said Doi Xuan Hieu- Chung Anh's mother.