Global aviation tiptoes out of international travel restrictions post-Covid-19
While Covid-19 seems to be quelled in some parts of the world, some aviation markets are gradually promoting domestic flights and resuming their buoyant outbound routes. 
Aviation Industry has never been in chaos like this before when most of the countries in the world have adopted travel bans since late February or early March. However, there have been some positive signs that the buoyant air travel will be back in July in Europe, North America, and Vietnam.
Europe
A 2020 Recover Plan for European Aviation conducted by Eurocontrol from 350 airlines, 68 area control centers (ACCs), 55 airports, and 43 States published on 30 April for the first time have just updated the 6th edition on Wednesday, June 10, 2020.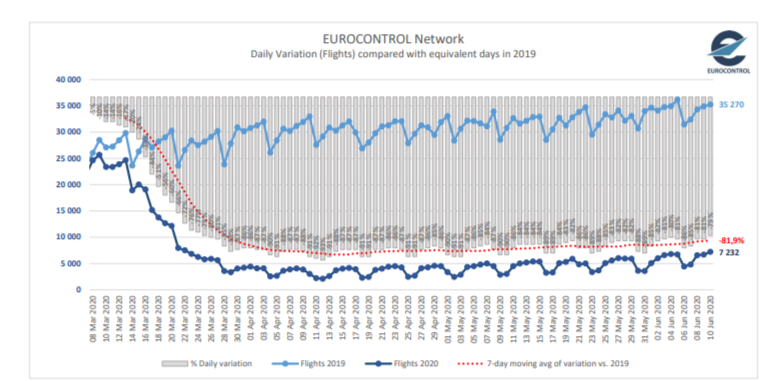 European-flights-daily-variation-compared-with-equivalent-days-in-2019
The network traffic is expected to reach around 9,000 flights during the second half of June 2020, getting close to 10,400 flights on some days in early July. Further indications since the 5th publication shows that from the week of 6 July to 12 July could see up to 12,400 flights (mainly intra-European).
Wᴉzz Air growth continued with movements up +50% week-on-week, connections being re-established, examples include Gatwick, Barcelona, and Ben Gurion.
The growth in Turkish Airlines traffic is largely domestic, a full relaunch of International traffic is being held back by the combination of local and international travel restrictions.
The gradual increase in Lufthansa's movements (week-on-week from 165 to 176) is a quiet restoring of routes or an increase in frequency Germany and other NM_AREA states since Monday 01 June.
North America
The upward trend appears set to continue over the coming weeks as airlines gradually begin to restore routes and frequencies. The latest schedules data shows that capacity from and within North America during June 2020 is expected to be about 3.28 million departure seats, a rise of 32% compared with May.

Vietnam and global aviation industry in the post covid 19
Southwest Airlines: Remains the largest carrier in North America by capacity, offering 1.55 million seats last week. This is equivalent to 39% of its weekly capacity a year ago.
United Airlines: As of July 06, United will add flights to London, Munich, Amsterdam, Brussels, Dublin, Tel Aviv, and Zurich. 14 additional daily flights will be added in August to those same destinations. The rest of their international European schedule has been pushed for an October 24 decision.
Delta Airlines: June schedule will include flights to Amsterdam, London, and Tel Aviv. July schedule will add 8 additional daily flights. August's schedule will add approximately 30 daily flights. Delta will double its domestic capacity in July from May, after adding back 100 flights in June.
American Airlines: On June 4 resumed service to Amsterdam, Frankfurt Paris, and London. American Airlines will operate 55% of its original domestic schedule in July, citing consistent improvement in summer leisure travel demand.
Vietnam
On the afternoon of June 12, Mr. Nguyen Quang Trung, Head of Planning and Development Department of Vietnam Airlines, announced that Vietnam Airlines and other Vietnamese airlines have recently carried out dozens of international flight carrying repatriates. During this period, Vietnam Airlines also maintained cargo flights for trade and prevention of the Covid-19 epidemic.
Vietnamese-Airlines-recover-after-COVID-19
According to the July 2020 operation schedule that Vietnam Airlines has sent to agents, the airline can reopen a number of international commercial flights from early July to markets such as Korea, Taiwan (China), Hong Kong (China), Thailand, Singapore, Laos, and Cambodia.
With Korean routes, Vietnam Airlines intends to recover the routes from Ho Chi Minh City, Hanoi to Seoul frequency of 7 flights/week, Ho Chi Minh City, Hanoi to Busan 3-4 flights/week.
City flight routes including Ho Chi Minh City, Hanoi to Hong Kong (China); Ho Chi Minh City, Hanoi to Taiwan (China) is expected frequency of 3-4 flights/week from July 1 to. In Southeast Asia, Vietnam Airlines can fly to Laos, Cambodia, Thailand, and Singapore in the immediate future.
Bamboo Airways also announced that it will resume international flights from July 1 with flights from Hanoi to Taipei, Kaohsiung (Taiwan-China), Incheon (South Korea) with the frequency of 7 flights a week. From September 1, the airline plans to have more Da Nang and Cam Ranh routes to Incheon with a frequency of 14 flights per week. By October 25, Bamboo Airways will launch 10 more international routes; including journeys to Melbourne (Australia) and Prague (Czech).
For its part, Vietjet Air's representative said that the airline is planning to follow instructions from the Government as well as the authorities and will soon exploit international routes with countries having good control of Covid-19.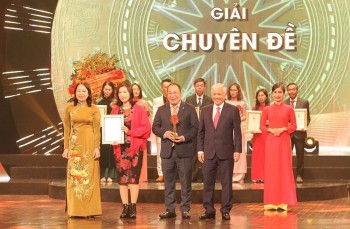 Overseas Vietnamese
VietnamTimes (Viet Nam Union of Friendship Organizations) is a reliable address for overseas Vietnamese to quickly and objectively update political, economic, cultural, and social news. The agency has created a helpful forum and connection between expatriates and the motherland.