Coronavirus Updates, March 20: Vietnam confirmed the number of infections increase to 91
The latest news from Vietnam and other countries beyond on the coronavirus  running live update service to keep people and businesses involved in ASEAN and the globe. 
The Ministry of Health has just informed that more 4 Covid-19 infections increased, raising the total number to 91 cases this time.
Case 88: female, 25, addresses at Van Quan, Phuc La, Ha Dong, a student studying in the UK, entering at Noi Bai airport on 12 March. She was self-isolated at home from 12-16 March, and she showed the symtomps of infection on 16, then tested positive for SARS-CoV-2. Now, she and directly contacted people are keeping in quarantine in Dong Anh National Hospital of Tropical diseases in good health status.
Case 89: female, 22, lives at No 7 district, Hochiminh city, returned home from New York, Boston, the USA transitted in Japan to Tan Son Nhat airport on the flight numbered NH 831, 28C seat, landing at the middle night of 17 March. She showed no signs of infection in entry and confirmed positive for SARS-CoV-2 by Pasteur Institute after testing. She is now quaratining in Cu Chi field hospital.
Case 90: female, 21, addresses at Binh Thach district, Hochiminh city. She has been in Barcelona and transitted Dubai on the flight numbered EK188, 30C seat of Emirates airline and landed Tan Son Nhat airport on 16 March by the flight numbered EK392, 36A seat of Emirates airline. She showed little fever, cough and was kept in centralized quarantined in Hochiminh city. Later she tested positive for SARS-CoV-2 by Pasteur Institute. a bệnh số 90 (BN90) là nữ, 21 tuổi, địa chỉ ở quận Bình Thạnh, TPHCM.
Case 91: male, British nationality, 43, lives in No2 district , Hochiminh city, a pilot of Vietnam airline.
On 8 Feb, he was a passenger flying from London to Vietnam on the flight numbered VN10, 5K seat of Vietnam airline. After 8 March, he worked on some inbound and outbound flights but he didn't remember specifically. ( this is being identified now).
He drove the flight numbered VN272 from Hochiminh to Hanoi and VN 607 from Hanoi to Hochiminh on 8 Feb. He was living in Hochiminh city from March 13-18 and went to eat out and for relax. He showed some symtomps of fever, cough on March 17 and tested positive for SARS-CoV-2 with some damage in right lung tissue on 18 March.
In the morning today, Covid-19 has spread to 178 countries and territories since its outbreak in Wuhan, China in Dec 2019, causing approximate 245,000 infections, more than 10,000 deaths and 87,000 recovered.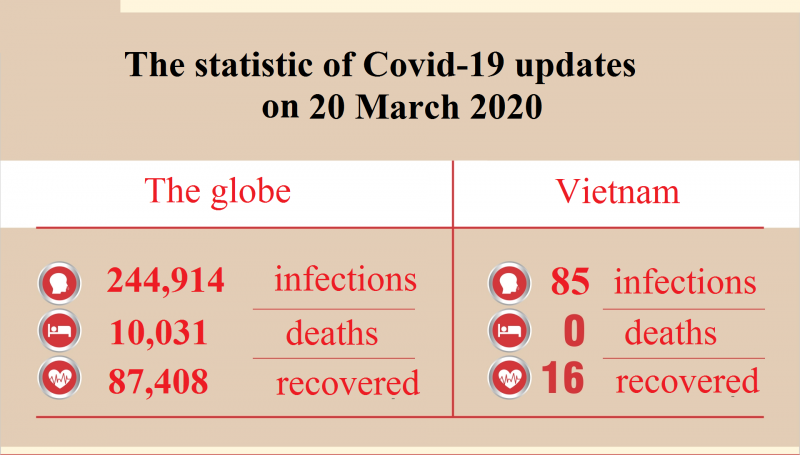 VNT
China - the first source rose the novel coronavirus - may have controlled the disease when it only recorded new infections from overseas. However, the disease has been quickly spreading across Europe. Today, Italy recorded the number of deaths exceeding China's and became the second highest number of deaths in the world. The others including Spain, Germany, France also recorded the increasing infections from 1000 -3000 daily.
Italy: it was recorded yesterday that more 5,322 new infectious cases confirmed, raising the number of infections to 41,035. The deadths in the country were 3,405, more than 427 cases in comparison to previous day.
Iran: more 1,046 new infections, 149 deaths, raising the numbers in turn to 18,407 and 1,284.
Spain: also recorded the highest number of infections this day, to 3,308 new cases, and more 193 deaths. Up to now, the numbers of infections and deaths have been 18,077 and 831 in turn.
Germany: yesterday was recorded more 2,993 infections, 16 deaths, the total numbers increased by 15,320 and 44.
France: the total number of infections and deaths were recorded 10,995 and 372 in turn.
The USA: recorded more 4,557 new infections, more 57 deaths. So, the total number records 13,816 infections and 207 deaths.
ASEAN countries: Malaysia has recorded the highest number of 900 infectious cases, two of them died. Indonesia was reported with the highest number of deaths, reaching 25 cases. The Philippines was the second of dead cases. Others including Singapore, Thailands, the Philippines recorded the infections of 345, 272, 217 in turn. Laos is the only member state in ASEAN has recored no any nCoV infection.
Despite of the Covid-19 complex development, thousands of Muslim pilgirms around Asia gather in Gowa in the south Sunawesi province, Indonesia to take part in the ceremony on 19-22 March. Previously, the same event happened in Malaysia causing more than 500 cases n-CoV infectious.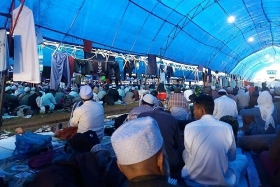 Images on the Facebook account Aalmi Tablighi Shura Elders showed the Indonesia site in Gowa, near the provincial city of Makassar, where thousands of pilgrims had gathered for an event. PHOTO: AALMI TABLIGHI SHURA ELDERS/FACEBOOK
It has been recorded globally 244,615 infections, 10,015 deaths and 87,407 recovered. The other countries and territories were reported for the first case including Chad, El Salvador, Fiji, Nicaragua,Niger and Isle of Man.
In Vietnam, the Ministry of Health confirmed more 9 new infections on 19 March middle night, all of them return home from overseas, raising the total number of infections to 85, 16 among recovered and discharged.
vietnamtimes.org.vn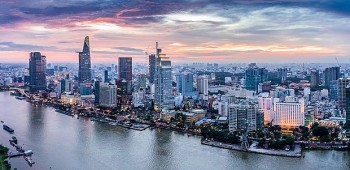 Economy
Japanese investors have been interested in the property market in Vietnam.