Countries seek ways to secure growth and resilience in ASEAN post-COVID-19
As one of the activities on the sidelines of the 37th ASEAN Summit, a joint SBV-IMF high-level conference, themed "Securing Growth and Resilience in the ASEAN: Policies for the Post-COVID-19 World" was jointly organised by the State Bank of Vietnam (SBV) and the International Monetary Fund (IMF) in Hanoi on November 10, VGP reported.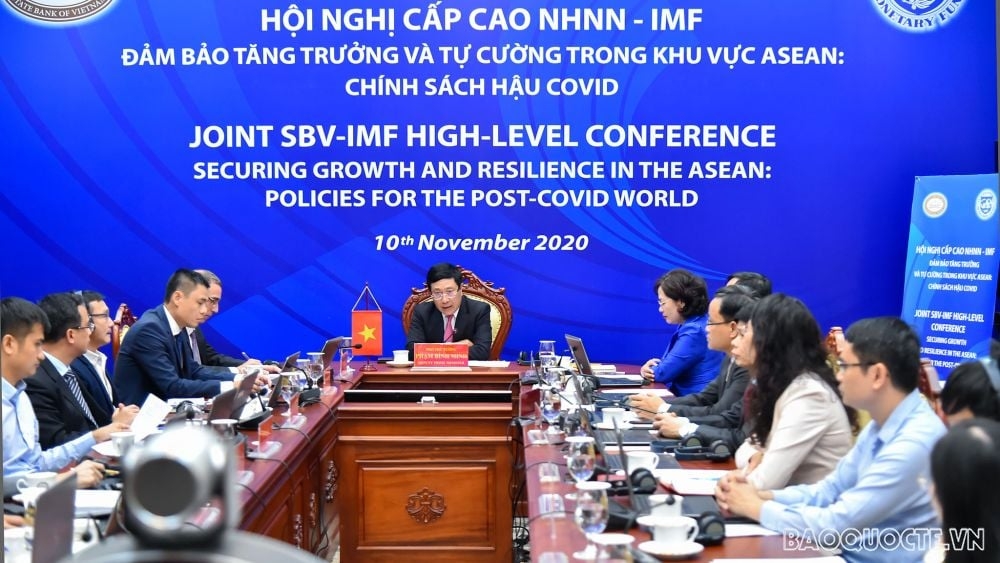 Deputy Prime Minister, Foreign Minister Pham Binh Minh (middle) delivers remarks at the Joint SBV-IMF High-level Conference themed themed "Securing Growth and Resilience in the ASEAN: Policies for the Post-COVID-19 World" held virtually on November 10, 2020. Photo: baoquocte.vn
Speaking at the event, Vietnamese Deputy Prime Minister and Minister of Foreign Affairs Pham Binh Minh said the COVID-19 pandemic has taken a million lives and infected more than 50 million people around the world.
The pandemic has created not only a health crisis, but also a global economic crisis and a social crisis.
The hard-won development gains in many countries have been reversed while tens of millions of people have fallen into poverty and implementation of the Sustainable Development Goals has been driven even further off track, Minh stressed.
Despite these multiple crises, countries around the world have shown strength, resilience and innovation and governments have come together and strengthen their policy coordination and cooperation at regional and global levels.
At regional level, ASEAN presented an excellent example as it has been quick to take actions, backed by the highest level of political commitment.
Many initiatives have been put forward like the establishment of the ASEAN COVID-19 Response Fund, the ASEAN Regional Reserve of Medical Supplies, and the Standard Operating Procedure (SOP) for Public Health Emergencies.
The region has been implementing the Comprehensive Recovery Framework and the Hanoi Plan of Action on Strengthening ASEAN Economic Cooperation and Supply Chain Connectivity in Response to the COVID-19 Pandemic.
Minh highlighted that all these efforts have enabled ASEAN to continue making progress in our community building efforts, and build a more cohesive and responsive ASEAN.
Regarding the way ahead, Minh expressed his belief that the conference will help ASEAN leaders outline policies to bring the region out of crisis and promote resilience, economic recovery and inclusive growth.
He called for the international community to work elbow-to-elbow to guarantee the provision of global public goods, especially vaccine and treatment, to all countries, and to ensure the effective and coordinated functioning of the international trade and financial systems.
Minh hoped that the participants to the conference would discuss policy solutions and recommendations that would provide valuable inputs for Vietnam and ASEAN countries as we devise our post-COVID strategies for growth and resilience.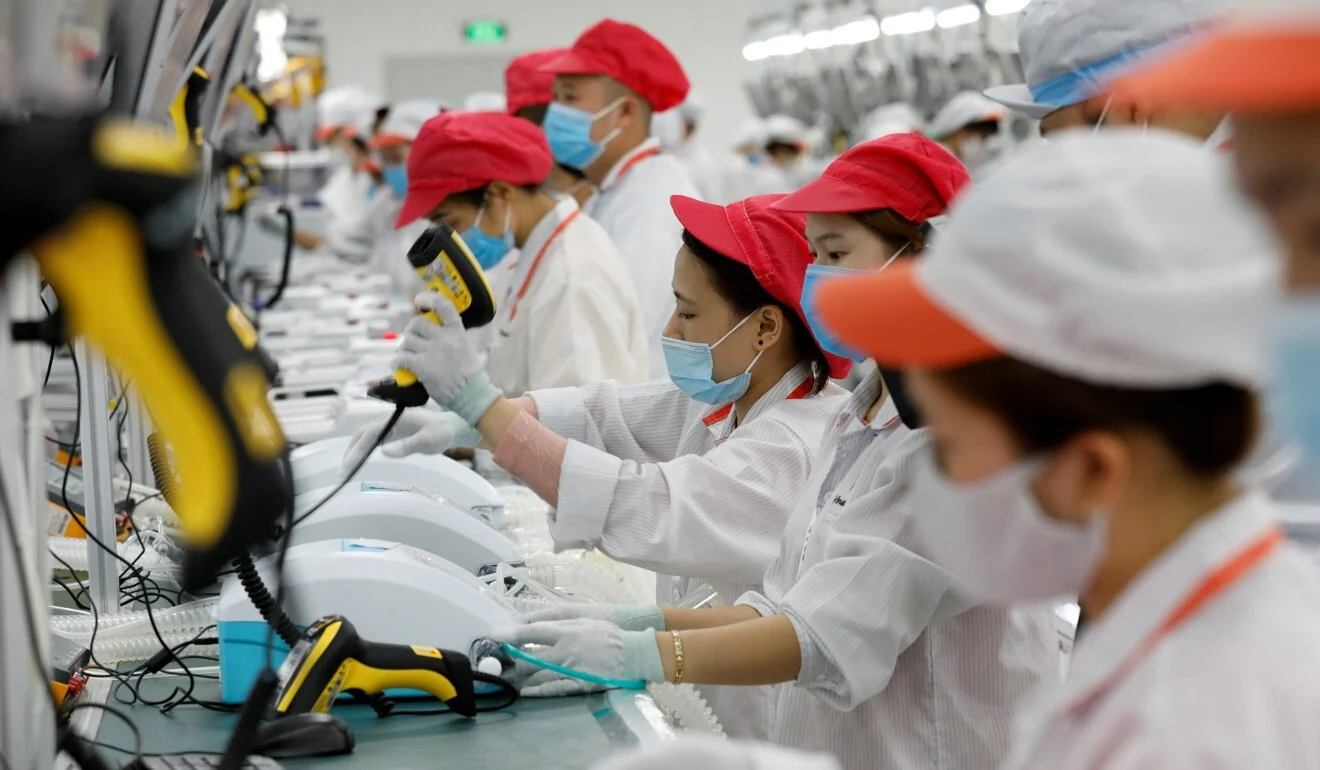 Workers on an assembly line produce ventilators for COVID-19 patients at a factory outside Hanoi in August. Photo: Reuters
SBV Deputy Governor Nguyen Thi Hong spoke highly of active collaboration between IMF and ASEAN, stressing that the finance-banking sector plays an important role in propelling growth and improving economic resilience in the region.
She informed that the SBV has performed monetary policies synchronously to help the Vietnamese economy overcome difficulties, including offering lending rate reductions and exemptions as well as restructuring debts.
ASEAN member states need to continue offering mutual support to maintain a strong political-economic community in line with the theme of ASEAN Year 2020 "Cohesive and Responsive".
IMF General Director Kristalina Georgieva said ASEAN's strong cooperation spirit and its efforts in overcoming the consequences of the COVID-19 crisis have been widely recognized by the international community.
She expressed her belief that the ASEAN Way will be a source of inspirations to foster global cooperation for a better world.
Following the opening ceremony, the participants deliberated on policy responses during and after the pandemic./.