COVID-19 Updates (October 24): Vietnam, India boost tourism cooperation post-COVID-19
A webinar discussing post-COVID-19 tourism cooperation between Vietnam and India was held in Ho Chi Minh City on October 23.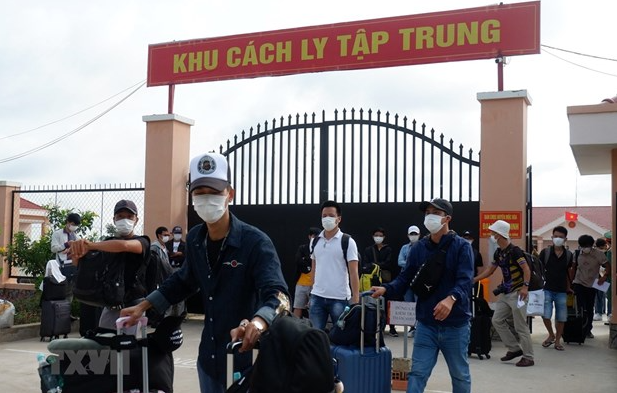 Vietnamese citizens returning from the Philippines complete the time of concentrated quarantine. (Photo: VNA)
No new COVID-19 cases reported on Oct. 24 morning
Vietnam had no new cases of COVID-19 to report as of 6 a.m. on October 24, entering the 52nd consecutive day without any new infections in the community, according to the National Steering Committee for COVID-19 Prevention and Control.
The country has documented 1,148 SARS-CoV-2 infections so far. As many as 1,049 patients have recovered while 35 have died from complications related to the disease. Among the patients still under treatment, five have tested negative for SARS-CoV-2 once, six twice, and 11 thrice.
Currently, there is no patient in critical conditions. There are 14,149 people having close contact with confirmed cases or coming from pandemic-hit regions under quarantine at present, including 159 in hospitals, 13,185 in concentrated quarantine sites, and 805 at home or accommodation facilities.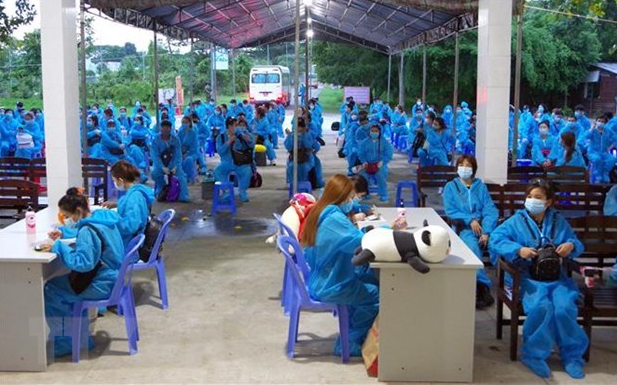 The citizens complete procedures for quarantine. (Photo: VNA)
More than 360 citizens brought home from US and Korea
More than 360 Vietnamese citizens were brought home from US and Korea on a flight operated by the national flag carrier Vietnam Airlines on October 22-23, said VNA.
The flight was the joint efforts of competent Vietnamese agencies at home and abroad, and local authorities. The Vietnamese embassies and consulted have actively supported citizens, including many who live far away from the airport, who need special assistance to move to the airport in San Francisco (USA) and Seoul (Korea), as well as sending officers directly to the airports to assist citizens in completing the procedures and the boarding process.
Strict security, safety, and epidemiological measures were implemented during the flights to ensure passengers' health and prevent the spread of diseases. After landing in Da Nang, the passengers and crew members had their health checked and were sent to quarantine in line with regulations.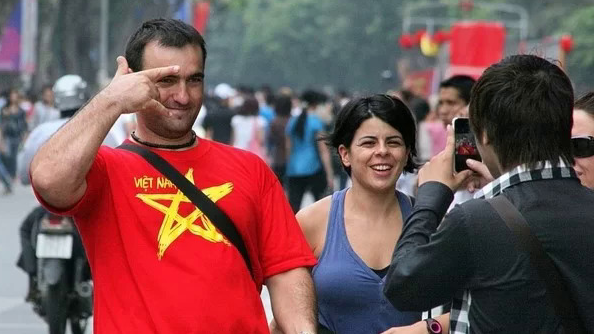 India tourist in Vietnam. (Photo: VN Express)
Vietnam, India boost tourism cooperation post-COVID-19
A webinar discussing post-COVID-19 tourism cooperation between Vietnam and India was held in Ho Chi Minh City on October 23.
Speaking at the event, Indian Consul General in Ho Chi Minh City Madam Mohan Sethi said the webinar aims to enable State management and travel agencies to discuss bilateral tourism cooperation following the pandemic.
Deputy head of the Vietnam National Administration of Tourism (VNAT)'s Tourism Market Department Tran Phong Binh said due to the impacts of COVID-19, tourist arrivals in Vietnam only hit 3.7 million in nine months of this year, down 67.4 percent year-on-year. The total revenue slumped by over 53 percent to nearly 10 billion USD.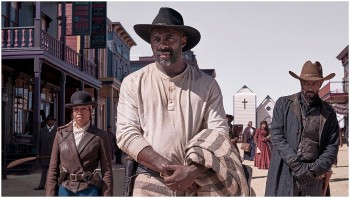 Handbook
November is coming close, and the cold outside makes us want to curl up inside our warm blanket and bing watch our favorite movies or shows. Here is the list of what is coming on Netflix in November, and some of the most expected Netflix originals for you to enjoy.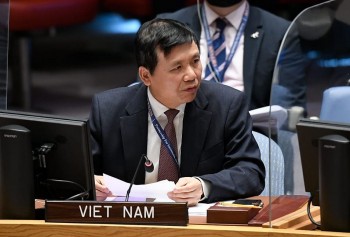 National
Vietnam welcomed the declaration of a unilateral ceasefire by the Central African Republic government at the United Nations Security Council (UNSC) meeting on October 18 on the situation in the Central African Republic.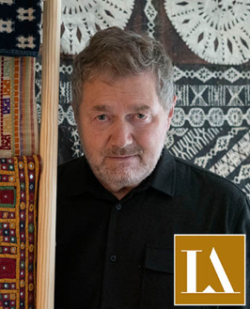 Economy
HONG KONG SAR - Media OutReach - 19 October 2021 - The DFA Awards is a flagship programme of the Hong Kong Design Centre (HKDC). It is comprised of five major awards to acknowledge leaders for their outstanding contributions to the design industry and celebrate projects at the forefront of design excellence with Asian perspectives.