Couple Makes Own Rustic Furniture
A few days ago, Hoai Thu sewed her last curtain, finishing a series of days of DIY furniture for a new apartment, at a cost of 15 million VND.
It started when Thu took out a 10-year-old sewing machine and sewed an apron for her husband when they moved into their new apartment.
The Covid-19 pandemic has caused Thu and her husband Brett, who are both teachers, to significantly decrease their income. They decided to rent an unfurnished apartment to save money.
Holding an apron in her hand, Thu told her husband: "Shall we make all the furniture ourselves?". Brett gave a thumbs up.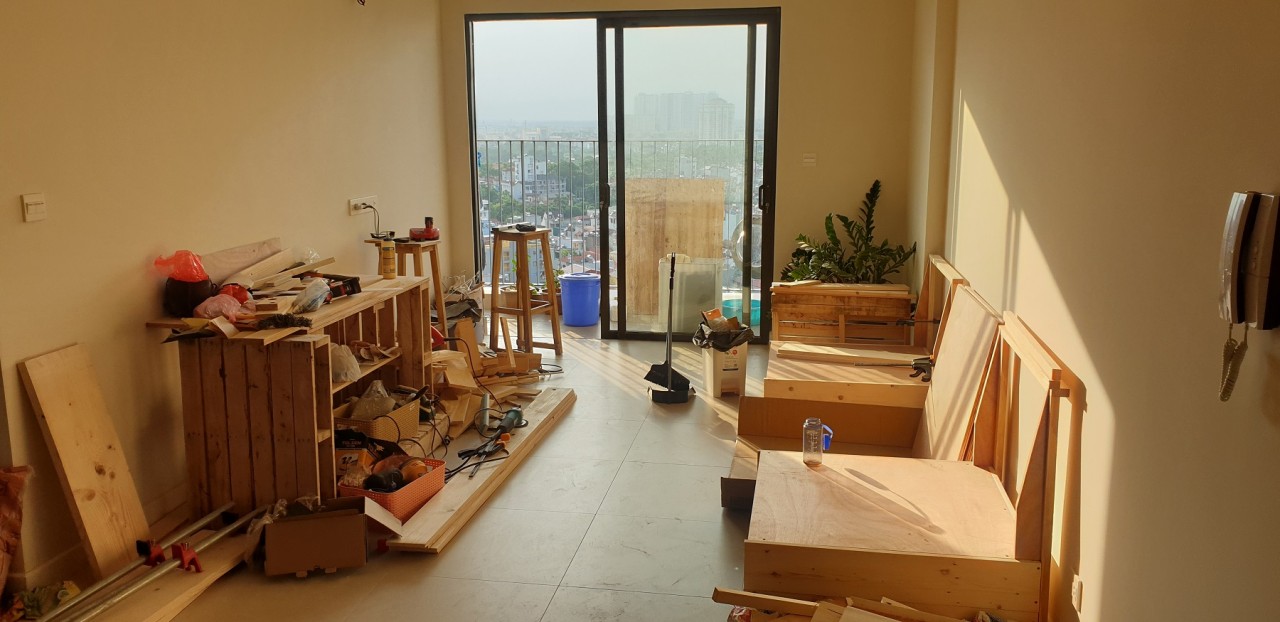 A bedroom turned into a carpentry workshop. Photo: Hoai Thu
The newly rented apartment in Bac Tu Liem is 76 square meters wide, including two bedrooms, and a living room, and is 5 million VND cheaper than the old place. On the first day in the new apartment, the couple temporarily put a mattress on the floor, took out a few clothes and some other necessary stuff. They use one bedroom as a workshop.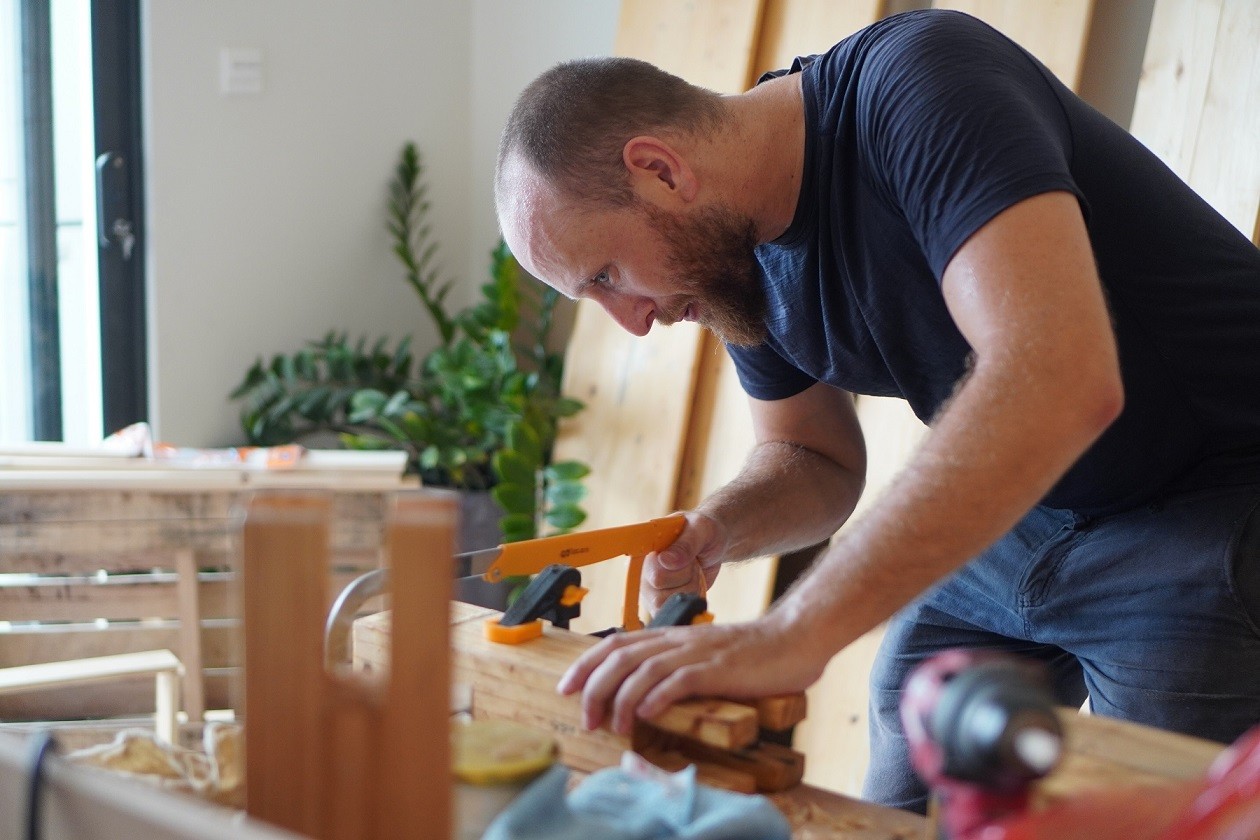 Brett takes responsibility for carpentry. Photo: Hoai Thu
Brett takes responsibilities for carpentry and heavy housework, while Thu sews curtains, sheets, pillows and cushions. Having no experience, they went online to self-study. Thu often searches on Pinterest with keywords such as: "Rustic interior/decor" Scandinavian interior/décor," and "Nordic interior/decoration."
The kitchen. Photo: Hoai Thu
Initially, the couple planned to just make essential furniture items. In their free time, they went around Hanoi to find what they needed. Sometimes they found some abandoned chairs or their friends gave them a wooden board to make a tea table.
They bought all the raw wood and cut and built it themselves. When Brett built the sofa's frame, she sewed its cushions.
They eventually went back to work when the pandemic subsided, only making the furniture in the evenings or on holidays.
Sometimes, Thu felt tired and hopeless, especially when coming home from work exhausted, looking at the messy, dusty furniture in the house, not knowing when it woukf be finished.
Brett comforted her every time he finishes work early or knows his wife is coming home, he cleans up.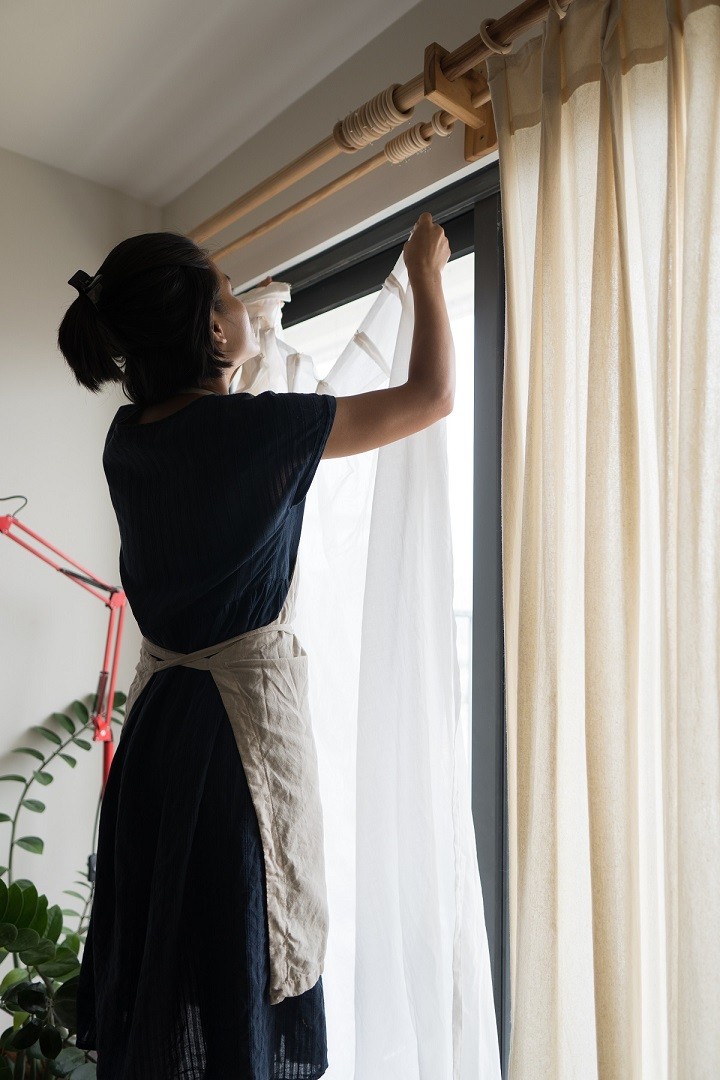 Thu hanging curtains. Photo: Hoai Thu
It took more than two months for Thu and her husband to finish the essential furniture items (beds, wardrobe, kitchen shelves, shoe shelves, sofa frames), and she just finished the last curtain a few days ago.
In the living room, the legs of the tea table were picked up from the landfill, and the top was taken from a broken table. The chair was also picked up and sewed with a new cover.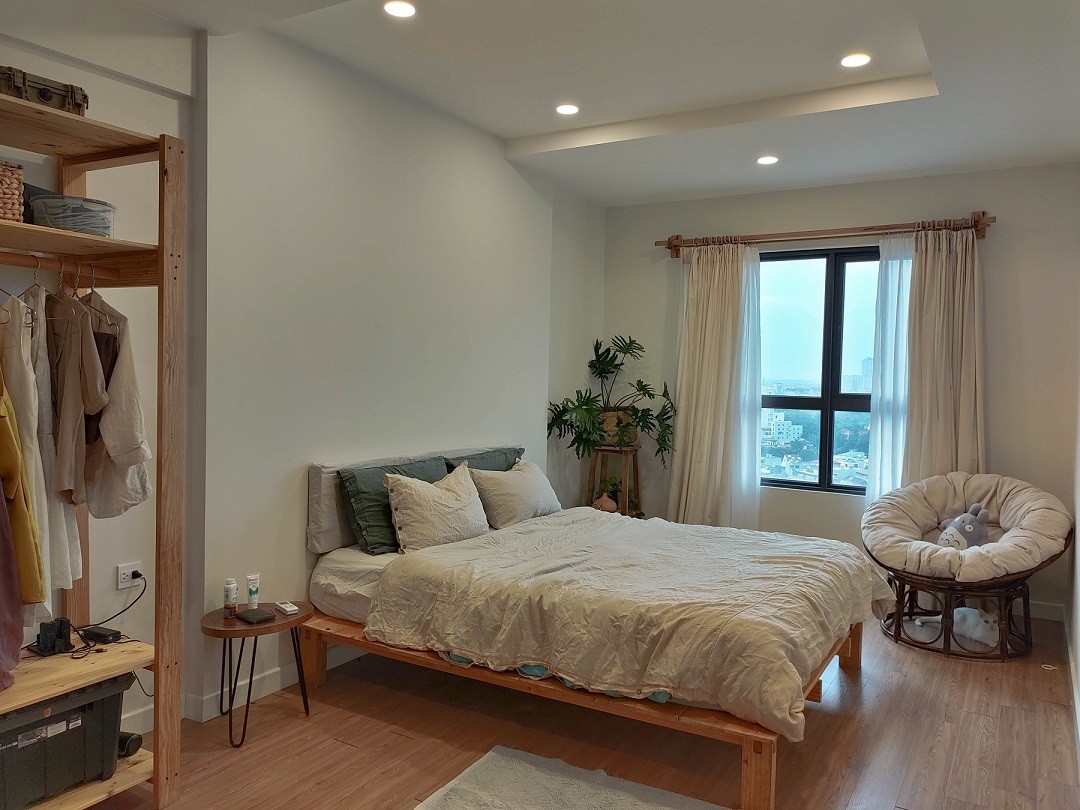 The bedroom: Photo: Hoai Thu
The living room. Photo: Hoai Thu
"For me, an item made by myself is not an inanimate object. The apartment is now our lovely home, despite us renting it. "I look forward to coming home", Thu said.
Brett loves his handmade items so much that he sometimes sits and talks to them. He says he loves all the details on the homemade stuff, even the imperfections.
Although they plan to stay in the apartment for a long time, the young couple's dream is to build a rustic house in the countryside, with Brett doing the carpentry again, and Thu sewing small items in the house.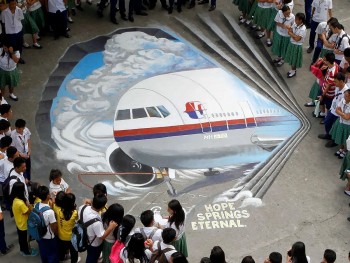 World
The world might never know what really happend when these planes went off the radar. Let's take a look at some of the unsolved mysteries of aircraft disappearances.