Swedish Couple Devoted to Charity Works in Vietnam
After coming to to Vietnam for a short holiday, a Swedish couple chooses to stay to support the poor.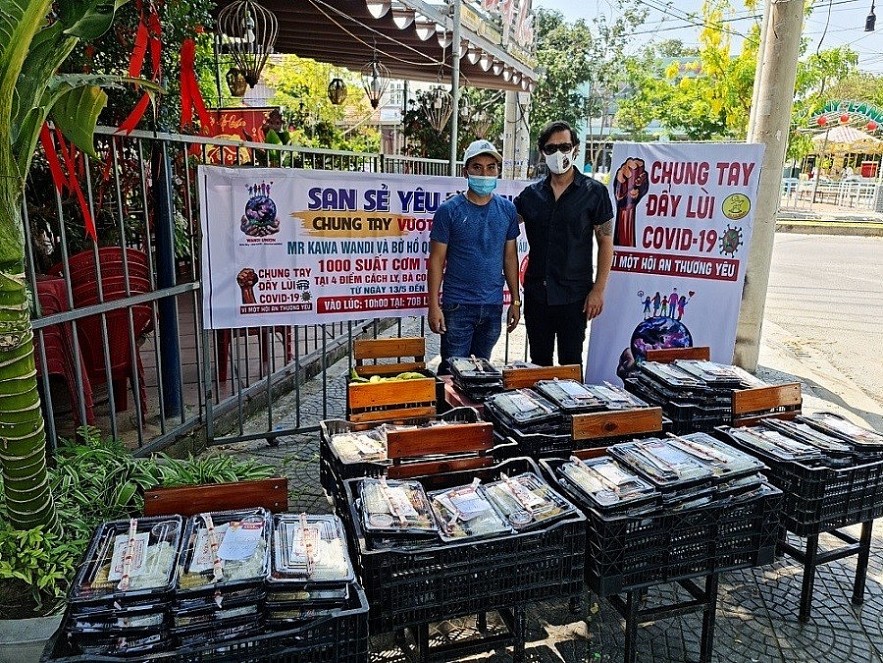 Kawa Wandi and his friends provide free meals for needy people. (Photo: Vietnamnet)
Nishte, Kawa Wandi and their children first came to Vietnam in early 2020. Falling in love with the country, they currently reside in Hoi An to do charity for the poor.
(Video: VN Express)
Their love for Vietnam
Born and raised in a low-income family in Sweeden, Wandi understands how it feels to be poor. He determined to help the less lucky lives from a very young age. The man said he had spent his savings to buy small gifts for patients in hospitals in his early twenties. After being married to Nishte, he ran three restaurants across Sweden but decided to close them all in 2017 to start traveling.
'My family and I went to many countries in the world to help the unlucky lives. We've been to the UK, US, France, to faraway lands in Africa, to Laos, Cambodia, Malaysia, and finally Vietnam,' Wandi said.
After traveling to many countries, learning about many different cultures, at the beginning of 2020, they chose Vietnam as the final destination in their journey to write warm stories.
'We were looking for a place to settle down, and we fell in love with Vietnam and Hoi An,' he said. 'When I came to Hoi An, I was fascinated by the old houses here. The town is peaceful, the people are very friendly. My wife and I decided to stay here to fulfill our dream of helping people in need. Although I have only settled for nearly 2 years, my family considers this as our second home.'
Kawa Wandi (L) giving gift to a woman in Hoi An. (Photo: Vietnamnet)
Try their best to support the 'second home'
Hoi An imposed social distancing regulations in late July. Since then, Wandi and his friends have held many activities to support needy people in the area. His group offer gifts including rice, canned food, instant noodles, necessities, each worth VND 400,000 (US$ 17,3)
In an interview with Vietnamnet, Wandi said he could not hold back his tear when seeing a 60-year-old man attempting to support his 80-year-old mother and a mentally ill son, who was lying on a cement bed in Tan An ward (Hoi An city). It was an obsessing scene, he said and hoped to have chances to come back and support them.
Nishte (L) joins the work. (Photo: Vietnamnet)
Not only providing gifts for the poor, the Swedish couple and their companion, Trang Quoc Tri in Hoi An, also cooked more than 3,500 free meals to help people in four quarantined zones, as well as needy residents.
Trang Quoc Tri said: 'Last year, Wandi's family rented a house next to mine. We got to know each other and shared the same idea of helping people in need. Our activities did not just start this year. We went to Quang Tri to help people affected by storms and floods in 2020, too.'
His group launched a VND 200 million (US$ 8,695) project to built and repaired water treatment system for people in Quang Nam in early 2021.
The Wandis have launched different projects to support people in different provinces. (Photo: Vietnamnet)
Honored by local authorities
Acknowledging Nishte and Kawa's story, Vice-chairman of Hoi An People's Committee Nguyen Van Lanh thanked them for their meaningful works.
'Your family has chosen Hoi An, though Hoi An has its drawbacks. As the pandemic came, your family has quickly adapted, and stand side by side with the locals. Your works are not lousy but have contributed to lid the light of charity, of supporting the community and unlucky lives,' said Nguyen Van Lanh, while sending his thanks to all expats who have assisted Vietnam and Hoi An.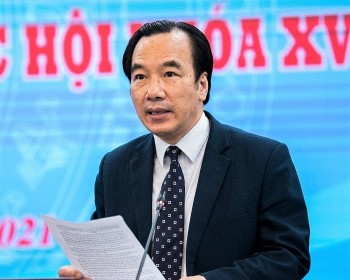 Focus
Consolidation of personnel; building and expanding the network of Malaysian partners; strengthening communication, and contributing to introducing to the people, especially the young generations of the two countries about the country and people of each side... are the focus of the Vietnam-Malaysia Friendship Association in the coming time. Chairman of the Association, Ngo Sach Thuc hopes that "people-to-people diplomacy will continue to be a pioneer in bringing the two countries and cultures closer to the goal of cooperation and integration".