Vietnamese and South African Couple Lends Support to Foreigners in HCMC
Tran Thanh Hai, 38, and her South African husband Mauritz Pretorius, 32, have been bringing many oxygen cylinders to help coronavirus-infected expats in HCMC
"Madam, madam, I need oxy cylinders, please help!" one man told Hai, a member of the Nhat Tam volunteer group in broken English. He then showed her the photo of his sister, a Filipino expat who was having breathing difficulty and need oxygen support.
This tragic sight prompted Hai and Pretorius to help out the two expats.
No foreigners in need will be left behind
Arriving at a house in District 7's Tan Quy street, Hai realized she had been there to distribute foodstuff on August 21. Here, 8 Filipino teachers are sharing the house. They were all laid off in the past four months, having no income but still need to pay for their daily expenses and extend their visa. These expats have reportedly applied for aid packages but were yet to receive any.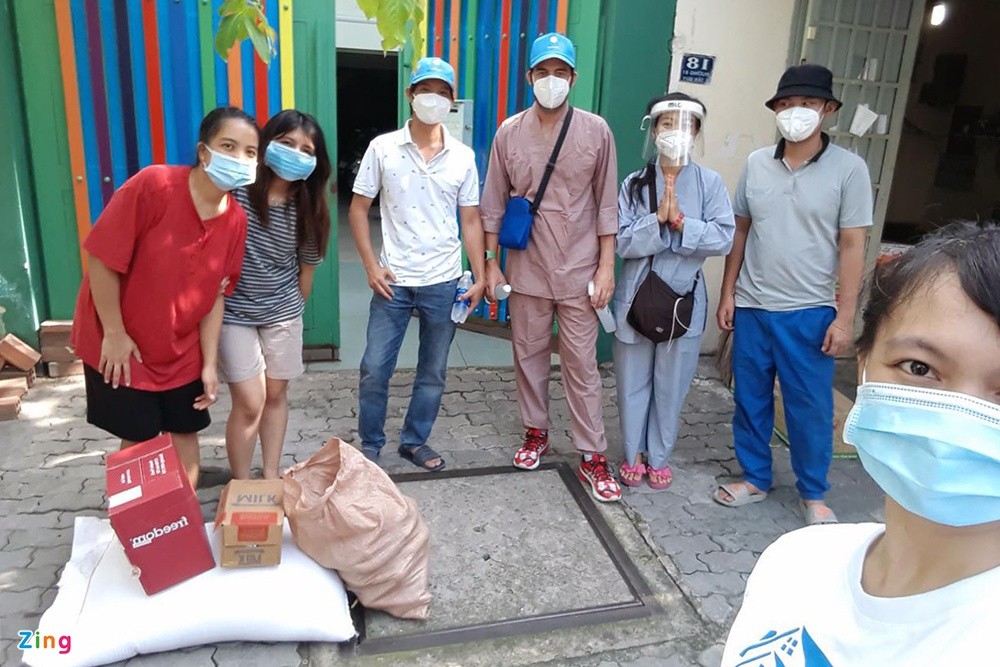 Hai and Mauritz gives food to the 7 Filipino teachers. Photo: Zing
"I'm also an English teacher. I know what they suffer in the past four unemployed months. My husband and I won't ignore people like them", Hai told Zing News.
This time, Hai and another volunteer instructed the Filipino man to install and use the oxygen tank. This person also asked for more food supplies because he had to raise four children.
Hai and Pretorius immediately sent foodstuff and US$22 from the volunteer's funds and another US$ 220 from benefactors to the Filipino teachers. They are among many stranded foreigners who get help from the couple.
"We get requests for help from foreigners every day. Mauritz is in charge of contacting them, asking for details about their situation, address, and then prepares appropriate portions of food. When there's no car available, he drives motorbike," Hai said. "We try to help whoever needs our hands, as long as we can reach them."
According to Hai, Mauritz even stops to give food and money to whoever foreigners he comes across on the street.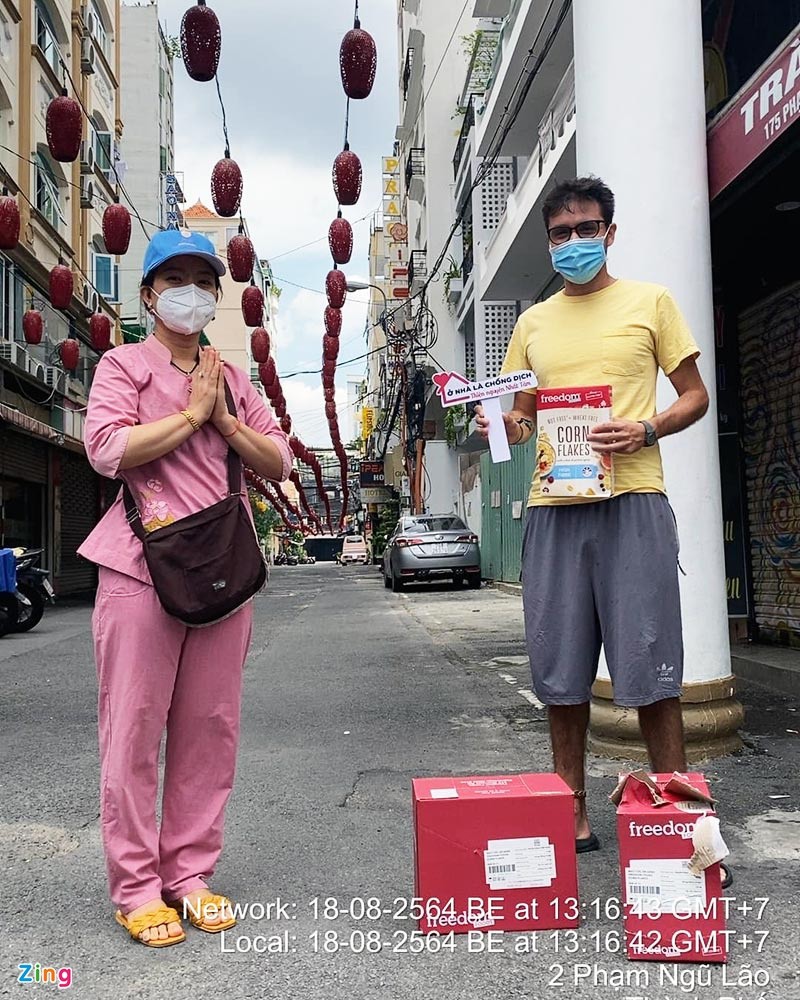 Photo: Zing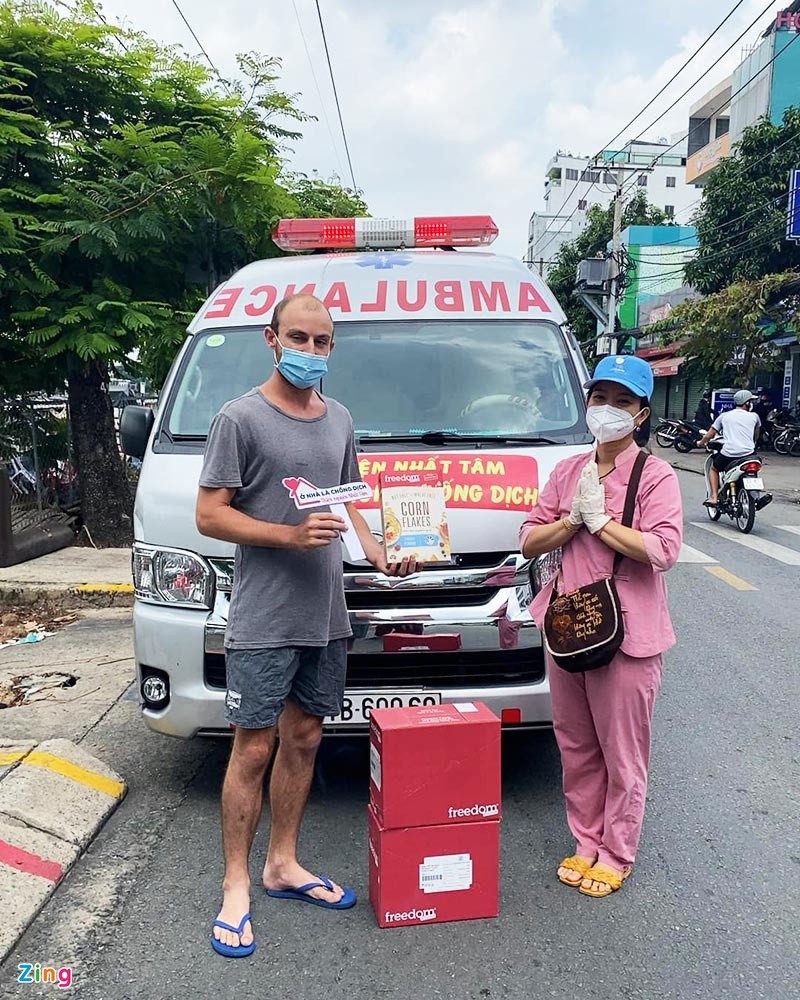 The couple gives foreigners food. Photo: Zing
A foreign husband who loves volunteer work
Hai and Mauritz are both English teachers, living in HCMC's district 7 since December 2019. Since early 2020, they have been active members of Nhat Tam volunteer group, especially during social distancing time. There were many busy days they didn't have time for lunch.
"Every 3rd on lunar calendar, he goes with other members to distribute rice at Rehabilitation Hospital in district 8," Hai added.
Mauritz said he was lucky to still have an online teaching job during this social distancing period. When he teaches during the daytime, he does volunteer work from 9 p.m. to 4 a.m. the next morning. The rest of the week, he goes help foreigners from morning to afternoon.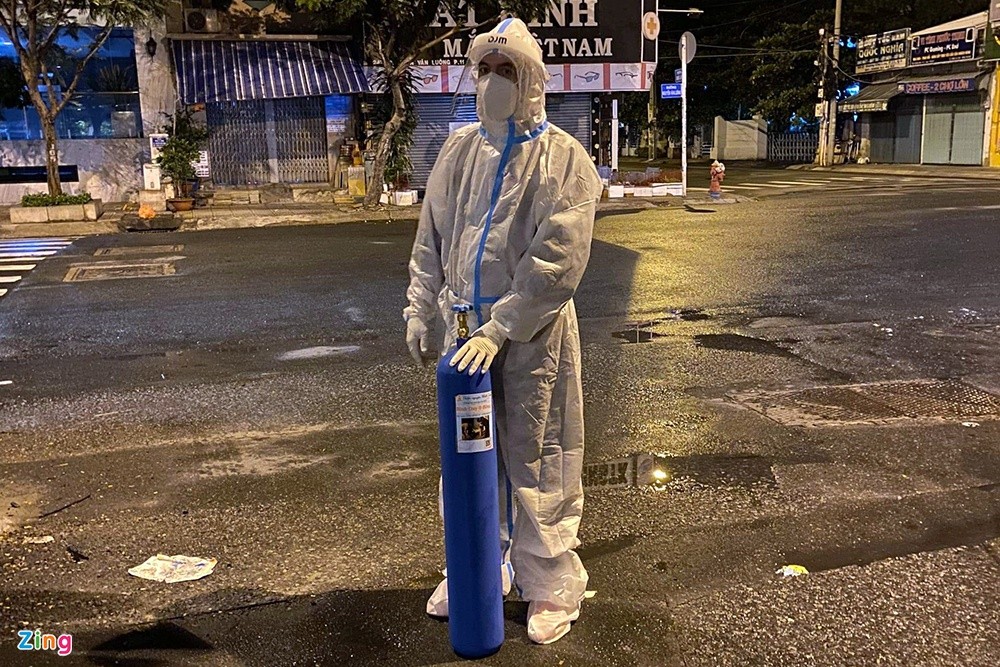 The expat distributes oxygen tanks to needy households. Photo: Zing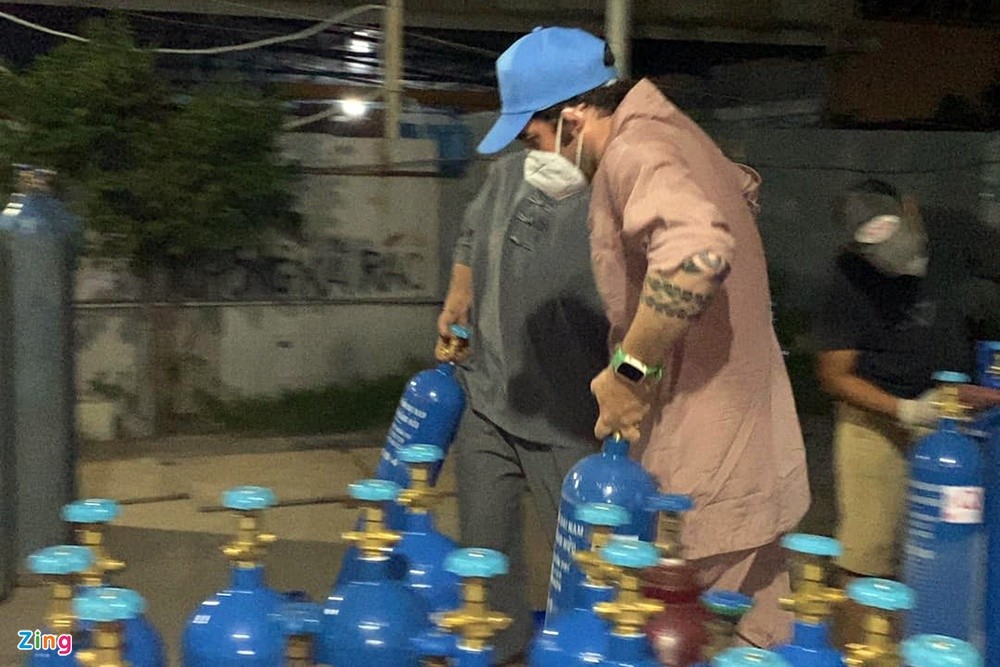 Photo: Zing
"Now he loves oxygen tanks and rice more than he loves me because he 'hugs' them all day. His photos on the Internet now filled with him hugging aid packages," Hai said.
"I feel like I need to do something for the people in the country I love. The bright smiles and words of thanks I get from the recipients really make me happy," Mauritz told Zing.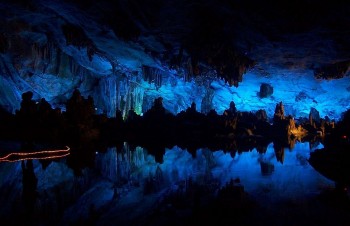 Travel
Caves are the creation of nature, charming any tourists with their mysterious and an air of danger, waiting for humans to explore the deepest secrets inside them. Take a look at these magnificent and beautiful caves around the world that you must visit once in your lifetime.
Viet's Home
According to the AFC official statement, Vietnam striker Nguyen Tien Linh won the AFC International Player of the Week after receiving the most votes out of the remaining nine players.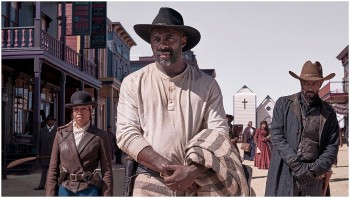 Handbook
November is coming close, and the cold outside makes us want to curl up inside our warm blanket and bing watch our favorite movies or shows. Here is the list of what is coming on Netflix in November, and some of the most expected Netflix originals for you to enjoy.