Friendship Association supports Myanmar people against COVID-19 epidemic
The Vietnam-Myanmar Friendship Association on September 29 received donations from units and businesses supporting the Myanmar people tackle COVID-19.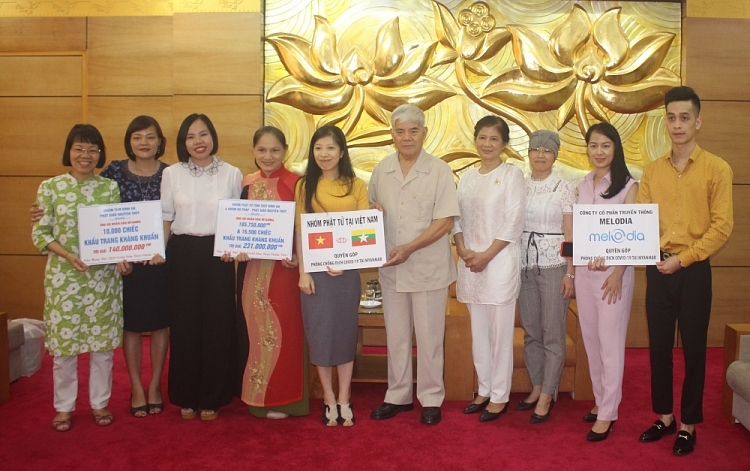 Donations in cash and kind have been made to support the fight against COVID-19 in Myanmar. Photo: VNT
Faced with the widespread COVID-19 epidemic and complicated developments in many countries around the world, including Myanmar, the Vietnam-Myanmar Friendship Association had quickly and promptly launched a call to donate to support Myanmar people.
The campaign received an enthusiastic response from many organizations, individuals, collectives, businesses, who once studied, worked, traveled in Myanmar and loved this country.
On the morning of September 29, the representatives of individuals and organizations handed over the donations worth VND 61 million (USD 2.631) and 26,000 antibacterial masks to the Vietnam-Myanmar Friendship Associationin the symbolic ceremony. In which, the Buddhist group in Vietnam donated VND 56 million (USD 2.415), and VND 5 million (USD 216) from the Melodia Communications Company.
Also at the event, the Tam Binh An group pledged to donate 10,000 antibacterial masks, two Buddhist groups Tinh that binh an and Ho phap phat giao nguyên thuy donated more than VND 185 million (USD 8.003) and 16,500 units antibacterial masks.
Speaking at the ceremory, Chairman of the Vietnam - Myanmar Friendship Association Chu Cong Phung said that since mid-September up to now, COVID-19 outbreak has been booming in Myanmar. As of the morning of September 29, Myanmar had a total of 11,631 cases, including 259 deaths.
In order to share the difficulties faced by the Myanmar people, the Vietnam-Myanmar Friendship Association had launched a joint program to support the Myanmar people against the epidemic. And within a short time, the Association has received great support from Vietnamese people who love Myanmar.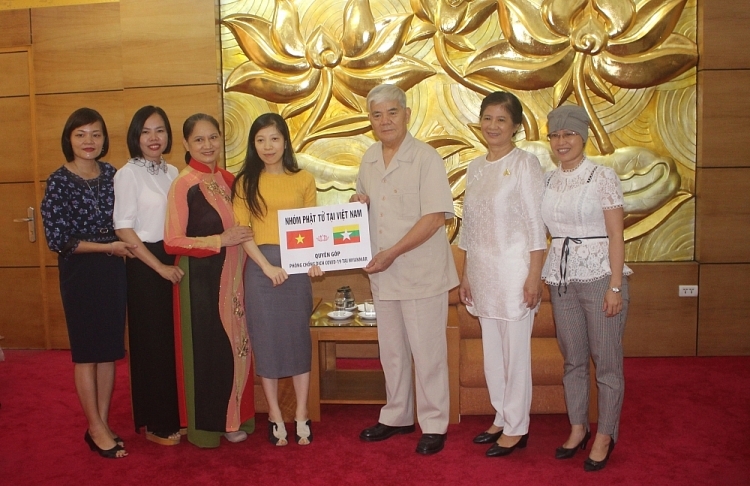 Vietnamese Buddhists donates funds to support COVID-19-affected people in Myanmar. Photo: VNT
The Chairman of the Vietnam - Myanmar Friendship Association also emphasized that this handover ceremony is just the beginning, representatives of some businesses, organizations and individuals in Ho Chi Minh City and many southern provinces have contacted with the Association and expressed their wish to contribute to support medical supplies to help the people of Myanmar overcome the consequences of COVID-19.
"On behalf of the Vietnam-Myanmar Friendship Association, I would like to sincerely thank the Vietnamese individuals and business organizations who have donated to support the Myanmar people to overcome the consequences of COVID-19. On this occasion, I would also like to extend my best wishes to the Myanmar people 'May you soon overcome this pandemic'; and wish the traditional friendship and comprehensive cooperation between Vietnam and Myanmar increasingly strengthened and developed," Phung said.
Vietnam detected 17 new cases of COVID-19 on September 29, all of whom are people arrived from Russia, according to the National Steering Committee for COVID-19 Prevention and Control.
The total number of cases rose to 1,094 as of 6pm on September 29.
During the day, eight more COVID-19 patients were given the all clear, raising the total recoveries to 1,007.
Though Vietnam has done exceptionally well in quickly containing COVID-19, the pandemic has taken unprecedented toll on its economy.
However, since the beginning of the pandemic, many friendship associations under the Vietnam Union of Friendship Organizations have shown solidarity with international friends in combating COVID-19, by mobilizing funds from individials and businesses in Vietnam to purchase medical supplies as well as raising cash donations.
Vietnam's Ambassador to Myanmar Ly Quoc Tuan on July 13 presented USD 50,000 as a gift of the Vietnamese Government to help Myanmar combat the COVID-19 pandemic, at the handover ceremony held at the headquarters of the Myanmar Ministry of Health and Sports in Yangon.
The fund was made official in April in Hanoi, in a ceremony in which Deputy Foreign Minister Nguyen Quoc Dung, on behalf of Prime Minister Nguyen Xuan Phuc, symbolically handed over the financial assistance as gift to the Ambassador of Myanmar to Vietnam Kyaw Soe Win.
On this occasion, representatives of some Vietnamese businesses also presented medical equipment and supplies as well as cash donation to Myanmar's Ministry of Health and Sports.
The aid illustrates Vietnam's continued willingness to assist other countries on a bilateral and multilateral basis to the best of its abilities even as it continues to remain cautious about managing its own coronavirus challenge at home./.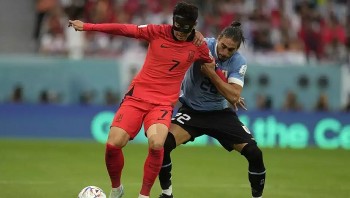 World
Both South Korea and Ghana are searching for their first wins at this year's World Cup. Ghana are facing the prospect of an early elimination from World Cup 2022 Group H when they travel to the Education City Stadium to face South Korea on Monday.