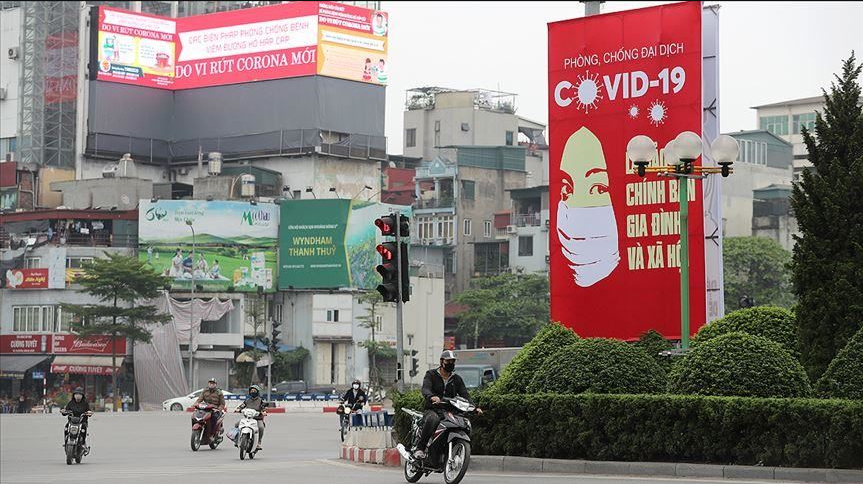 Turkey Press complimented Vietnam for successfully controlling pandemic (Photo: Andalou Agency)
Turkey Press complimented Vietnam for successfully controlling pandemic
On July 21, Andalou Agency posted an article titled: "Vietnam reports no local COVID-19 cases for 3 months".
Accordingly, Vietnam announced that there had been no reports of indigenous cases of the novel coronavirus for 96 consecutive days, local media reported on Tuesday. At least 12 new imported cases were reported on Tuesday, bringing national toll to 369, Vietnam news reported.
The new cases were incoming passengers who landed at Van Donn Airport in the country's coastal northeastern province in Quang Ninh.
All passengers on the flight were quarantined. Vietnam has quarantined over 11,000 in hospitals, health centers and at home.
Across the world, COVID-19 has claimed over 610,000 lives in 188 countries and regions since emerging in China last December. More than 14.7 million cases have been reported worldwide, with the US, Brazil, India, and Russia currently being the worst-hit countries, according to figures compiled by the US' Johns Hopkins University.
The data shows more than half of all people infected with the virus worldwide -- over 8.3 million -- have recovered so far.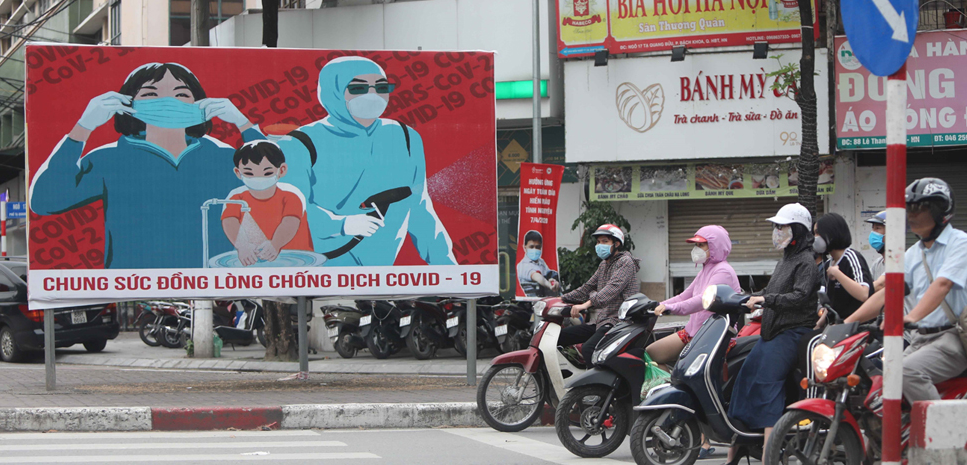 Vietnam Repels another Enemy at the Border: COVID-19, said Geopolitics Monitor (Photo: Geopolitics Monitor)
Vietnam Repels another Enemy at the Border: COVID-19, said Geopolitics Monitor
James Borton, a freelance global journalist who writes for Asia Times, Asia Literary Review, Foreign Policy and The Washington Times, published an article on Geopolitics Monitor, complementing Vietnam's policies and activities in controlling and combating COVID-19.
In his articles, Borton claimed: "While the U.S. death toll from the current COVID-19 pandemic surges to 137,000 and infections soar to 3.4 million, Hanoi's measured control of the crisis establishes Vietnam as an outlier success in the battle against the pandemic. With only 354 reported cases and no deaths, the country's containment record can be attributed to decisive early pre-Tet holiday alerts to its citizens, international travel bans, compulsory face masks, village-wide quarantines, a zero surveillance network and advance zoonotic infections research."
According to him, Vietnam's rapid response to Covid-19 was triggered because of its previous experience with viruses, including cases of avian influenza between 2004 and 2010. The facts reveal that their history with zoonotic infections and preexisting infrastructure enabled appropriate and successful action.
"While the U.S. has done everything wrong in response to COVID-19, Vietnam has done everything right," says Dr. Dennis Carroll, an infectious-disease expert, formerly at USAID.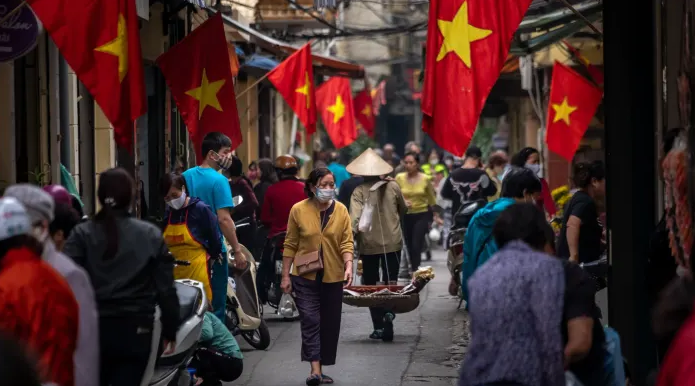 Vietnam wins praises for low-cost policies to combat COVID-19 pandemic (Photo: Financial Times)
Also written in Borton's articles, though still regarded by many as an emerging market, Vietnam understands the value of science in shaping health policy. Its record stands in sharp contrast to the United States. During the Trump administration, the role of science has been diminished and the administration has not only stopped funding of science-driven research but has openly challenged scientific findings related to public health and the environment.
At the start of the year, Hanoi's Ministry of Science and Technology hosted a meeting with virologists to encourage the development of diagnostic tests and to immediately set up contact-tracing measures as key elements for the containment of the virus.
Vietnam's transparency and the effective use of social media has been met with trust from citizens, while increasing numbers of Americans remain confused from White House mixed messages on COVID-19. Meanwhile, Vietnamese officials were quick to develop evidence-based guidelines and trained healthcare and lab professionals to implement the national guidelines down to the local level.
For example, Vietnamese dancer Quang Dang's handwashing song, "Ghen Co Vy", or "Jealous Coronavirus" was broadly released as a public service announcement by the National Institute of Occupational Safety and Health and quickly went viral.
Vietnam's empowered voice as the Association of Southeast Asia Nations (ASEAN) chair was evident at a virtual summit attributed largely to its superb handling of COVID-19, through their combination of targeted testing and an aggressive quarantine program.
The nation's determined leadership to contain COVID-19 seems to be driving a growing regional pushback to China's expansive maritime claims in the contested South China Sea, or the East Sea as Hanoi prefers to call it.
There are no winners during a pandemic, and yet, Hanoi's preparedness and response measures have created trust among its own citizens towards their government; something sorely missing in the U.S. In a seemingly lost year for so many, Hanoi has succeeded in, once again, stopping an enemy at its border.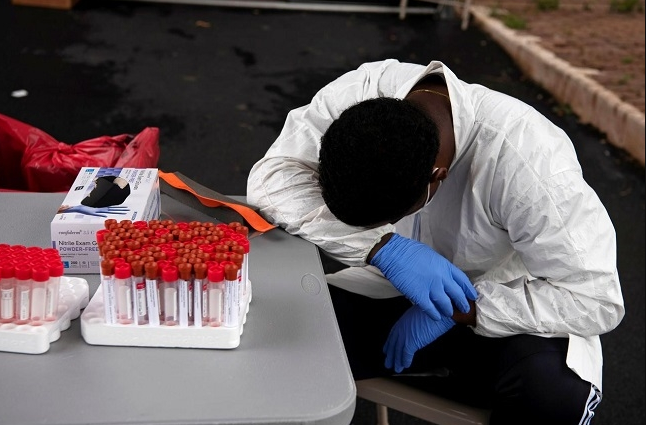 A healthcare worker takes a break as people wait in their vehicles in long lines for the coronavirus disease (COVID-19) testing in Houston, Texas (Photo: Reuters)
Updates on COVID-19 worldwide: Situation gets worse
As the United States reported more than 1,000 coronavirus-related deaths on Tuesday, President Trump offered a grim acknowledgment that the pandemic "will probably, unfortunately, get worse before it gets better."
The Washington Post claimed that more than 65,000 new coronavirus cases were recorded on Tuesday, adding to a nationwide tally o of more than 3,874,000 since the pandemic began. Meanwhile, several states that were quick to reopen — Florida, Arizona and Texas — each counted more than 130 new deaths. Tuesday's death toll is the highest reported since June 2, but still lower than the worst days of the outbreak in April.
With more than 37,700 new cases of the coronavirus disease (Covid-19) and 648 deaths in the last 24 hours, India's tally of the infection rose to 1,192,915, Union health ministry's data showed on Wednesday.
According to the health ministry's dashboard at 8am, 37,724 coronavirus infections were reported across the country between Tuesday and Wednesday. India has added 607,422 Covid-19 cases in 22 days and 256,734 were added in just eight days.
According to TASS, the number of confirmed cases of the novel coronavirus infection in Brazil increased by 41,008 in the past 24 hours, reaching 2,159,970, according to official statistics. The country's Health Ministry said in its daily bulletin that more than 612,000 people are infected at the moment. A total of 1,465,970 patients have already recovered. The country has 1,027 coronavirus cases and 38 deaths per 100,000 citizens.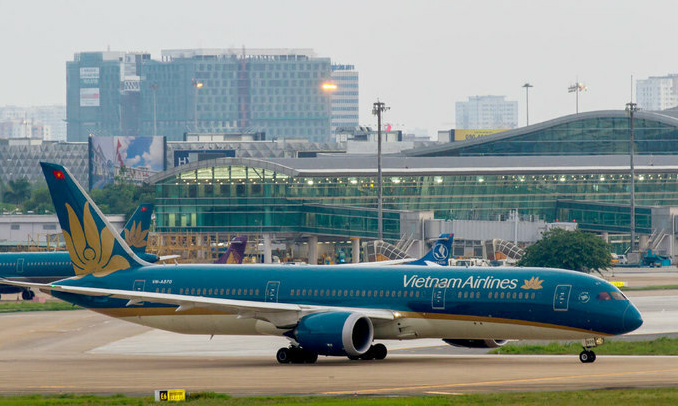 Vietnam plans to open international flight routes in August (Photo: VN Express)
Vietnam plans to open international flight routes in August
According to Deputy Minister of Transport Le Anh Tuan, the Ministry has been working to re-open flight routes with China, Japan, Taiwan, South Korea, Laos, and Cambodia. The first regular flight is expected to take off in early August 2020. According to calculations by the Ministry of Transport, in addition to the flights to rescue citizens, the flight of chartering experts from other places in the world to Vietnam will carry 1,000-1,500 passengers.
However, reopening international commercial flights is also facing many difficulties. Specifically, there is currently no Ministry of Health's official set of guidelines on the process of medical quarantine for guests coming from abroad to Vietnam while this Guideline is a necessary document for aviation authorities to discuss.
Deputy Minister Le Anh Tuan said that the establishment of international regular flights on the basis of reciprocity also depended on foreign partners. The Ministry of Transport has directly contacted agencies to discuss plans to reopen routes. According to the assessment, the majority of countries are predicted to have positive feedback on the proposal of reopening the route to Vietnam.
https://vietnamtimes.org.vn
Valerie Mai