COVID-19 Updates (July 20): Russia might register coronavirus vaccine by end of summer
Now the development of the vaccine is at the stage of preclinical trials, they might last another month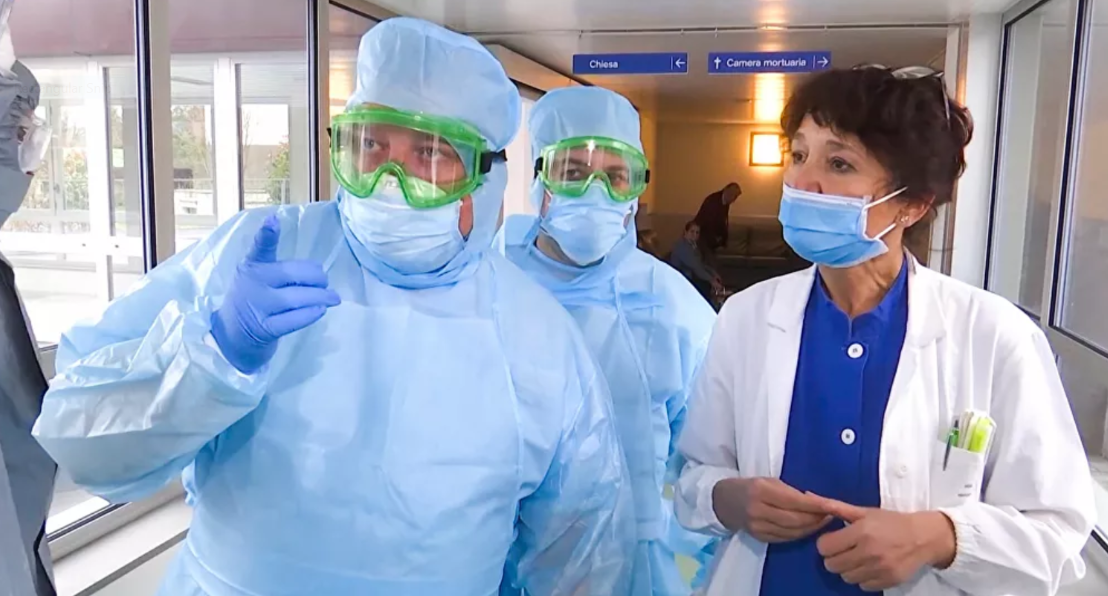 Russian military experts visit hospital facilities for elderly people to fight against the COVID-19 coronavirus infection, in Bergamo, Italy. (Photo: Sputnik)
Russia might register coronavirus vaccine by end of summer
The coronavirus vaccine might be registered in Russia in August, Director of the National Research Center for Epidemiology and Microbiology Alexander Gunzburg said in an interview with Rossiya 1 channel.
"I believe by the end of the summer [a vaccine will be registered]. I would say so. In August, I hope that everything will go as planned and there will be no surprises," he said.
Now the development of the vaccine is at the stage of preclinical trials, they might last another month. At this stage, toxicity, reactogenicity, and other criteria are determined, based on which it will be possible to begin testing the vaccine in humans.
The vaccine, according to Gunzburg, will be administered in the right shoulder, but all Russians will not be able to receive it at the same time. "The Ministry of Health is thinking about how to do this, what capacities can be used to maximize production of vaccines," he added.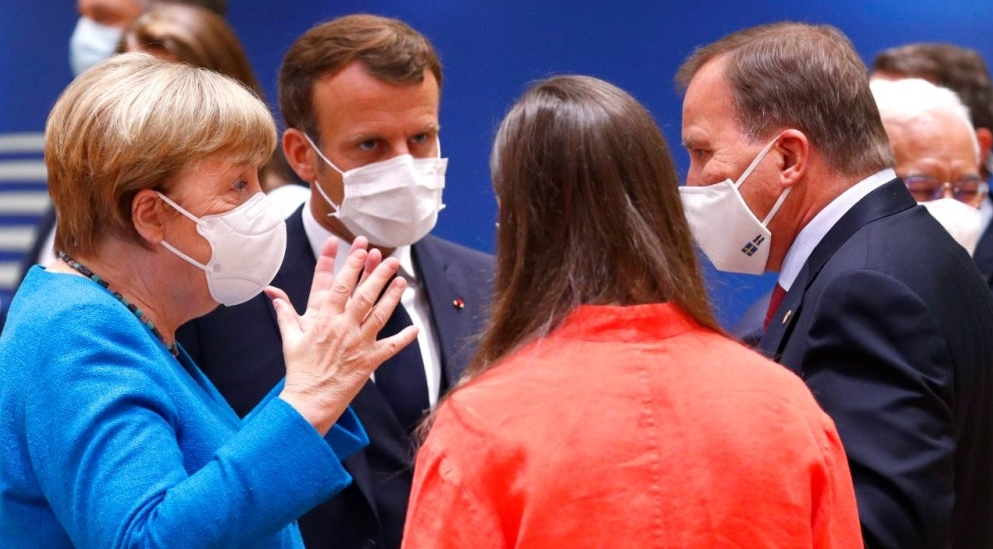 EU leaders disagreed on post-COVID-19 recovery package deal (Photo: EuroNews)
EU nations disagreed on post-COVID-19 recovery package deal
Gathering in Brussels on Friday, European Union leaders in their first face-to-face summit in months tried to thrash out a post-Coronavirus economic recovery package, reported by IranPress.
The urgency of the crisis has caused the leaders of the 27-nation grouping to abandon a series of video conference summits in favor of looking at one another in the eyes — albeit from across a large room. They, however, were far from reaching an agreement on how the money should be handed out.
According to a proposed plan by the Europian commission, it was supposed to a recovery fund totaling €750 billion to be considered. The plan also has backed a joint Franco-German motion that most of the money — €500 billion — be dished out as grants to the member states most economically impacted by the pandemic.
There is also the trillion-euro EU budget, also known as the Multi-annual Financial Framework (MFF) at stake.
Meanwhile, EU leaders must also find common ground on the bloc's next seven-year budget — known as the Multiannual Financial Framework (MFF), which EU Council leader Charles Michel wants to amount to just under €1.1 trillion.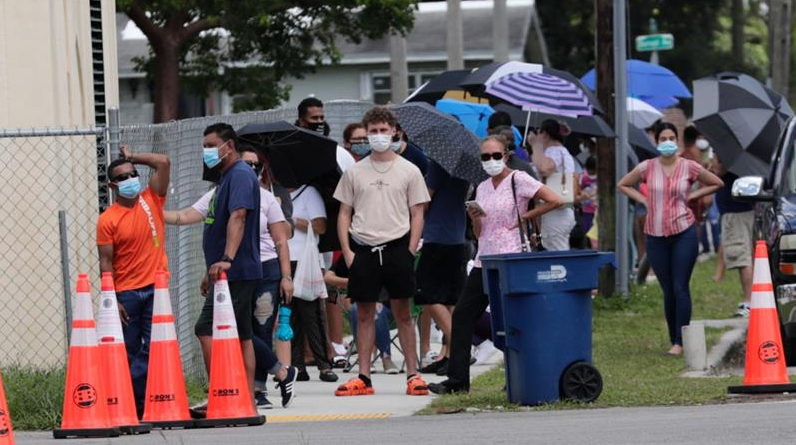 Florida, USA has announced over 10,000 new infections (Photo: Al Jazeera)
US coronavirus cases continue to surge as Trump defends handling
The US state of Florida has reported over 12,000 new cases of coronavirus, on the fifth day in a row the state has announced over 10,000 new infections - even as United States President Donald Trump has pledged that the virus is coming under control.
The virus has claimed over 140,000 lives in the US since the pandemic started, and Florida, California, Texas and other southern and western states have recently been shattering records daily. Despite record levels of new cases nationwide, the Trump administration is pushing for schools to reopen in a few weeks and resisting a federal mandate to wear masks in public.
Al Jazeera reported that Trump defended his handling of the coronavirus pandemic in an interview broadcast on Sunday, including his statement that there were only embers of the virus popping up around the country.
"We have embers and we do have flames. Florida became more flame-like, but it's - it's going to be under control," he said.
COVID-19 cases tick up in northwest China city
According to ABC News, numbers of confirmed coronavirus cases in China's northwestern city of Urumqi continue to rise, with another 17 reported on Monday, bringing the total in China's latest outbreak to at least 47.
Another five cases were brought from outside the country, according to the National Health Commission.
No new deaths were reported, leaving the total at 4,634 among 83,682 cases, and 249 people remain in treatment. Another 158 people were being monitored in isolation for showing signs of having the virus or for testing positive without displaying symptoms.
China had largely contained local transmission of the virus before the Urumqi outbreak and has taken swift action to bring it under control.
The city has cut subway, bus and taxi service, closed some communities, imposed travel restrictions and ordered widespread testing.
A man brought his child to a shopping district in Beijing, on July 19, 2020 (Photo: AP)
India records biggest 1-day surge in new coronavirus cases
A record 24-hour surge of 38,902 new cases has taken India's coronavirus total to 1,077,618. The Health Ministry on Sunday also reported 543 additional deaths for a total of 26,816.
The number of people who have recovered continues to grow. The Health Ministry data shows 677,422 patients have been cured so far across the country, putting the recovery rate at 62.82 percent.
Experts say India is likely to witness a series of peaks as the infection spread in rural areas, according to Arab Times.
Indonesia's Ministry of Health has announced an increase of 1,639 cases in the past 24 hours, to 86,521 cases and an increase of 127 deaths to 4,143. Meanwhile, additional 2,133 cases were cured and discharged, bringing the total number of recovery cases to 45,401 cases.
Singapore announced an additional 257 cases, bringing the total number of cases to 47,912 cases, including 27 deaths.
South Africa remains one of the most severely affected by the Covid-19 pandemic as it continues to set a new record for the number of cases over the past few days. On July 19, South Africa recorded 13,499 new infections, bringing the total number of infected people to 364,328, higher than the total number of cases in all the rest of Africa.
On July 19, Nigerian Foreign Minister Geoffrey Onyeama was confirmed positive for SARS-CoV-2 virus, thereby becoming the first member of President Muhammadu Buhari's cabinet to be infected with Covid-19. Secretary of State Onyeama has been quarantined at a medical facility for treatment.
The Nigerian government began to relax the blockade in May, after taking measures to stop the spread of SARS-CoV-2 virus, leaving 36,000 people infected, of which 778 died.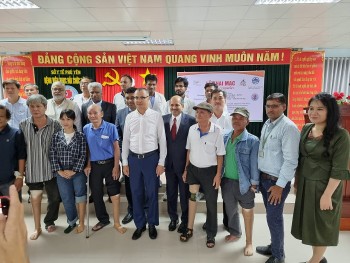 Friendship
This is the 5th time the Jaipur Foot Artificial Limb Fitment Camp has been held in Vietnam since 2018 by the Indian Ministry of Foreign Affairs, Indian agencies and organizations.