COVID-19 in Vietnam: Another 20 cases confirmed, nearly returned 600 citizens put under quarantine
The growing number of new cases showing no signs of stopping á the National Steering Committee for COVID-19 Prevention and Control reported 20 new patients on August 15 evening, including 16 in the community and 4 imported infections in Hai Duong, Danang and Quang Nam.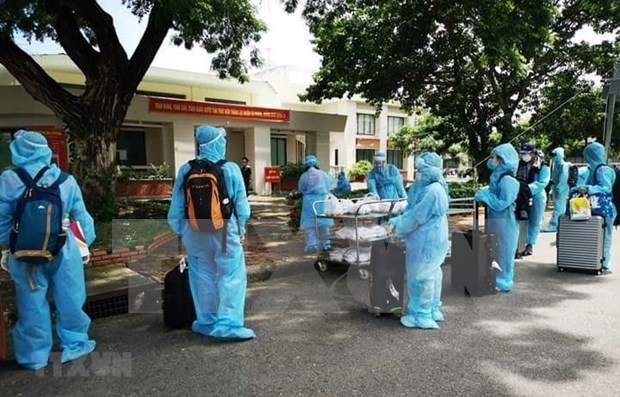 Tourists stranded in Quang Nam province and Da Nang city taking quarantine procedures at Vabis Hong Lam International School in Phu My twon, south-central Binh Dinh province. Photo: VNA
This brings Vietnam's total number of cases to 950, with fatalities remaining at 23, mostly of elderly patients with underlying conditions like kidney failure and diabetes.
Four of the imported COVID-19 cases reported on August 15 are returning citizens who arrived in Ho Chi Minh city on August 4 from the United States' Guam island and quarantined upon their arrival.
Of the 16 community cases, 11 in the central city of Da Nang, the epicenter of the country's latest coronavirus outbreak; 4 in in neighboring Quang Nam province and one in northern Hai Duong province.
Vietnam has also recorded the 23rd falality relating to Covid-19 this evening as a man, "patient 699", in the epicenter of the pandemic Danang died of pneumonia caused by Covid-19. Earlier, he had suffered from respiratory distress, septic shock, multi-damages in organs caused by Diabetes Type 2 and high blood pressure.
Da Nang, a popular tourism destination with a population of around 1.1 million, recorded Vietnam's first local COVID-19 transmission in over three months on July 25.
The city immediately began contact tracing and mass testing, and announced social distancing from July 28, requiring residents to stay home and banning public gatherings, among other measures.
Meanwhile, experts are investigating recently detected COVID-19 clusters in Hai Duong to see if the novel coronavirus strains found there and in Da Nang are the same, acting Minister of Health Nguyen Thanh Long said during a meeting of the National Steering Committee for COVID-19 Prevention and Control on August 14.
The authorities also have made efforts to contain the importation of the disease by implementing a range of regulations regarding COVID-19 prevention and control as Vietnamese authorities and overseas missions plan to arrange more flights to bring Vietnamese citizens home.
On August 14-15, two flights brought home nearly 600 citizens from coronavirus-hit Japan and the Philippines.
Passengers included pregnant women, children aged below 18, the elderly, workers whose labour contracts expired, students without accommodations, stranded tourists and other especially disadvantaged cases.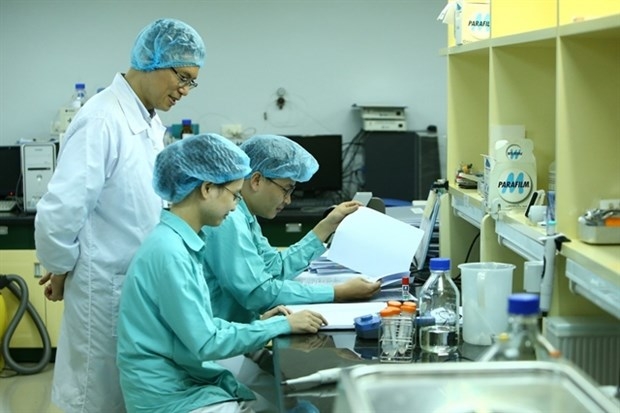 COVID-19 vaccine development at Vaccine and Biological Production No.1 Company (Vabiotech) under the Ministry of Health. Photo: VNA
Over 350 Vietnamese returned from Japan on August 14 and nearly 240 brought home safely from on August 15 amid complicated COVID-19 situation in both countries.
The Philippines on same day reported 4,351 new cases and 159 additional fatalities, taking take the country's total cases to 157,918 and 2,600 deaths.
Japan's nationwide tally surpassed 54,000 after Tokyo on Saturday reported 385 new cases of the novel coronavirus, topping 380 for the second straight day.
Disease prevention measures were put in place during the flight. After landing at airports, crewmembers and passengers were given health checks and put under quarantine in line with regulations.
Made-in-Vietnam COVID-19 vaccine
The Institute of Vaccines and Medical Biologicals (IVAC) in Nha Trang city, partnering with New York City-based Icahn School of Medicine and the global health non-profit organisation PATH, expects to conduct testing on small groups of volunteers in October-December this year, VNA reported on August 14.
Phase 2, comprising larger groups of people, and Phase 3, comprising up to thousands, will be conducted at the beginning of 2021.
IVAC is researching an egg-based vaccine, making use of the Newcastle disease virus (NDV) expressing the spike protein of SARS-CoV-2.
Another firm, Vaccine and Biological Production No.1 Company (Vabiotech) under the Ministry of Health, partnering with the UK-based University of Bristol since February, said after trials on mice demonstrating strong immune response to coronavirus, especially after the repeat shot, it aims to conduct trials on small groups of people at the beginning of 2021.
The company said it is optimising production procedures for large-scale production of the vaccine and could produce up to 100 million doses a year.
Two other companies in Vietnam are researching a vaccine including the Centre for Immunisation Vaccines POLYVAC partnering with the National Institute of Hygiene and Epidemiology, and Nanogen Biopharmaceutical company in HCM City.
The health ministry has asked the two companies to start preparing for large-scale manufacturing in case their vaccines are approved.
The Ministry also annouced August 15 night it has registered for buying the COVID-19 vaccine developed by Russia.
The ministry said it has also registered to buy the vaccine being developed by the UK and is cooperating with other vaccine producers worldwide, including in the US, to register for their vaccine and to seek assistance in the production of COVID-19 vaccine in Vietnam./.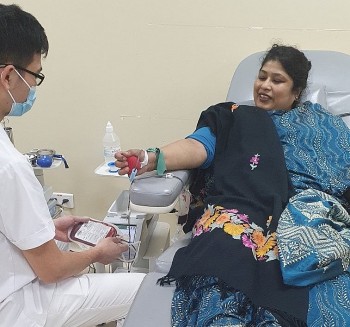 Focus
Blood donation campaigns launched by embassies amid shortages due to Covid-19