Vietnam gifts USD 60,000 medical supplies to Bangladesh and Sri Lanka
Medical equipment worth USD 60,000 was handed over by the Vietnamese government to Bangladesh and Sri Lanka to help them combat the COVID-19 pandemic.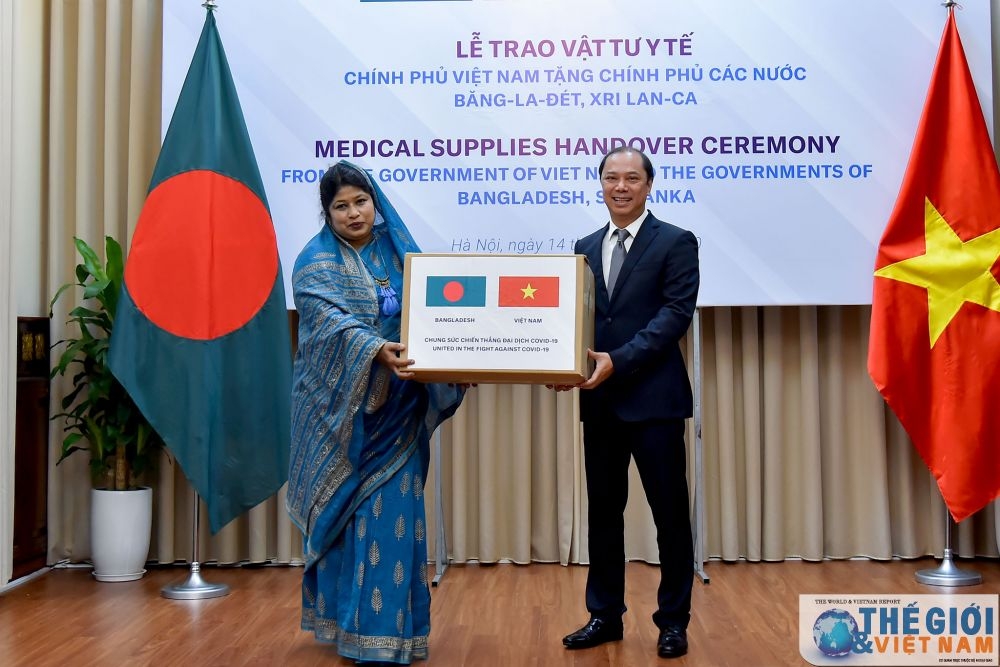 Bangladeshi Ambassador to Vietnam Samina Naz symbolically received medical supplies worth USD 30,000 from Deputy Foreign Minister Nguyen Quoc Dung. Source: TGVN
At a ceremony in Hanoi on August 14, Deputy Minister of Foreign Affairs Nguyen Quoc Dung, authorized by Prime Minister Nguyen Xuan Phuc, presented the token of supplies to the ambassadors of Bangladesh and Sri Lanka.
Dung emphasized that the pandemic is still evolving complicatedly in Vietnam and across the globe, but Vietnam still wishes to share the burden and support regional and international friends according to the tradition of solidarity and humanity.
Bangladesh and Sri Lanka are both traditional friends, he said, always having good relations with Vietnam over the past decades. Although this amount of medical supplies is modest compared to the needs of the two countries, it shows the spirit of solidarity and willingness to share difficulties with other countries, of the Government and people of Vietnam.
Dung expressed his belief that with efforts made by their governments and people, Bangladesh and Sri Lanka will quickly overcome this difficult time.
Ambassadors from recipient countries praised the effectiveness of COVID-19 prevention and control in Vietnam over the past time, and thanked the Vietnamese Government and people for the valuable assistance, describing it as proof of the traditional friendship between the countries and Vietnam.
Two ambassadors expressed their sympathy with families and relatives of the coronavirus victims, wishing patients under treatment quickly recover from their illness; affirmed to continue to closely coordinate, maintain information sharing and strengthen cooperation with Vietnam in protecting the health and safety of citizens and in joint efforts to respond and control epidemic.
In recent months, Vietnam also has donated many masks and medical supplies to a number of countries, which are heavily affected by the COVID-19 epidemic. Vietnam has been highly appreciated by many countries for the spirit of solidarity. Although it is also affected by COVID-19, Vietnam is still willing to share resources, provide medical assistance and create favorable conditions for citizens of countries to stay here.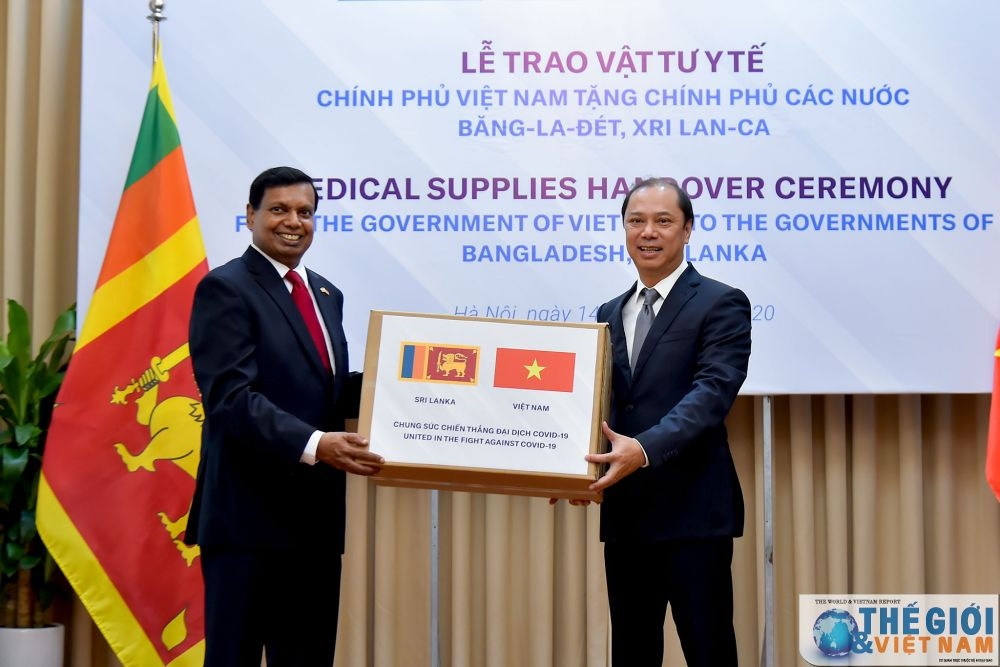 Sampath Prasanna Walpita Gamage, Sri Lanka Ambassador to Vietnam symbolically received medical supplies worth USD 30,000 from Deputy Foreign Minister Nguyen Quoc Dung in support of Sri Lanka's fight against the COVID -19 pandemic. Source: TGVN
The number of confirmed infections in Bangladesh totaled 271,881, while fatalities stood at 3,591 on August 14, according to the figure reported by the DGHS under the Ministry of Health and Family Welfare.
The total number of recovered patients in the country stood at 156,623, including 1,752 new recoveries on Friday, said the DGHS.
According to the official data, the COVID-19 fatality rate in Bangladesh is now 1.32 percent and the current recovery rate is 57.61 percent in the country.
Sri Lanka, on the other hand, has detected over 2,800 COVID-19 cases, out of which 2,646 patients have recovered and been discharged. A total of 11 deaths have been reported from the virus.
Vietnam, virus-free for months, also reported the soaring cases, with 929 infections, including 322 imported ones, 461 related to the central city of Da Nang since July 25, and 21 fatalities caused by underlying health issues and COVID-19./.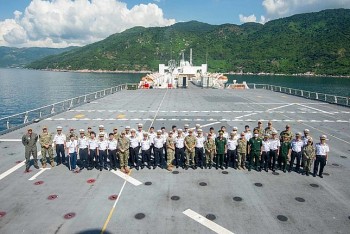 Friendship
The Pacific Partnership 2022 (PP22) concluded on July 3 on USNS Mercy, a hospital ship of the US Military Sealift Command anchored at Vung Ro Port in Dong Hoa town, the central province of Phu Yen.