Covid-19 & Mental Health: HCM City to Launch "Vaccine for the Mind" Programme
A mental health care programme would be launched in Ho Chi Minh City, the country's current biggest Covid-19 hotspot, amid worrying impacts of the pandemic, both physically and psychologically.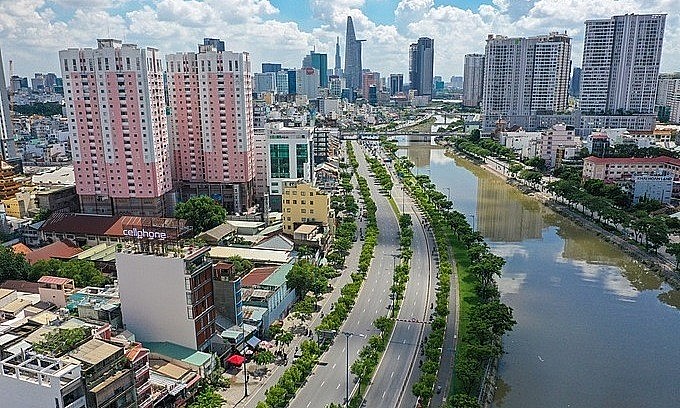 Aerial view of a desolate HCMC street amid a Covid-19 social distancing order. Photo: VnExpress
The "vaccine for the mind" programme is expected to last until the end of 2022, though it could be longer depending on how the pandemic progresses, Ngo Thi Phuong Lan, headmistress of the University of Social Sciences and Humanities under the Vietnam National University in Ho Chi Minh City, was cited by VnExpress as saying.
The programme would entail three goals: improving overall mental health, mental health counseling and therapy, and post-Covid rehabilitation, she added.
"The school wants to collaborate with the city to push back on Covid-19, reassuring people's mind," she said.
To improve mental health, the programme would provide counseling for people who have signs of anxiety, stress and other psychological distresses, but do not yet show pathological symptoms. It could be provided through online conferences, radio sessions or directly offered through hotlines.
The programme is also expected to help 15-20 percent of people with anxiety, depression, trauma regarding Covid-19 and suicidal thoughts. It would collaborate with the municipal Department of Health and hospitals to provide counseling for patients treated in such locations.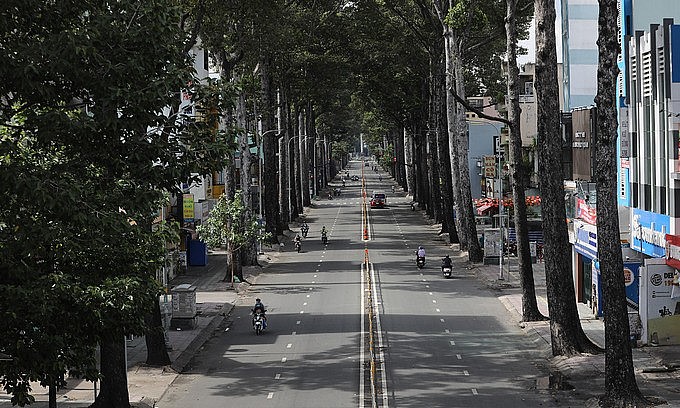 Streets in HCMC are nearly devoid of traffic amid Covid-19 social distancing orders, August 23, 2021. Photo: VnExpress
To rehabilitate people toward a post-Covid life, the programme would help them find resources to help themselves through information about jobs, self-development and learning, along with other governmental assistance programmes.
Amid Covid-19 worries and extended lockdown orders, mental health issues have been reported to be on the rise across the globe, which include depression, stress, anxiety and even suicidal tendencies.
According to the WHO, fear, worry, and stress are responses to perceived or real threats, and at times when we are faced with uncertainty or the unknown. So it is normal and understandable that people are experiencing fear in the context of the Covid-19 pandemic.
"Added to the fear of contracting the virus in a pandemic such as Covid-19 are the significant changes to our daily lives as our movements are restricted in support of efforts to contain and slow down the spread of the virus. Faced with new realities of working from home, temporary unemployment, home-schooling of children, and lack of physical contact with other family members, friends and colleagues, it is important that we look after our mental, as well as our physical, health," the organisation said.
Working from home increases stress: survey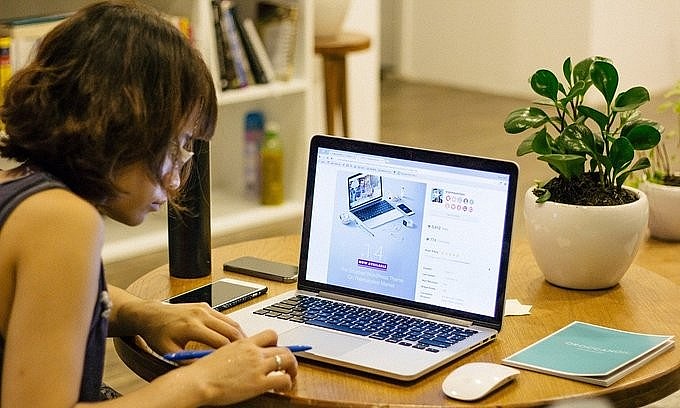 A woman works on a laptop. Photo: Pixabay.
A survey by HCM City-based recruitment company Adecco revealed more than 53 percent of all employees said they have been under more stress during the recent outbreak compared to last year.
Forty-three percent of Gen Z, or people under 25 years old, said they were stressed "most of the time" and "almost always", which was a higher rate than Gen Y (aged 25-40), Gen X (aged 41-55), and Baby Boomers (over 55).
Thirty percent of respondents said they experienced stress "occasionally".
The company's report titled "Hybrid work, reskilling & mental health: perspectives from each generation" is based on a survey conducted in July of 650 responses from all generations, with Gen Y and Gen X making up the majority.
Most survey respondents work in businesses with fewer than 1,000 employees in various industries.
The five main stressors are safety from Covid-19, long-term financial viability, job security and career prospects, mental and physical health, and excessive information consumption.
Andree Mangels, general director at Adecco Vietnam, noted that movement restrictions, disruption to daily routines, fear of infection, and financial and job insecurity can worsen mental health and wellbeing, gradually resulting in low work spirit and productivity.
"Besides following directives from the government, leaders should listen to the needs and concerns of their employees to provide timely support. This can be done through periodic surveys, one-on-one sessions, monthly town hall meetings, or anonymous feedback channels. The way leaders navigate the workforce during the pandemic can leave a mark in company culture and determine if employees stay for the long haul."
The survey shows that while about 80 percent of employees attached great importance to their mental health, nearly 33 percent of businesses did not offer any support in this aspect.
International SOS Vietnam has said that employers should carry out an internal surveys to identify if mental health is a burning issue before looking at specific plans to support their employees./.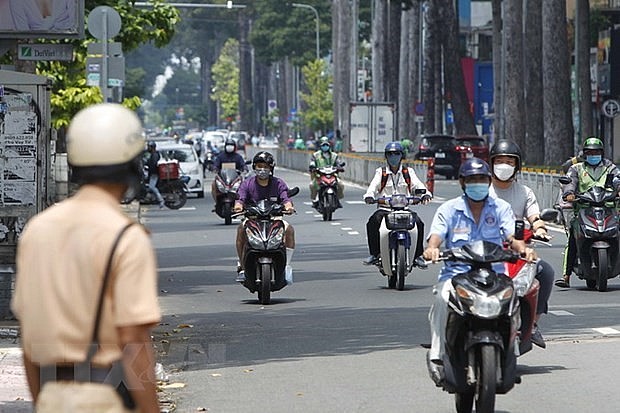 A police officer stands at a checkpoint on a street in HCM City. Photo: VNA
The chairperson of the Ho Chi Minh City People's Committee has ordered social distancing and other anti-Covid-19 measures to be tightened in an effort to bring the pandemic under control by September 15.
In a directive issued on August 22, the mayor requested leaders of local departments, sectors, and localities, along with enterprises, to follow the enhanced social distancing and measures against COVID-19 in a "thorough, strict, drastic, and effective" manner.
Vietnam confirmed 9,521 new Covid-19 cases in 39 localities on September 4, taking the domestic tally in the ongoing wave to 506,913 as major cities plan to continue restrictions in high-risk areas.
The three localities with the highest numbers of infection were HCM City with 4,104 cases, Binh Duong with 2,485 cases and Dong Nai with 992 cases, all three major southern industrial hubs.