Simple Smoothie Recipes to Boost Your Mood During Lockdown
10 smoothie recipes you can make during the Covid-19 lockdown.
Smoothies are a great addition to your daily diet. They are easy to make and deliver a bunch of different nutrients, like protein, carbs, and healthy fats, to your body. Today we bring you 10 recipeS that are not only beneficial for your health but will also uplift your mood during lockdown.
Note: Frozen fruit makes the best base for a smoothie bowl. If you don't have a strong blender, you can let the fruit thaw out in the blender for 5 minutes.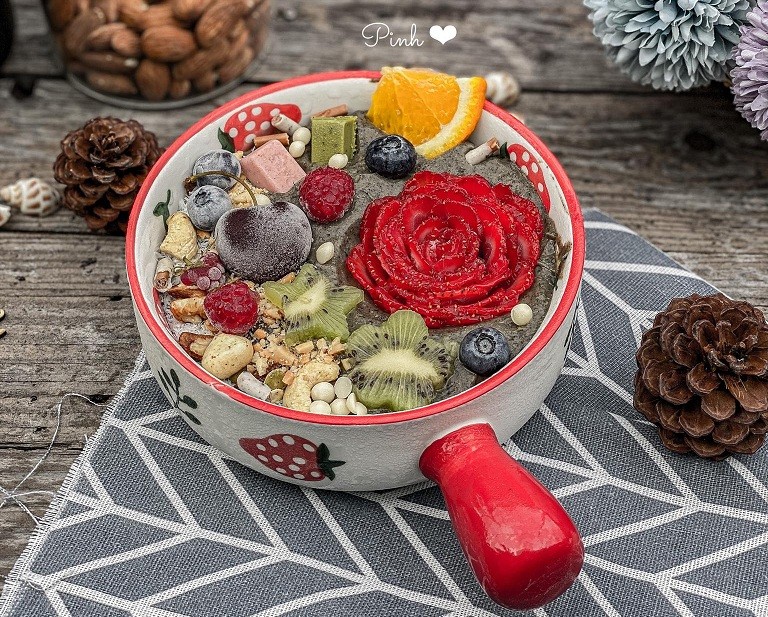 Source: Pinh
1. Banana + Black Sesame + Coconut
3 frozen bananas
20g roasted black sesame
1 tablespoon organic coconut flakes
About 20ml coconut milk
4 dates to sweeten
Blend all ingredients until you reach AN even consistency. Decorate the bowl with strawberries, cherries, blueberries, kiwi, oranges, raspberries and granola.
Health benefits
This smooth mixture is filling, packed with potassium and healthy gut bacteria.
Coconut is loaded with potassium, sodium, magnesium, calcium, protein, vitamins, and minerals that help to rejuvenate the cells.
2. Banana + Avocado + Cocoa
2 frozen bananas
1/4 frozen avocado
2 teaspoons unsweetened cocoa powder
1 full scoop peanut butter
30ml whole cashew milk
Blend in a mixer until smooth and you're done, top with fresh fruits and roaSted nuts.
Avocado - the queen of all healthy fats also rules the fruit kingdom. It's both super low in sugar and high in fiber (3 grams in just a third of the fruit). Basically, it's the healthy fat's world and we're just living in it.
3. Mulberries + Bananas + Raspberries + Oats
2 frozen bananas, chopped
About 15 frozen mulberries, chopped
5-7 frozen raspberries
1/2 cup yogurt
1 tablespoon honey
20g rolled oats, you can soak it in warm water, washed and then lightly roasted if you have time
Blend in bananas, mulberries, oats, yoghurt, and honey in a mixer until you reach even consistency.
Pour the smoothie into tall glass or bowl and top the drink with roated almonds or peanuts before serving.
Health benefits
Raspberries contain antioxidants and have antimicrobial and anticancer properties. Raspberries pair their low sugar content with a relatively high load of fiber: eight grams of fiber per cup.
Mulberries are rich in antioxidants and apparently taste great tossed into sparkling water.
Oats are a great source of dietary fiber that aids weight loss. They also improve digestion and prevents tumor growth.
Yogurt contains good gut bacteria that help prevent gastrointestinal diseases, infections and allergies.
Honey has antimicrobial properties that help to protect the gums and teeth. It acts as a natural medicine for cough and helps to heal wounds and prevent microbial infection.
4. Blueberries + Strawberries + Bananas
About 5 frozen strawberries
1 or 1.5 frozen bananas if you find it not thick enough, because the nature of this smoothie will not have the same consistency as other types of mixes and avocados.
8-9 frozen blueberries
1 cup yogurt or almond milk
Blend in a mixer until smooth. Top with whatever you like, though organic coconut flakes, granola, kiwi and strawberries are great options.
Upgrade your regular smoothie with some chia seeds to give your body a deep detox every alternate day. Soak a handful of chia seeds in water overnight and add to the smoothie.
Health benefits
Chia seeds promote weight loss and can protect you from cardiovascular disease and diabetes.
Blueberries are rich in fiber and antioxidants and also have anti-inflammatory properties.
Strawberries're also rich in vitamin C and potassium, which are good for your skin, immune system, and bones. Eating those berries straight will get you 5 grams of fiber, too.
Almonds are rich in healthy fats that help to reduce inflammation, oxidative stres and diabetes.
5.Strawberries + Bananas + Spinach + Organic Spirulina Powder
About 5 frozen strawberries
1 frozen bananas, chopped
20g baby spinach
1 tablespoon spirulina powder
1/2 box plain yogurt or almond milk
Blend until thick, creamy and well combined. Top the smoothie bowls with sliced bananas, strawberries, berries and chia seeds.
Chia seeds add fiber, antioxidants, minerals, and heart-healthy omega-3 fatty acids to this green smoothie recipe.
6. Strawberries + Bananas + Red-flesh Dragonfruit + Blueberries
About 5 frozen strawberries
1 or 1.5 frozen bananas
1 red-flesh dragonfruit: Half for decoration and other frozen for smoothies
8-9 frozen blueberries
1 box yogurt or almond milk
Place the banana, strawberries, blueberries, dragonfruit and almond milk in a large blender and blend until thick, creamy and well combined.
Slice the extra dragonfruit. Top the smoothie bowls with sliced dragonfruit, berries and chia seeds.
7. Purple sweet potato + Blueberries + Bananas + Strawberries
100g purple sweet potato, steamed and chopped
1.5 frozen bananas
5 frozen mulberries
10 frozen blueberries
1/2 cup unsweetened yogurt
1 small spoon peanut butter
Put everything in the blender. Can top with yellow kiwifruit, dragonfruit, strawberry, blueberry, granola and organic coconut flakes.
Health benefits
Purple sweet potato is loaded with potassium and fiber, and high in B6, vitamin C and antioxidants. Additionally, they have a low glycemic index. High dietary fiber provides the sensation of fullness and satiety, curbing urges to overeat. Purple sweet potato has anthocyanins and may also help with weight loss and body composition.
8. Banana + Mango + Pineapple + Oats
2 mangos, chopped
1/2 chopped and frozen, 1/2 is used as decoration
1/4 pineapple, chopped and frozen
20g rolled oats, can be lightly roasted
30ml whole cashew milk
Blend in a mixer until smooth. Throw in some walnuts, chia seeds and diced pineapples in there to make it ever so enticing.
Health benefits
Belonging to the flowering plant family Anacardiaceae and going by the scientific name Mangifera indica L., mangos are filled with vitamins, minerals, fiber and antioxidants. Each serving is also relatively low in mango calories, making it an incredibly healthy and nutrient-dense food.
Pineapple is very high in antioxidants and vitamin C. Can help lower inflammation.
9. Banana + Carrot + Papaya
1 frozen banana
3/4 cup of carrot, peeled, washed and diced
150g ripe papaya, frozen
1/2 box of plain yogurt or almond milk
Carrot smoothies aren't very popular because it is a bit tricky to blend carrots into a smooth paste. But add some milk or plain yogurt and you won't have to chug on a chunky smoothie.
Health benefits
Carrots aid in increasing metabolism, which is something we all need in our mission to boost immunity.
Thanks to the papain, an enzyme, papaya improves your digestive processes.
The vitamin C content in papaya is so high that you only need 100 grams of this fruit to get the daily required dose. Papaya is also rich in minerals like potassium, calcium, and magnesium.
10. Banana + Strawberries + Oats + Butterfly Pea Flower
3 frozen strawberries
1 or 1.5 frozen bananas
30g oats, soak in warm water for about 30 minutes, wash, then lightly roast
2 tsp butterfly pea powder or 10 dried butterfly pea flowers (put in 100ml of boiling water, let it cool, then put both flowers and butterfly pea water in to blender).
1/2 box yogurt or almond milk
Blend all ingredients until smooth and let the smoothie sit in the refrigerator for a few minutes.
Toppings: chia seeds, berries & coconut flakes.
If you're not a banana fan, just substitute frozen mango or frozen pineapple for the banana.
The article used the recipes and photos from a post by Nguyen Tran Bao Ngoc contributed to the Facebook group Yeu Bep (Esheep Kitchen Family).