Sampling for SARS-CoV-2 virus (Photo: TTXVN)
No new cases, number of people under quarantine sharply falls
The National Steering Committee for Disease Control and Prevention COVID-19 on the morning of August 29 said that in the past 12 hours, Vietnam did not detect any new cases.
Up to now, the total number of cases in our country is 1,038, the number of people who recovered from the disease is 663, the number of people infected with COVID-19 has died is 30.
Thus, Vietnam has recorded a total of 689 domestic infections. Particularly from July 25 to now, the country has recorded 549 cases of domestic infection in 15 provinces. The total number of people being monitored for health (quarantined) is 61,100 people, a decrease of more than 8,000 people compared to the previous notice 12 hours.
13 patients in critical conditions, 6 facing the risk of death
Currently, there are 13 cases of patients with a severe and critical prognosis, of which 7 cases have a very severe prognosis, and 6 cases are expected to die at any time. Thus, the number of patients facing the risk of death has increased by 3 people compared with the announcement a few days ago.
Most of these severe cases are the elderly, with many complex underlying diseases such as cancer, heart disease, chronic kidney failure, and hypertension. Leading experts in the country continuously conduct online consultation to update the situation, adjust the regimen that is most suitable for each patient.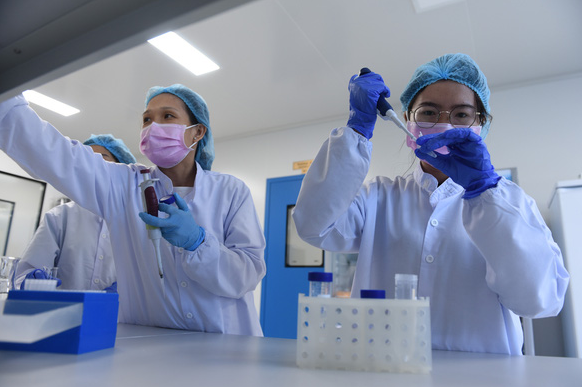 A stage in the research and production of vaccines against COVID-19 at Nanogen Biotechnology Joint Stock Company. (Photo: Tuoi Tre)
Vietnam vaccine to be researched on human in September
On August 28, the delegation of the Ministry of Health had a consultation meeting with Nanogen Biotechnology Pharmaceutical Joint Stock Company (Hi-Tech Park, District 9, Ho Chi Minh City) regarding the Prime Minister's direction on accelerating research, clinical trials, and production of COVID-19 vaccine. This is one of the four units in Vietnam that are "racing" to implement a research project on vaccines against COVID-19 that has just been approved by the Ministry of Health.
Instead of creating one type of antibody, the company makes four antibodies that use in a mixed chain and are made into two types of products, including injections and sprays, that block many of the sites that prevent viruses from invading, according to Tien Phong.
The company was required to complete documents to conduct human research from September or October. Director of the Drug Administration of Vietnam (Ministry of Health) Vu Tuan Cuong said that according to the plan, December this year can try clinical trials on human vaccines.
Ho Chi Minh City inspects pandemic prevention methods at medical institutes
On the morning of August 28, the Department of Health of Ho Chi Minh City announced the assessment results of safe hospitals in the prevention and control of COVID-19 epidemics for 28 hospitals in the city, reported by Tuoi Tre.
Accordingly, among 28 hospitals were evaluated and checked, there are 20 ones rated as safe hospitals, 6 with low safety (Hospital District 10, Oncology, Phu Nhuan District, Orthopedic Trauma, District 9, Ear, Nose, and Throat Saigon) and 2 unsafe (Go Vap District Hospital and Phuong Dong STO).
According to the Department of Health, this is the first time that hospitals have been evaluated according to 37 safety condition in hospital criteria that have just been issued by the Ministry of Health and under the direction of Mr. Nguyen Thanh Phong - Chairman of the People's Committee of Ho Chi Minh City, chief The city steering committee for epidemic control.
Valerie Mai