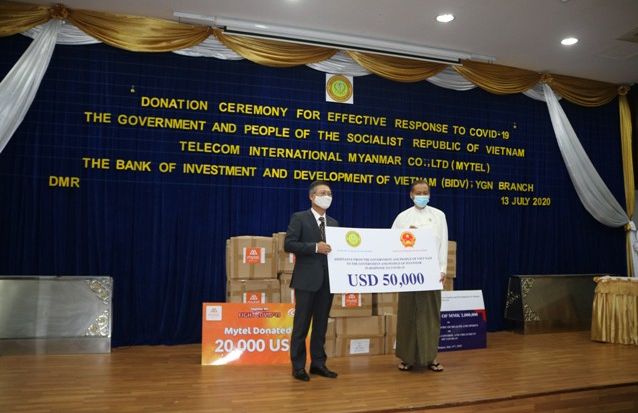 Ambassador Ly Quoc Tuan presented the US $50,000 donation to Myanmar. (Photo: VOV)
Vietnam detected 1 new COVID-19 infection
Infection case 373 is a male patient, 53 years old, addresses at My Dinh, Nam Tu Liem district, Hanoi. He returned to Vietnam on flight VN5062 from the Russian Federation on July 9 and was tested positive with the SAR-CoV-2 virus on July 12. Patient no.373 is now isolated and treated at Ca Mau centralized isolation institute.
According to the National Steering Committee for the Prevention and Combat of Covid-19, there are 2 patients declared to be cured: Patient no. 331 (female, 47 years old) at Quang Nam Central General Hospital; Patient no. 337 (male, 25 years old) at Ba Ria - Vung Tau General Hospital.
Thus, up to now, 352/373 patients have been cured, accounting for 94.4% of the total Covid-19 cases of our country. Particularly for foreign patients, Vietnam has successfully cured 50/50 patients.
By the morning of July 14, among the Covid-19 patients who were undergoing medical treatment and monitoring at health facilities, there are currently 6 patients with negative test results from 1-2 times with the virus. Currently, only 15 patients nationwide are positive for Covid-19.
Total number of COVID-19 cases in Vietnam:
- From 6 am on April 16 to 6 am on July 14: Vietnam has passed 89 days having no cases of infection in the community.
- As of 6 am on 14/7: Vietnam has a total of 232 cases quarantined immediately after entry.
On July 13, the person who ran from isolation institute at Chau Thanh District Health Center, Hau Giang Province were discovered and put into isolation in Ho Chi Minh City. Earlier, on 11/7, this person suddenly escaped from the isolation institute in Chau Thanh district.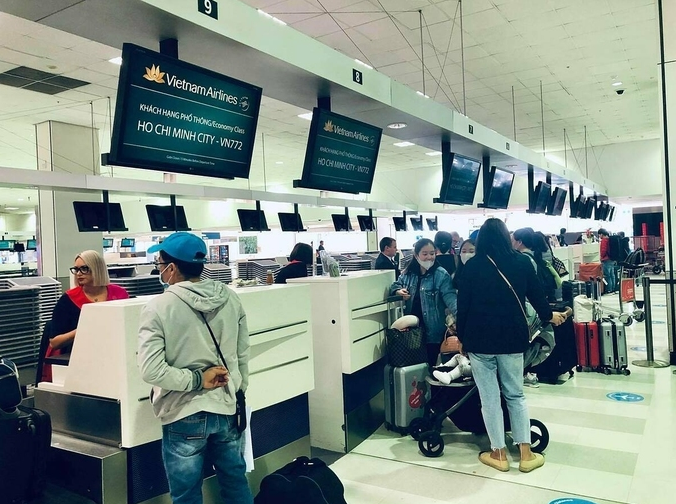 350 Vietnamese nationals safely returned from Australia (Photo: Vietnam MOFA)
350 Vietnamese nationals safely returned from Australia
On July 13, Vietnamese authorities, Vietnam representative agencies in Australia, and Vietnam Airlines collaborated with Australian authorities to bring 350 Vietnamese citizens from Australia to their country.
Passengers on the flight include children under 18, the elderly, pregnant women, the sick, out-of-contract workers, students without a residence due to dormitories closures, and other particularly difficult cases.
Facing the Australian Government restricting travel and interstate closure due to the Covid-19 epidemic, the missions worked with local authorities to create favorable conditions for citizens to move to the airport. The representative missions have sent officials to the airport to directly support the process of exit and boarding of citizens.
In order to ensure the health of citizens, prevent the spread of disease, the airline has strictly implemented measures on security, safety, and epidemiological hygiene during the flight. Immediately after landing at Noi Bai International Airport, the participants of the flight were under medical supervision and concentrated isolation according to regulations.
In furtherance of the directive opinions of the Prime Minister, domestic functional agencies and Vietnamese representative missions abroad, continue to formulate plans to bring citizens back to the country to meet the needs of citizens.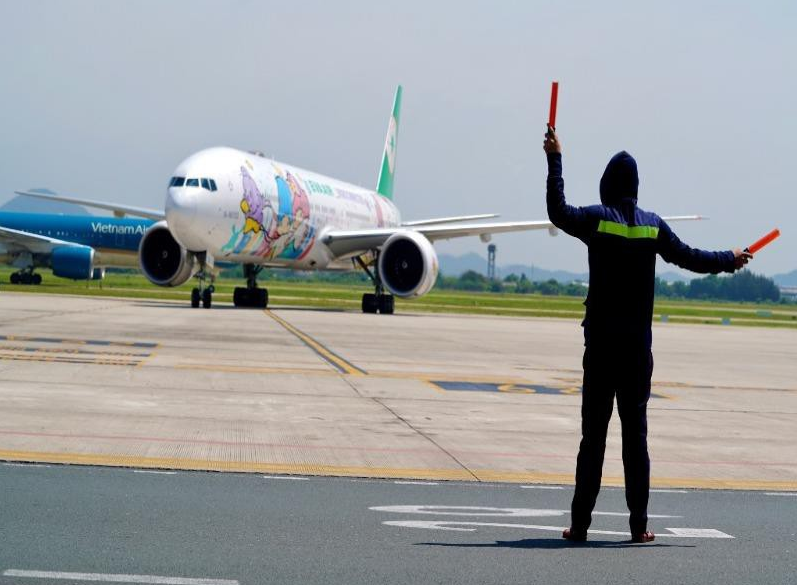 Vietnam Prime Minister agreed to restore Vietnam - China flight route (Photo: PLO)
Vietnam Prime Minister agreed to restore Vietnam - China flight route
The Government Office announced the conclusion of Prime Minister Nguyen Xuan Phuc at the Government's Standing Committee on Covid-19 prevention last weekend.
Accordingly, the Prime Minister agreed to restore air transport activities between Vietnam and China. However, "the frequency of flights and conditions for passenger transport between the two countries will be agreed upon by the aviation authorities of Vietnam and China".
The Prime Minister also assigned the Ministry of Foreign Affairs and Transport to work with countries on increasing rescue flights, opening commercial flights between Vietnam and other countries; organized to welcome Vietnamese citizens at major transit points such as Seoul (South Korea), Tokyo (Japan), Taiwan, Guangzhou (China), Vientiane (Laos), Phnom Penh (Cambodia).
The Prime Minister asked to expand isolation institutes for at least 10,000 plots
According to The Prime Minister, The ministries of Health, Defense, Culture, Sports, and Tourism are assigned to closely coordinate and assign specific organizations to expand concentrated isolation (add at least 10,000 plots).
The Ministry of Defense continues to perform the task of managing and quarantining, inspecting, and supervising the implementation of epidemic prevention and control requirements in isolation areas, including isolation at accommodation establishments and isolation areas.
The Hanoi People's Committee, the Ho Chi Minh City People's Committee and the Ministry of Culture, Sports and Tourism will provide a list of accommodation facilities mobilized as civilian facilities, including those used to isolate experts, investors, skilled foreign workers.
The Prime Minister also assigned the Ministry of Education and Training to direct universities to adopt students and students wishing to return to their home countries to study; welcome foreign students and students.
The Ministry of Labor, War Invalids, and Social Affairs shall direct citizens to work abroad under contracts and needs of countries, especially those with good results in the prevention of Covid-19.
Representatives of Vietnam and Myanmar at the donation ceremony (Photo: VOV)
Vietnam sending donation to support Myanmar's fight against the Covid-19 pandemic
On the morning of July 13, at the Ministry of Health and Sports of Myanmar, Yangon Region, Vietnam Ambassador to Myanmar, Ly Quoc Tuan, presented the US $50,000 support of the Vietnamese Government to Myanmar in the prevention of the COVID- 19.
Speaking at the ceremony, Ambassador Ly Quoc Tuan highlighted the significance of the sincere support of the Government and people of Vietnam to the Government and people of Myanmar, a comprehensive cooperation partner. The gift of the Government of Vietnam shows affection for helping its 45-year partner, especially in times of epidemic difficulties.
Professor, Dr. Zaw Than Htun, Director of Health Research Department, Ministry of Health and Sports of Myanmar, representing the Ministry of Health and Sports of Myanmar, took this occasion to express his sincere thanks to the Vietnam Government and the Ministry of Health and his appreciation of the cooperation between the two countries. He claimed Myanmar side watched the success of the Covid-19 epidemic prevention of Vietnam and considered this to be a practical experience for Myanmar.
Valerie Mai