Covid-19 Updates in Vietnam (July 6): First high-level visit since COVID-19 outbreak
COVID-19 Updates in Vietnam: Vietnamese Prime Minister Nguyen Xuan Phuc and Lao counterpart Thongloun Sisoulith discussed on COVID-19 pandemic and measures to boost bilateral cooperation this weekend. At the same time, about 310 citizens were carried from Malaysia to Can Tho International Airport.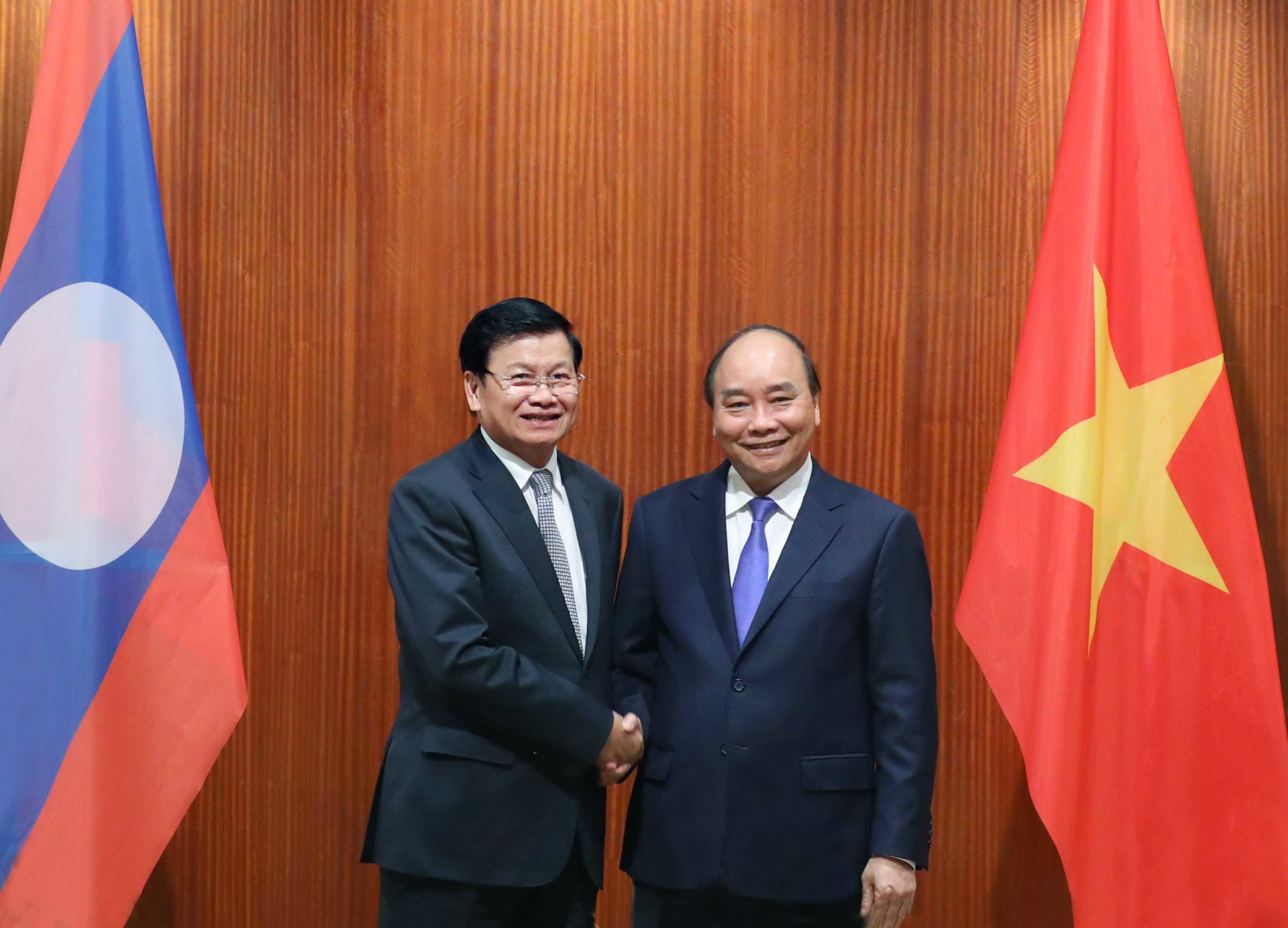 Prime Minister Nguyen Xuan Phuc (right) and Lao counterpart Thongloun Sisoulith shake hands before their face-to-face talks in Da Nang City on July 5, 2020 (Photo: VGP)
First high-level visit of Vietnamese leader and foreign counterpart since the pandemic
This is the first high-level visit of a foreign leader to Viet Nam since the outbreak of the COVID-19 and it takes place in the context that both countries have put the pandemic under control.
PM Phuc congratulated on the neighboring country's recent achievements, especially its efforts in curbing the pandemic, expressing his wish that Laos will soon overcome the consequences of the pandemic, translate their set goals into reality, and successfully organize the national party congress next year.
PM Sisoulith highly valued Viet Nam's achievements in national development and international integration process, particularly its effective efforts in pursuing the dual goal of COVID-19 combat and economic recovery. Sisoulith extended thanks to Viet Nam for having offered medical supplies and sent experts to help his country fight the pandemic.
He also thanked the Vietnamese Government for opening borders to more than 2,000 Lao students to return to Viet Nam, expressing his hope that the rest could return soon to resume their studies here in Viet Nam.
Sisoulith also took the occasion to convey greetings of Lao Party General Secretary and President Bounnhang Vorachit and Chairwoman of the Lao National Assembly Chairwoman Pany Yathotou respectively to Vietnamese Party General Secretary and State President Nguyen Phu Trong and National Assembly Chairwoman Nguyen Thi Kim Ngan.
Regarding ways to beef up economic recovery in each country, the two leaders underlined the necessity to accelerate trade exchanges in the post-pandemic period. The pair agreed to consider resumption of air transportation as soon as possible, enhance the exchanges of information and experience related to socio-economic development, and step up the implementation of the signed agreements and the outcomes of the 42nd meeting of the Inter-governmental Committee held last January.
They agreed to continue strengthening cooperation in defense, security, economy, trade, finance, and investment while ensuring the progress and quality of Viet Nam-funded projects in Laos.
On the multilateral aspect, the two PMs agreed to continue close coordination at regional forums like ASEAN, Sub-regional mechanisms, and the United Nations.
PM Sisoulith congratulated Viet Nam on the successful organization of the 36th ASEAN Summit as well as its efforts in promoting the ASEAN Chair's role in maintaining cooperation and in coordinating ASEAN-led mechanisms in the context of the COVID-19 pandemic.
Sisoulith pledged to continue supporting Viet Nam to successfully undertake its ASEAN Chair role.
PM Phuc appreciated Laos' contributions to the common efforts in building a strong, cohesive, and responsive ASEAN Community.
Both sides highlighted the significance of sustaining peace, stability, and rule of law, especially the 1982 United Nations Convention on the Law of the Sea.
During his two-day visit to Viet Nam at the invitation of PM Phuc, the Lao PM also planned to tour production and tourism establishments in Viet Nam.
Vietnam Airline plane at Da Nang International Airport (Photo: Cmego)
Over 300 Vietnamese citizens repatriated
Also on Sunday, July 4, Viet Nam repatriates 310 citizens from Malaysia, reported by VGP News
The passengers include children aged under 18, the elderly, sick persons, pregnant women, and workers whose labor contracts had expired.
Precautious measures were implemented throughout the flight and all the passengers and the crew members were medically checked and quarantined upon arrival
Vietnamese competent agencies are working with domestic and foreign airlines to arrange more flights in the coming time to bring home citizens who stranded abroad due to the COVID-19 pandemic.
This is the 34th repatriation flight since April 24, transporting about 9,230 passengers from foreign countries and territories, official data showed.
As of 6:15 pm on July 5, Viet Nam had 355 COVID-19 patients, including 340 recovered cases, said the National Steering Committee for COVID-19 Prevention and Control.
The current active cases are being treated at different medical facilities across the nation with their health reportedly in stable conditions, an added committee which is led by Deputy Prime Minister Vu Duc Dam.
As many as 11,466 people are under medical surveillance, including 107 at hospitals, 10,919 at centralized quarantine camps and 440 at places of residence, according to the committee.