Covid-19 updates in Vietnam, March 28: 169 infections, 21 patients have discharged
Vietnam has recorded six more Covid-19 cases, putting the country's count to 169 on March 28. On the other hand, among 54 patients tested negative four times in a row, 21 are expected soon to be discharged from hospitals.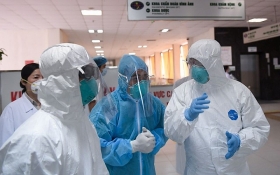 Illustrative photo.
Vietnam will close non-essential services until April 15. This is a latest move to constrain the coronavirus that caused 169 infection cases nationwide. Vietnam will close all shops and facilities of non-essential services in five big cities nationwide including Hanoi, Ho Chi Minh City, Haiphong, Danang and Can Tho from March 28 until April 15 at the request of Prime Minister Nguyen Xuan Phuc on March 27. The closure will be applied to non-essential locations including tourist attractions, entertainment facilities like cinemas, bars, karaoke lounges, spas, restaurants, among others.
Among six new cases confirmed this Saturday morning, two are related to Bach Mai Hospital in Hanoi and the left are those coming from abroad. Half of the positive was quarantined as soon as they entered the country and had no risks of contagion to the communities. However, others had arrived to many locations including Hanoi, Ha Giang, Hue and Hoi An before being tested contracting with Sars-COV-2 virus.
The 164th patient is a Vietnamese man, 23, a student studying in the UK. He returned Vietnam on March 23 on the VN0054 flight of Vietnam Airlines at Van Don airport in the northern province of Quang Ninh. He was transferred to the isolation area and treated at Ninh Binh General Hospital. Until now, the man is confirmed in stable health condition.
The 165th patient is also a Vietnamese man, 58, who returned to Vietnam on March 23 on the same flight with the aforementioned. He was moved to the quarantine zone in Ninh Binh Military School.
The 166th case is a Vietnamese woman, 25 who lives in Thailand. She came back to Vietnam on March 20 on the TG564 flight of Thai Airways and was isolated at Division 241 in Ninh Binh province.
The 167th case is a Danish woman, 20, visiting Vietnam with a boyfriend, 22, who tested negative, on March 7. The duo stayed over at a hotel on Hang Chieu Street, Hoan Kiem District, Hanoi from March 9 to March 12. On March 12, she rode a sleeping bus of Ngoc Son brand to Ha Giang Province that borders China and stayed there until March 15 at Jasmine - Phuong Thien hotel.
When returning to Hanoi, she stayed at Kingly Hotel on Ly Thai To street and move from the capital to Hue on a sleeping bus. In Hue, she and her boyfriend stayed at Sunshine 3 Hotel at 10 Vo Thi Sau until March 19 before they moved to the ancient town of Hoi An where they stayed at Backpacker hotel at 250 Cua Dai Street between March 19 and 23.
On March 23, the patient flew to Hanoi on VJ530 flight, which landed at Noi Bai International Airport and continued to stay at Kingly Hotel.
On March 24, the couple went to Vietnam's National Children's Hospital for testing following an updated regulation by the airport. The result came out as positive for her and negative for her boyfriend. The two have been moved to the second campus of the National Hospital for Tropical Diseases.
The remaining two patients are two staffs providing boiling water for Bach Mai Hospital in Hanoi and tagged the "Patient 168" and "Patient 169."

The two cases were confirmed following the first three positive cases detected relating to Bach Mai Hospital including two nurses and a patient at the beginning of this week. The hospital ordered 5,000 staff and patients to take the Covid-19 test and conducted sterilization for the whole premise.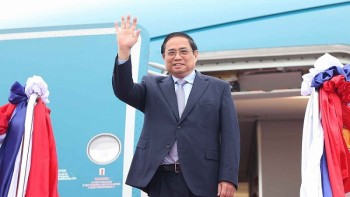 National
Vietnam News Today (Feb. 6): PM Chinh to pay official visits to Singapore, Brunei; Vietnam attends ASEAN+3 Tourism Ministers Meeting; Exports in 2023 and high demands from new generation FTAs; Digital technology to spearhead Vietnam's drive for Industry 4.0.