Vietnam Covid-19 Updates (March 7): More Than 142,000 New Infections Recorded
As of 6 pm on March 6, Vietnam has detected 4,434,700 Covid-19 cases since the start of the outbreak, ranking 21st out of 225 countries and territories worldwide.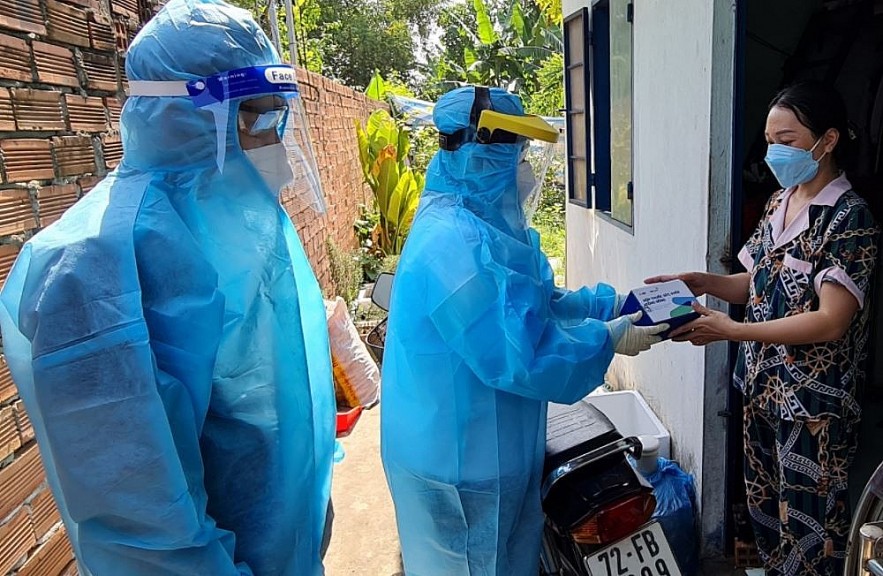 Photo: Suc khoe & Doi song
Covid-19: More than 142,000 new infections were recorded in Vietnam on Mar. 6
The daily number of coronavirus infections in Vietnam has kept rising Vietnam, hitting close to 150,000 on March 6. The Ministry of Health reported at 6 pm that as many as 142,128 people tested positive for the virus during the past 24 hours, up 10,348 cases compared to the previous day. This is the fifth consecutive day Vietnam's daily count has surpassed the 100,000 case mark.
Official data from the Ministry of Health show nearly 93,000 cases, or two-thirds of the total, were recorded in the community, eight people tested positive upon arriving from overseas, and the remainder were documented in lockdown or quarantine areas.
Most of the new cases were diagnosed in the north, with Hanoi capital topping localities as its daily count hit an all-time high of more than 29,000. Other localities detecting between 3,000 and 8,000 cases each include Bac Ninh, Nghe An, Hai Phong, Hung Yen, Phu Tho, Son La, Nam Dinh, Binh Duong, Hai Duong, Lang Son, and Quang Ninh. Bac Giang and Hoa Binh registered to add approximately 60,000 cases to the national database.
The same day the Ministry of Health also announced an additional 65,445 recoveries and 87 more Covid-19 related deaths.
Photo: Suc khoe & Doi song
HCM City strengthens Covid-19 prevention and control
The Ho Chi Minh City People's Committee has urged relevant authorities to strengthen pandemic prevention and control amid the domination of the Omicron variant. Rising cases of Covid-19 infections have prompted the municipal People's Committee on March 4 to issue an urgent document on measures to combat the pandemic.
Relevant authorities across districts and Thu Duc city are required to strictly implement Resolution 128 on safe, flexible adaptation and effective control of the pandemic. Since it is forecasted that more infection chains will be recorded in HCM City, business establishments and schools should take immediate actions to curb the spread of Covid-19 among their communities. Vaccination progress against Covid-19 has to be accelerated while necessary resources need to be prepared for vaccination for children aged 5 to 11 years old in the near future.
All districts and Thu Duc city authorities should check storage, transport, and other facilities as well as human resources needed to ensure safety vaccination protocols are followed, Tang Chi Thuong, Director of the city's Department of Health, said at a press conference late last week.
The city has recorded more than 19,000 cases in 306 schools this week, 97 percent of them children under 12. Thuong said the positivity rate for Covid-19 in schools was 2.3 percent, and all of the children had no or mild symptoms. Meanwhile, the city has seen a recent surge in daily cases, with 4-5 patients requiring invasive mechanical ventilation every day. All the serious cases are either elderly people or those with comorbidities.
Thuong expressed concern that the increase in severely ill patients would lead to a rise in fatalities over the next two or three weeks. He said the city has sought the health ministry's approval to distribute and sell molnupiravir to patients having prescriptions from doctors while waiting for official guidelines on prescribing and distributing the medicine.
The HCM City Department of Health is responsible for comprehensive treatment and a sufficient supply of medical equipment and drugs. Minimizing the number of deaths is the top priority. The HCM City's Department of Information and Communications is required to coordinate with the Department of Health to raise locals' awareness on Covid-19 prevention and control. Locals are not advised to gather or go to crowded places when it is not necessary.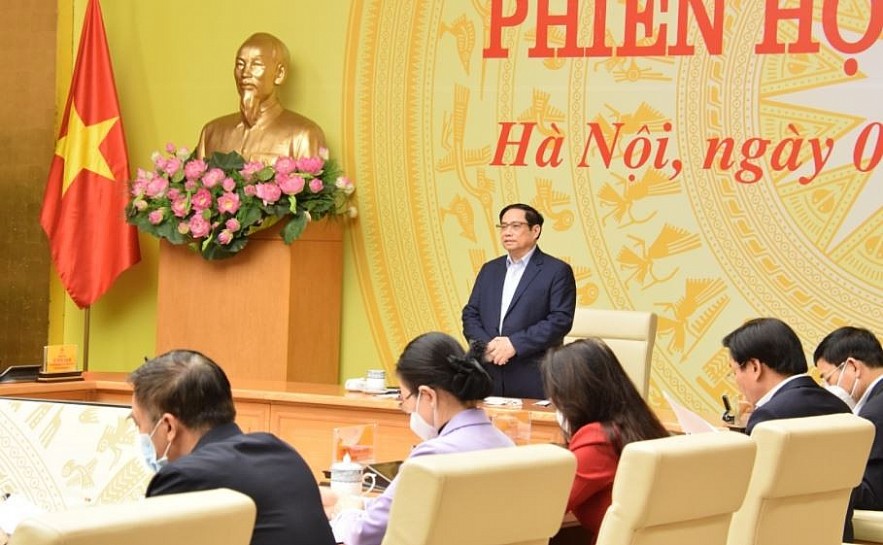 Photo: VOV
PM requests a multi-layered strategy to control Covid-19
Prime Minister Pham Minh Chinh asked localities on March 4 to continue a multi-layered approach to Covid-19 in order to effectively control the disease and support the country's ongoing economic recovery. Addressing a meeting of the National Steering Committee for Covid-19 Prevention and Control in Hanoi, PM Chinh pointed out that the outbreak is continuing to develop in both a complicated and unpredictable manner, especially following the emergence of the Omicron variant.
Given the rapid spread of the virus, including the emergence of new variants, difficulties and challenges are anticipated to outweigh opportunities and advantages in the coming time, he warned. Statistics from the Ministry of Health indicate that daily infections have risen considerably over recent days, climbing from 50,000 to 75,000 and reaching 100,000. Indeed, 125,000 cases were even recorded on March 4, with most of the infections diagnosed in northern localities.
To keep the outbreak in check, PM Chinh requested that ministries and localities focus on the effective control of risks, attempt to reduce severe cases and deaths, and avoid overloading the health system. It is imperative to strictly abide by the 5K message, including wearing face masks and washing hands with sanitizer, along with vaccination, medicine, technology application, people's attitude, and other flexible measures, stressed the PM.
He urged localities to speed up the ongoing vaccination campaign for people of all ages, including children aged five to 11 and those under five, as well as examining the possibility of offering those at risk the fourth inoculation. The Ministry of Health shall urgently license medicines that will be part of the disease prevention and treatment strategy to ensure the safety, effectiveness, and conformity with the context, international regulations, and practices, the PM ordered.
He reminded the Ministry of Health to evaluate the situation regarding herd immunity and further study the international experience as Covid-19 becomes an endemic disease. Along with the continued Covid-19 fight, the Government leader also stressed the necessity of promoting rapid recovery and sustainable development, maintaining an economic balance, as well as solving and taking care of social security issues.
As of 6 pm on March 6, Vietnam has detected 4,434,700 Covid-19 cases since the start of the outbreak, ranking 21st out of 225 countries and territories worldwide.
Of the infected patients, 2,681,447 have been discharged from the hospital after making a full recovery from the disease, and 40,813 patients have died of the virus.
More than 197 million vaccine doses have been administered nationwide.