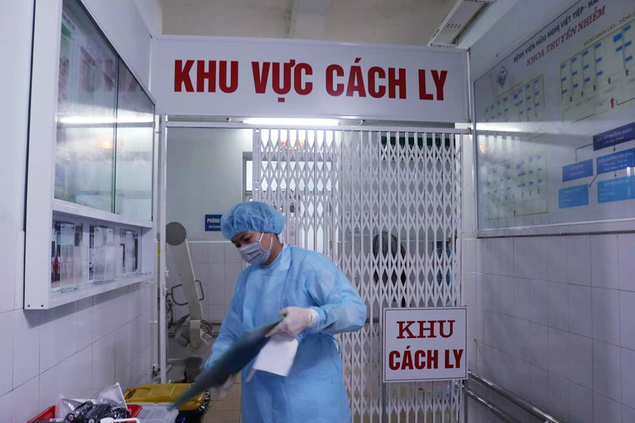 8 fresh imported cases, 4 patients discharged from hospital. (Photo: VGP)
8 fresh imported cases, 4 patients discharged from hospital
Eight new cases of COVID-19 were detected among those who entered Vietnam from other countries on November 27, including 2 Russian and 5 Vietnamese coming to the country from Russia, UK, and France.
The new imported cases brought the national count to 1,339, according to the National Steering Committee for COVID-19 Prevention and Control.
Meanwhile, four COVID-19 patients were given the all-clear, raising the total number of recovered to 1,170. The number of fatalities remains at 35. Among patients still under treatment, eight have tested negative for SARS-CoV-2 once, 12 twice and 11 thrice. At this point, 15,994 people are under health monitoring, with 184 at hospitals, 14,935 at concentrated quarantine facilities, and 875 at home or their accommodations.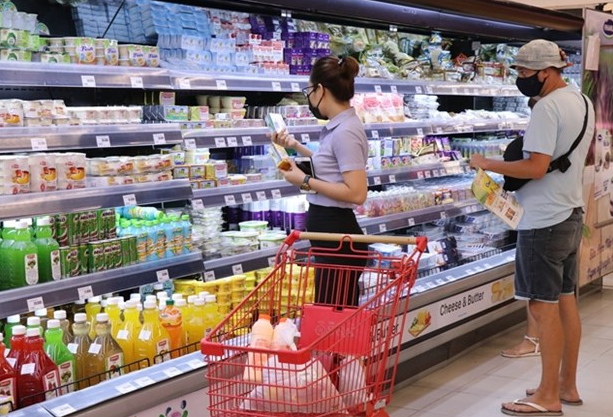 Food packaging imported from COVID-19 countries will be tested. (Photo: Vietnam Investment Review)
Food packaging imported from COVID-19 countries will be tested
To strengthen prevention measures and prevent the spread of the virus into Vietnam, the Ministry of Health, a standing member of the Central Inter-agency Steering Committee on Food Safety, asked the Ministry of Agriculture and Rural Development, the Ministry of Industry and Trade, the Ministry of Finance (the General Department of Customs), and the People's Committees of centrally-run cities and provinces to instruct authorities to take strict control measures, especially against frozen food imported products from countries with outbreaks. Samples should be collected and tested for the presence of the virus and the results submitted to the health ministry.
The ministry also called for stepped-up information campaigns and awareness-raising efforts on COVID-19 prevention and control measures. Minister of Health Nguyen Thanh Long said in a recent meeting that SARS-CoV-2 might be able to survive long on packaging in cold storage conditions, which could then transmit to humans. The minister said this was a potential source of the virus being reintroduced into the country.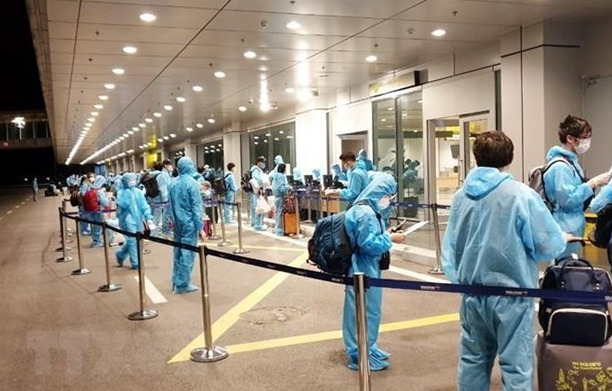 180 Vietnamese citizens brought home from Brunei. (Photo:VNA)
180 Vietnamese citizens brought home from Brunei
180 Vietnamese citizens in Brunei were flown home safely aboard a VietJet Air flight on November 27. The passengers included Vietnamese workers with expired contracts and others in extremely disadvantaged circumstances. The Vietnamese Embassy in Brunei sent its staff to the airport to assist them with boarding procedures.
In-flight safety and preventive measures against the COVID-19 pandemic were rigorously enforced to protect the passengers' health and prevent the spread of the disease. Upon arrival at the Cam Ranh international airport in the central province of Khanh Hoa, all the passengers and crew members received medical check-ups and were sent to quarantine in line with regulations.
The repatriation of Vietnamese citizens in disadvantaged circumstances abroad will continue to be conducted in line with their wishes, the developments of the COVID-19 pandemic, and quarantine capacity in Vietnam.
Valerie Mai