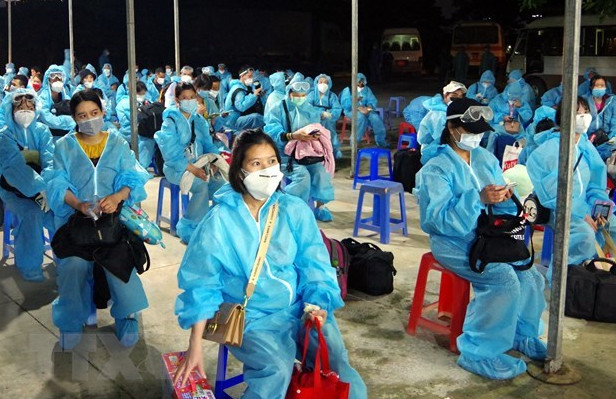 Vietnamese citizens returning from abroad at a concentrated quarantine facility (Photo: VNA)
Vietnam sees no new COVID-19 cases
Vietnam recorded no cases of COVID-19 between in the last 12 hours, keeping the total number of infections as of 6 am on November 12 at 1,252, according to the National Steering Committee for COVID-19 Prevention and Control.
Of the cases, 691 were locally infected. As many as 1,091 patients have recovered. The fatalities remain at 35. Among those still under treatment, 19 have tested negative for SARS-CoV-2 once, 12 twice and 11 thrice. No patients were in critical condition.
A total of 15,540 people who had close contact with COVID-19 patients or returning from pandemic-hit areas are under health monitoring nationwide. As of November 12 morning, Vietnam entered the 71st consecutive day without COVID-19 infections in the community.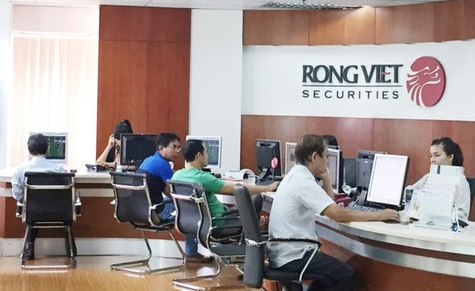 COVID-19 pandemic causes bad debts to surge. (Photo: BIz Hub)
COVID-19 pandemic causes bad debts to surge
A report from Viet Dragon Securities Co showed that NPLs at 17 banks had jumped by 31 percent at the end of the third quarter against the end of last year to 97.28 trillion VND (4.19 billion USD). The amount accounted for 1.8 percent of the banks' total assets.
Non-performing loans (NPLs) among commercial banks increased sharply in the first three quarters of this year due to the adverse impacts of the COVID-19 pandemic. Specifically, Vietcombank's NPLs rose by 36 percent compared to the beginning of the year to nearly 7.88 trillion VND. Of which, sub-standard debts surged by 4.2 times to 2.92 trillion VND, and doubtful debts grew by nearly three times. The ratio of NPLs over total outstanding loans increased from 0.79 percent at the end of 2019 to 1.01 percent.
If the pandemic continues to cause difficulties for enterprises, international trade, and services, bad debts of the banking system will probably increase in the coming time. Banking expert Nguyen Tri Hieu said the sharp increase in bad debts in the first nine months of this year was not surprising in the wake of the pandemic and was a global issue.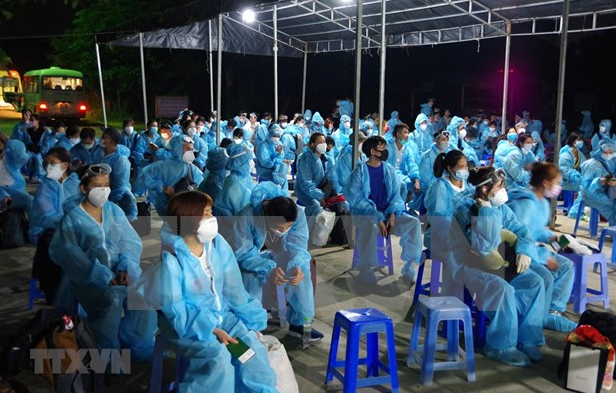 About 950 Vietnamese citizens brought home on November 10, 11. (Photo: VNA)
About 950 Vietnamese citizens brought home on November 10, 11
Some 950 Vietnamese citizens from across the globe were brought home safely aboard three Vietnam Airlines and one Qatar Airways flights on November 10 and 11 thanks to the collaboration between Vietnamese authorities, the host countries' competent agencies, and the carriers.
Of the total number, more than 280 people were repatriated from Russia; nearly 50 from Qatar; close to 280 from Europe, America and Africa; and over 340 from Australia. The passengers included children under 18 years old, the elderly, pregnant women, workers with expired visas, people with underlying illnesses, and those in extremely disadvantaged circumstances.
Vietnamese embassies in Russia, Qatar, France, and Australia sent their staff to the airports to help the citizens with necessary procedures for the flights. In-flight safety and preventive measures against the COVID-19 pandemic were rigorously enforced to protect the passengers' health and prevent the spread of the disease. All passengers and crew members received medical check-ups and were sent to quarantine in line with regulations upon arrival.
Valerie Mai