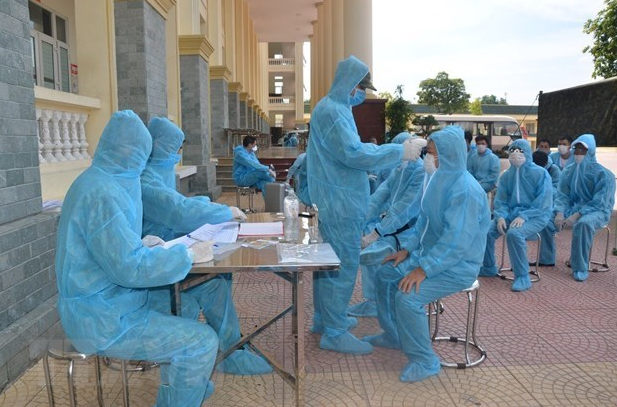 Quarantined people have their health checked up (Photo: VNA)
Vietnam reaches day 33 without COVID-19 infection in the community
According to the 6 am news of The National standing Committee on COVID-19 Prevention and Control on October 5, Vietnam is entering the 33rd consecutive day without infections in the community. Especially, Hanoi reaches day 48th of no fresh infection.
The country so far has 1,096 COVID-19 cases, including 691 local infections and the rest are imported, according to the National Steering Committee for COVID-19 Prevention and Control. Among the patients undergoing treatment, one has tested negative for the novel coronavirus SARS-CoV-2 once, two twice and four thrice.
So far, 1,020 patients have been successfully treated and there are now no patients in critical conditions. The death toll from the disease remained at 35, most of them elderly people with serious underlying conditions. As many as 16,363 people who had close contacts with COVID-19 patients or entered Vietnam from pandemic-hit regions are being quarantined across the country.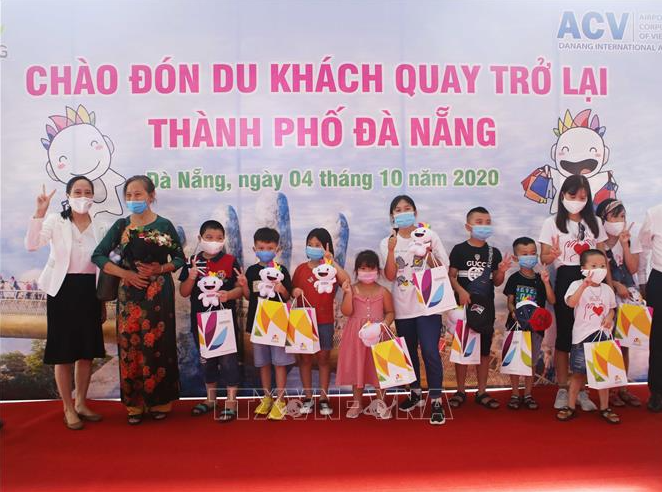 Da Nang welcomes first tourist group since COVID 2nd break. (Photo: VNA)
Da Nang welcomes first tourist group since COVID 2nd break
On October 4, the Department of Tourism of Da Nang City held a ceremony to welcome the first group of domestic tourists to visit the coastal city of Da Nang after more than 2 months since the city suspended tourism activities due to COVID-19 second outbreak. Currently, due to the fact that the epidemic situation in Da Nang city has been controlled, tourism activities have been gradually reopened.
According to VNA, Ms. Mai Thi Thanh Hai, Deputy Director of Da Nang Tourism Promotion Center, said welcoming tourists back to Da Nang in early October is the city's important event. To prepare for the restart of the tourism industry, Da Nang's Department of Tourism has implemented the COVID-19 prevention process and signed with tourism businesses to ensure safety amid the current situation. There are currently 477 hotels and 11 out of 16 tourist attractions in the city that have re-operated.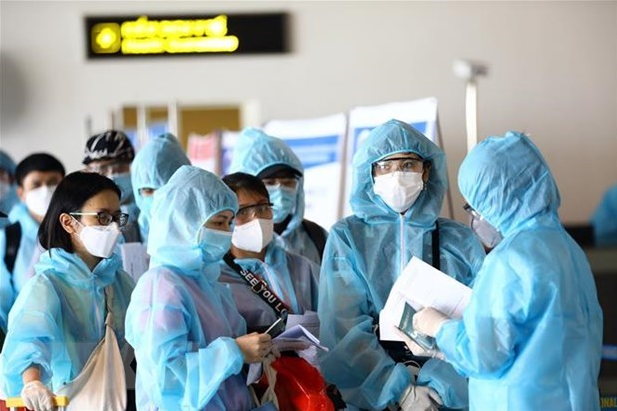 Nearly 340 Vietnamese brought home from Europe and Africa (Photo: Vietnam Plus)
Nearly 340 Vietnamese brought home from Europe and Africa
Nearly 340 Vietnamese citizens were brought home from European and African countries in a repatriation flight conducted by the national flag carrier Vietnam Airlines on October 3-4.
Vietnam's representative offices in the host countries exerted efforts to help the passengers move to an airport in France's Paris. The Vietnamese Embassy in France also sent staffs to help them with pre-departure procedures, Vietnam Plus cited.
Security, safety, and hygiene measures were rigorously taken during the flight to prevent the spread of COVID-19. Upon their arrival at Van Don Airport in northern Quang Ninh province, all the crew members and passengers were given medical check-ups and put under quarantine in line with regulations. In the time to come, more repatriation flights will be arranged to bring Vietnamese citizens home, depending on their demand and domestic quarantine capacity.
Valerie Mai