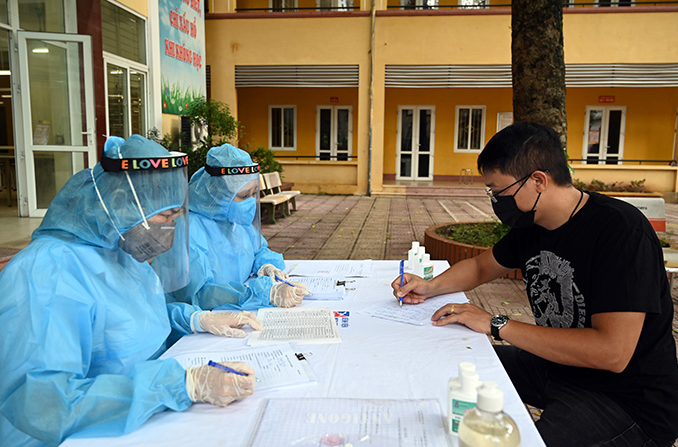 Vietnam hits record of 30 days without community cases (Photo: MOH)
Vietnam hits record of 30 days without community cases
The National Steering Committee's 6 am news on October 2 states that there are no new cases of COVID-19 in Vietnam. Up to now, Vietnam has gone through 30 consecutive days without recording cases of COVID-19 in the community.
Currently, Vietnam has successfully treated 1,018 patients. Among the patients under treatment, 2 patients tested negative for the SARS-CoV-2 virus twice and 5 thrice. Besides, there are 15.013 people who are in quarantine and health monitoring for having contact with pandemic areas, Vietnam Plus cited.
Japan to lift entry restrictions for Vietnamese travelers
Japanese media quoted Government sources, saying the decision has been made following these countries and territories effectively bringing the novel coronavirus (COVID-19) pandemic under control, or at the very least having a low number of new cases.
Japan is in the process of conducting negotiations with 16 countries and regions including China, Vietnam, and Taiwan (China) in an effort to resume business travel.
Kyodo newswire reported that business people have already been permitted to travel to some Asian countries, including Vietnam and Thailand, providing that they meet certain conditions, including providing negative COVID-19 test results.
Ho Chi Minh City made an announcement regarding hotel fee for passengers. (Photo: VNA)
Ho Chi Minh City made an announcement regarding hotel fee for passengers
Regarding the situation that 150 passengers had to quarantine at a too pricey hotel on October 1, the People's Committee of Ho Chi Minh City held a press conference to inform about the COVID-19 preventive isolation fee for people entering Ho Chi Minh City, VNA cited.
Accordingly, Ms. Nguyen Thi Anh Hoa, Deputy Director of the Ho Chi Minh City Department of Tourism, said: HCMC currently has 2 hotels being used in isolation for the flight crew and 8 hotels for passengers. The list of hotels is already published on the website of Ho Chi Minh City Department of Labor, War Invalids, and Social Affairs. These hotels range from affordable to high-end prices, with the average cost ranging from VND 1,250,000 (54 USD) to VND 5,000,000 (218 USD)/room/day.
In addition to these 8 hotels, the Department has proposed 16 hotels to be utilized in the near future with a capacity of 1,025 rooms. At the same time, the Ministry is continuing to appraise 15 other hotels with a capacity of 982 rooms. These hotels have minimum segments of 1-2 stars.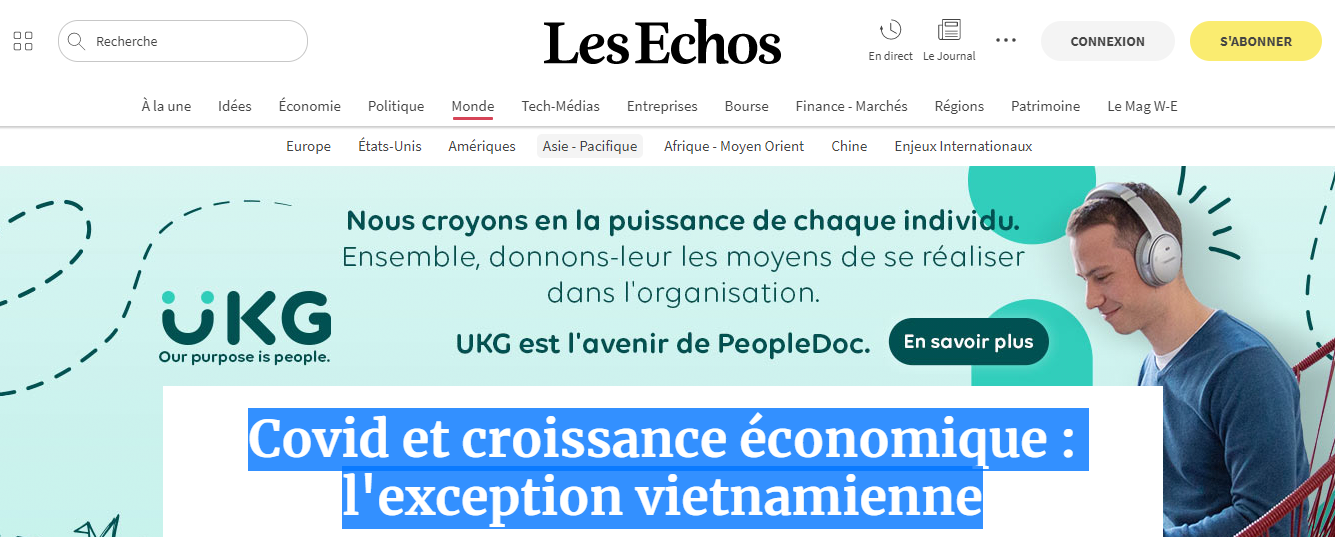 "COVID and economic growth: the Vietnamese exception" published by Les Echos. (Photo: Les Echos)
French newspaper hails Vietnam's success in dealing with COVID-19
The Les Echos newspaper in France has hailed Vietnam's success in dealing with COVID-19 and restarting the economy, Vietnam Plus cited.
It noted that the number of COVID-19 cases in Vietnam as well as fatalities remained low at 1,077 and 35, respectively as of September 29, for a population of nearly 100 million. Despite restrictions imposed to curb the spread of the disease, the country's GDP in the third quarter still grew by 2.62 percent from the same period last year. The newspaper quoted Vietnam's General Office of Statistics as forecasting that the goal of 2-percent growth for this year is not out of reach.
Les Echos also reported that Vietnam's exports in the first nine months of the year increased by 4.2 percent and production also maintained growth. It cited a survey that showed 81 percent of Vietnamese believed that the country's economy still maintains its growth impetus.
Valerie Mai